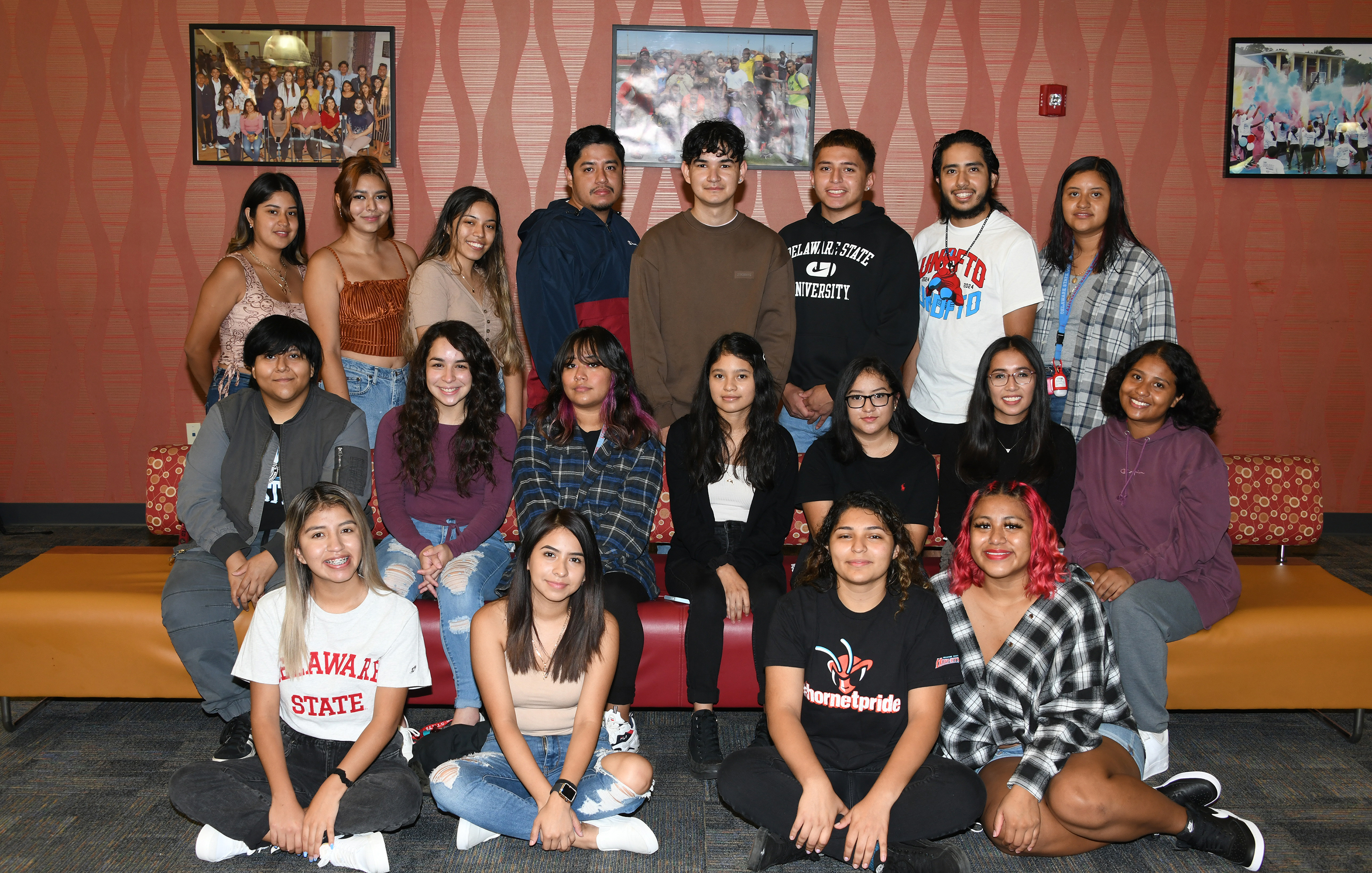 On Campus
Last year's new Dreamers make up for their 1st year under COVID
Saturday, September 11, 2021
It has taken a year, but last year's freshmen cohort of Dreamers are finally able to begin enjoying a real Delaware State University experience during their sophomore year.
After receiving the Opportunity Scholarship in 2020, the 26-student cohort had the unfortunate luck of having to begin their academic journey during the first year of the COVID-19 pandemic.
"I saw YouTube videos (about DSU) and I could not wait to have that experience," said Maria Gallo, a Mexican native who grew up in Atlanta, Ga. "But when everything was virtual, I didn't feel like I was actually in college, but that I was just taking courses online."
That Dreamers group gathered in the MLK Jr. Student Center last week to pose for their first group shot photo, something they missed at the beginning of their freshmen year due to the coronavirus restrictions in place at the time on campus.
"Dreamers normally have programs and picnics (at Del State) to get to know each other, but our cohort was the first one that didn't get to do any of that," said Juan Vega, a native of Mexico and computer science major who grew up in Kansas City, Mo. "Now having classes in-person are so much better, because if I actually need help, I can see my teacher and peers in-person. I can get to know people."
Now the Dreamers of the projected Class of 2024 can move ahead with the rest of their academic journey and beyond.
Yosmara Lorenzo, an Atlanta Dreamer who is majoring in mass communications, is looking forward to getting a good internship. "I want to get into the field of producing and making audios with big companies like Spotify, SnapChat, or TikTok," the native of Mexico said. "After graduating, I hopefully will get a job with one of those companies."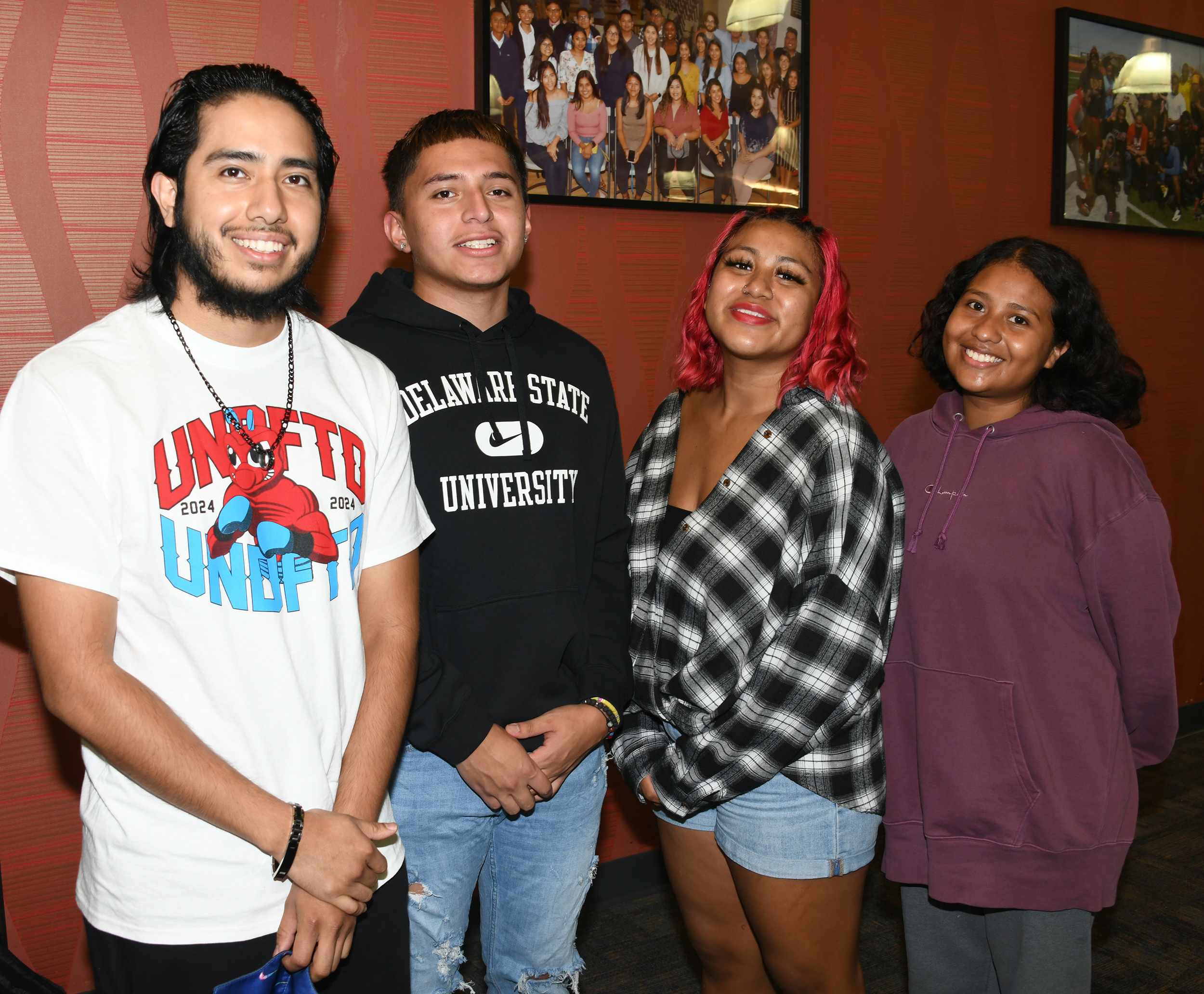 David Urbina, a native of El Salvador, grew up in North Carolina. He is majoring in psychology.
"I look forward to making a lot of connections and networking (at Del State), and hopefully I will get into graduate school after this," David said.
Delaware State University is in the sixth year of its involvement in the Opportunity Scholarship Program – which through the TheDream.US provides scholarship to undocumented immigrant students who as children came with their parents into the United States and attended public schools, excelling academically.
Through no fault of their own, they found themselves locked out of state institutions of higher education – either by being declared out-of-state students (with unaffordable out-of-state tuition costs) or by laws in certain states that prohibit the enrollment of undocumented students at state colleges and universities.
Since the fall 2016, Del State has enrolled six classes of Dreamers, totaling 210 students. The first two cohorts (68 Dreamers) graduate in 2020 and 2021. Three of those graduates – Homar Rodriguez, Heydi Aguilera Quintanilla, and Marina Hernandez – continued their education at Del State and each earned a Master's Degree in Teaching English to Speakers of Other Languages.
TheDream.US – created specifically provide higher education opportunity for Dreamers – was created and founded by Donald E. Graham, chairman of Graham Holding Company and the former CEO and chairman of the Washington Post. Delaware State University involvement with the program began under former Del State President Harry L. Williams, and continued by his successors Dr. Wilma Mishoe and Dr. Tony Allen.