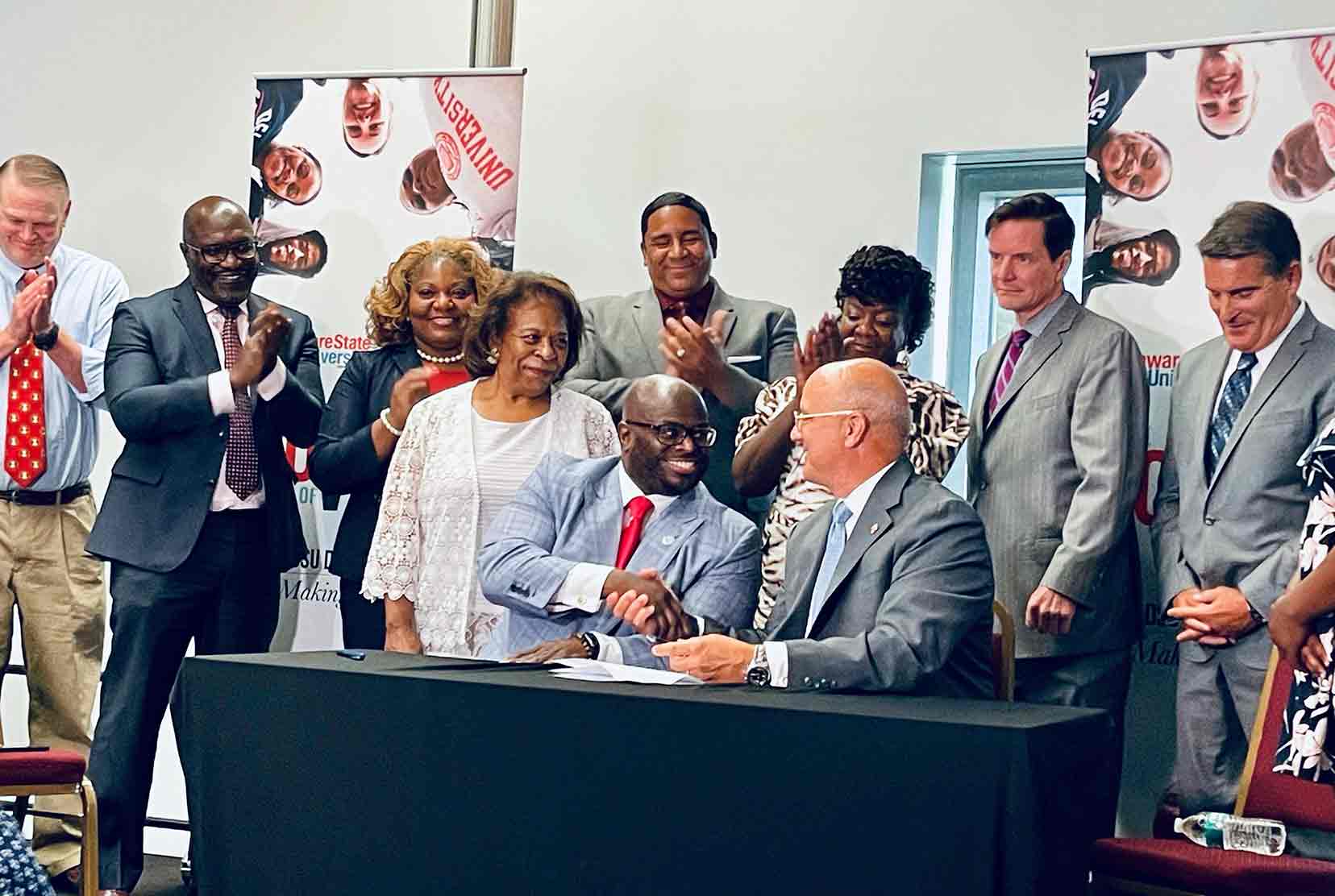 On Campus
Wesley acquisition finalized
Thursday, July 1, 2021
Delaware State University and Wesley College officials today executed the final agreement that turns over the 50-acre downtown campus to the University, completing a process that began a year ago. "This is a historic moment," said Delaware State University President Tony Allen, noting the University as the first HBCU to acquire another college or University in the United States. 
He went on, "In our view, that point is noteworthy, but it is not the reason this is such an attractive opportunity. To serve more students who need our brand of excellence, education, and care, we needed to increase the size of our footprint, build on our key academic programs, grow our research base and enhance our economic impact on the State of Delaware.  We could not be any more pleased about adding the incredible Wesley brand legacy, so many continuing students, and dozens of dedicated employees to our own family."
With the acquisition, Delaware State University will inherit 50 acres of land, 21 buildings and 14 academic programs. The University is also adding more than 60% of legacy Wesley's faculty and staff members.  In addition, to date, 77% of legacy Wesley students have chosen to continue their education at Delaware State University. These new University students will experience a significant reduction in tuition costs.  Dr. Allen was careful to note that NO legacy Wesley student would pay more out-of-pocket costs to go to the University and would, in nearly every instance, experience significant savings.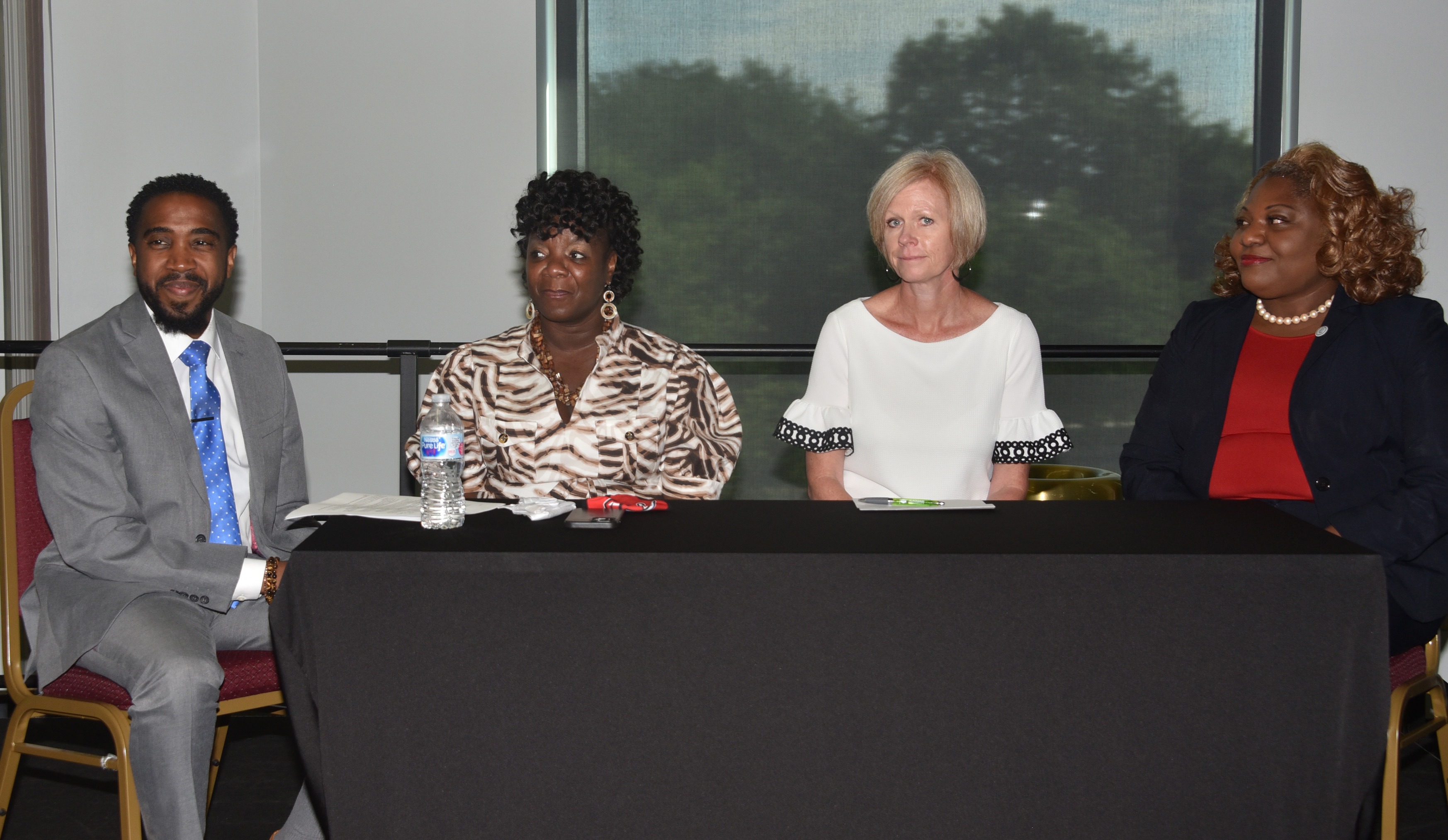 The average cost differential between the two schools is approximately $20,0000. 
William J. Strickland, Chairperson of the Board of Trustees at Wesley College, said that while saddened to see the end of Wesley College's 147-year history, the legacy is in good hands. "I have spent the last year working closely with so many people at Delaware State University, and I can assure our community the commitment to support all former Wesley students and to maintain the core traditions of Wesley College is very real," Mr. Strickland said.
Allen also introduced the leadership team for the new Downtown DSU campus:
Dr. Stacy Downing, Chief Administrative Officer for DSU Downtown.
Dr. Terrell Holmes, Associate Vice President for DSU Downtown.
Ms. Laura Mayse, Director of Development and Community Relations for DSU Downtown.
Dr. Downing said there will be two major priorities over the next few months. "First, we want to honor and maintain the core traditions of Wesley College and have a strong, positive impact on Dover and Kent County," she said. "The second priority will be the full occupation and use of facilities on the DSU Downtown campus, and that will involve renovating and occupying the facilities in stages. She added that the University plans to expand the Nursing Program facilities and move the University's Early College High School to the DSU Downtown campus in Fall 2022.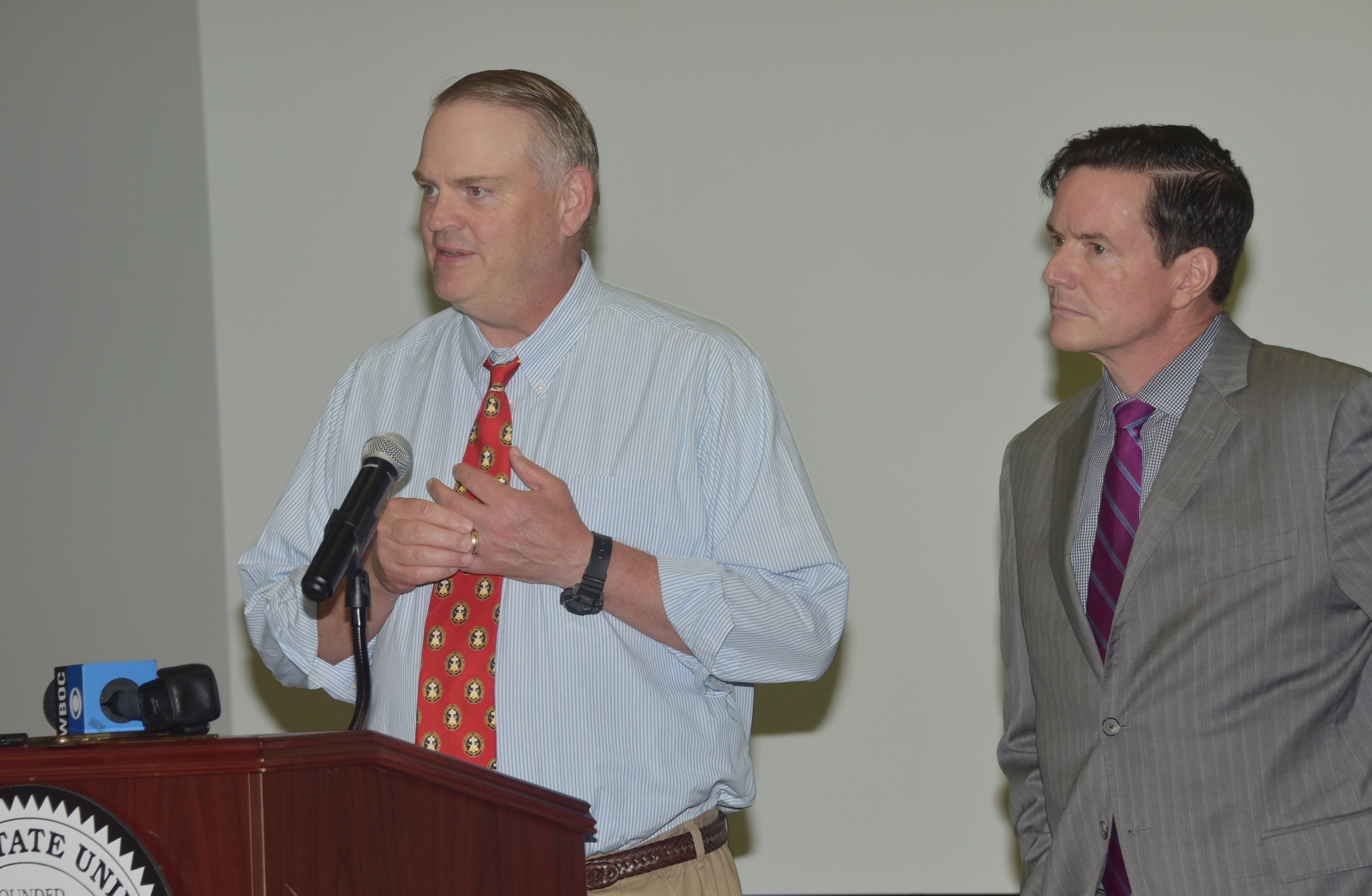 Another DSU Downtown leadership team member will be Dr. Gwen Scott-Jones, the founding Dean of the Wesley College of Health and Behavioral Sciences. Dr. Jones said her focus is on "having the faculty moved and energized on Day One. Delaware needs many more qualified health professionals, and we need to get down to the business of training them right now."  The Wesley College of Health and Behavioral Sciences will include the Nursing, Occupational Therapy, Social Work, Kinesiology, Psychology, and Allied/Public Health programs and the Academy of Healing Trauma.
Two state legislators shared their thoughts about the acquisition at the press conference.
"What we are witnessing is history. I think we will look back on this day as a real inflection point in the history of DSU and the downtown Dover area," State Senator Trey Paradee observed. "It's been a long road getting here, but this is probably going to go down as the greatest real estate transaction in Dover history. This is incredible for the University and the State, as well as the students, present and future."
State Senator Colin Bonini, a 1991 Wesley graduate, noted, "It's obviously a little bittersweet for me, but I think this story is going to have a happy ending. Wesley College has always been in the business of changing lives, and so has Delaware State University. We have exciting times ahead."
In addition to the academic growth, Allen noted that the University needed a more direct connection to the economic, social, and cultural life of downtown Dover, one ripe with opportunity, particularly for people of color. "The acquisition of Wesley College represents a significant step toward our highest aspirations – to become the most diverse, contemporary HBCU in the country," he said.
The deal brings the University to a student body of nearly 6,000 students and a $30 million research portfolio while generating nearly $350 million in economic impact to the State of Delaware, $160 million of which directly enhances the quality of life in the City of Dover and Kent County more broadly.