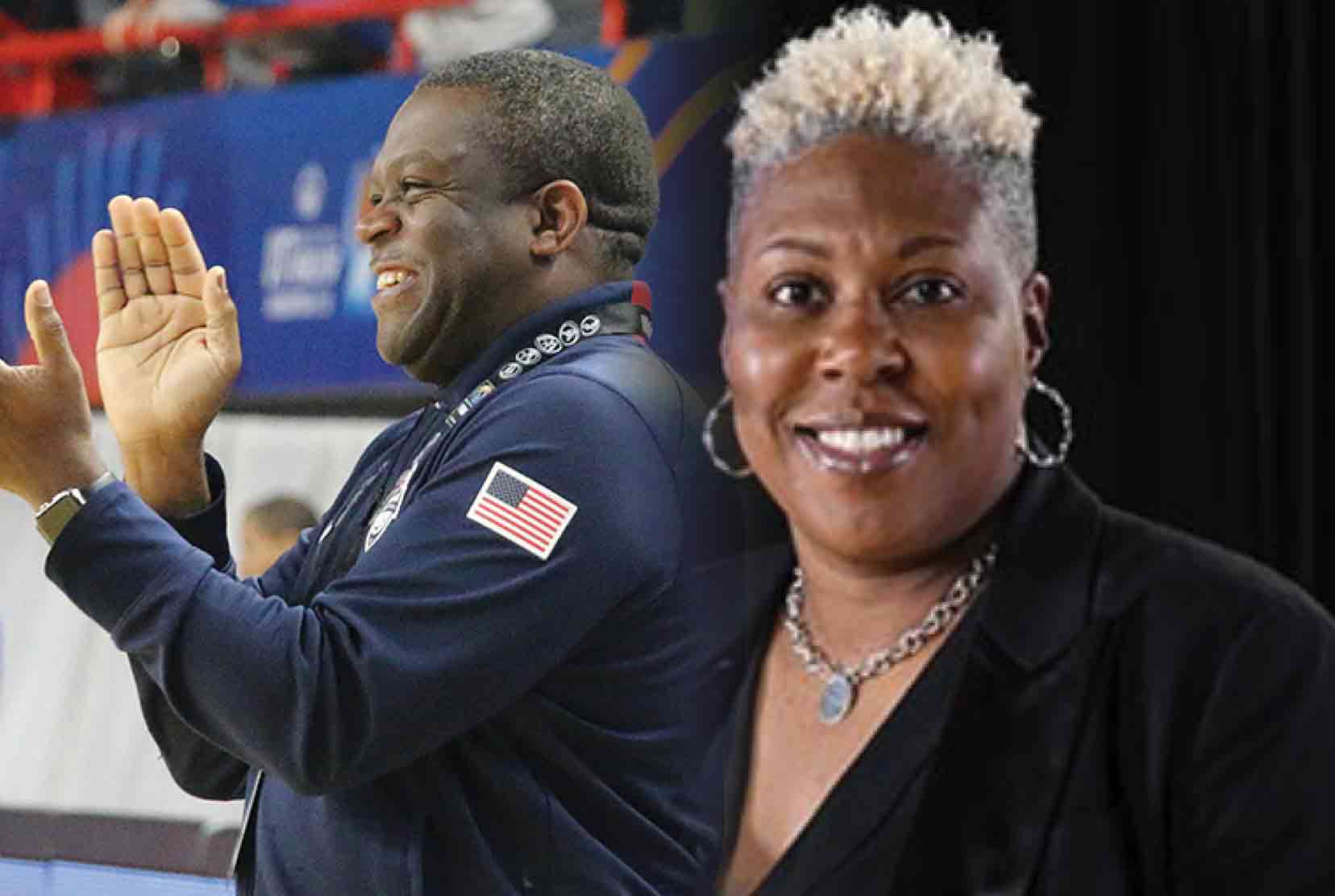 On Campus
University hires HIll and Waterman as new basketball head coaches
Friday, June 4, 2021
The University has announced the hiring of  Yconda "EC" Hill and Stan Waterman as the new head coaches of its Lady Hornets and Hornet Men basketball teams, respectively.
A Meet & Greet event was held June 7 to welcome the two new Hornet coaches. For images from that event, click on the below link:
https://www.flickr.com/photos/48216028@N03/albums/72157719428583705/show
Both Hill and Waterman bring "a long history in preparing student-athletes for collegiate competition, a proven track record of academic excellence, an extended responsibility to the broader community, and a noted culture of winning," observed Interim Athletic Director Alecia Gadson.
Hill is currently the Assistant Women's Basketball Coach at Towson University, and has also coached at the University of Arizona, Northern Illinois University, and Robert Morris College in Chicago. As a player, Hill led Northern Illinois University to three straight NCAA Tournament bids from 1991-1994, with a 53-7 career conference record. She was a First-Team All-American in 1994; won a Bronze Medal on the U.S. National Team in 1993; played professional basketball for eight years, including for the WNBA from 2000-2004; and was inducted into the Illinois Basketball Hall of Fame in 2010.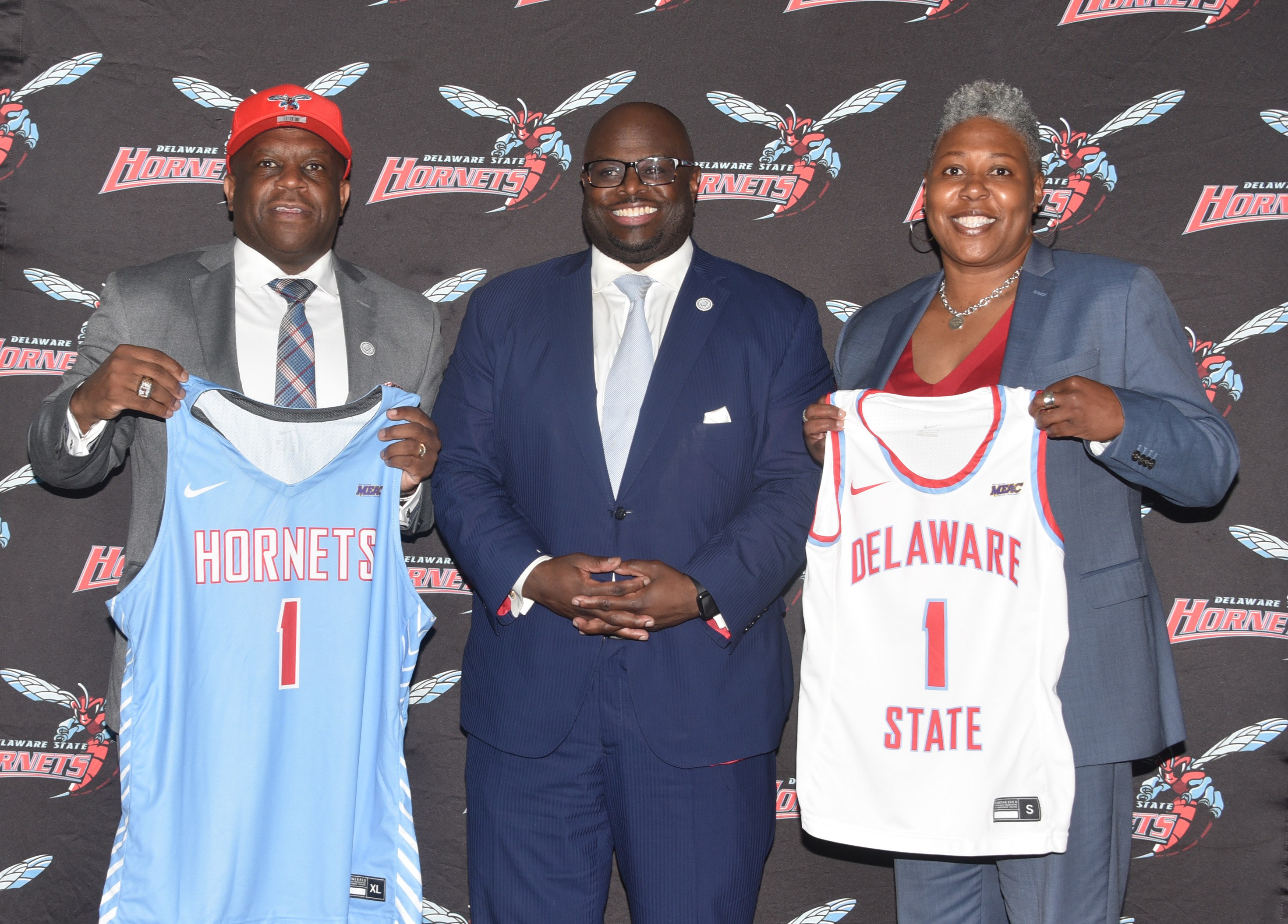 Diane C. Richardson, Head Women's Basketball Coach at Towson University, said of Hill's appointment, "Coach Hill has been a tremendous asset to our program and I know that she will use her experience as an elite player and coach for success at Delaware State University."
Coach Hill is anxious to get started. "Delaware State University is ripe with opportunity.  Geographically, and as one of the nation's premier HBCUs, we are perfectly positioned to recruit exceptional student-athletes. The University's commitment to Women's sports is also clear and compelling," she said.  "We can create something really special here."
Stan Waterman is currently the boys basketball coach at The Sanford School in Hockessin, Delaware, just having won his unprecedented eighth State championship in March 2021.  He boasts the most wins in Delaware high school history, having surpassed 400 wins in 2017, and has been tapped to serve as a USA Basketball coach five times, winning gold in 2019 and 2017. 
As a player, Waterman was a standout guard at the University of Delaware and, in high school, took the historic Howard Career Center to the state finals in 1984.  At Sanford, Coach Waterman also serves as the Dean of Students and the Assistant Athletic Director, with specific responsibilities for student development, wraparound services, and specialty programming for parent engagement and diversity, equity, and inclusion.
Jay Wright, Villanova Head Coach and 2021 Hall of Fame Basketball inductee, said, "Stan is well prepared for this challenge. I respect him as an outstanding leader in our game. His basketball knowledge and experiences are elite. His leadership and inspirational skills have produced winning teams and outstanding collegiate players throughout his career. His passion and dedication to the state are unmatched. Delaware State University has made a great choice in Stan Waterman."
Coach Waterman commented, "In my 30-year career here I have been fortunate to have a few opportunities to coach Division I. The truth is that none has been more appealing to me than Delaware State University. As a kid from Wilmington, with the village around constantly opening doors for me to be successful, I have devoted my life to doing the same for others. I cannot think of a better way to expand my passion for basketball and the development of young men than at this exceptional institution."
In March 2021, as the University announced the retirement of its Athletic Director and head coach vacancies for both basketball programs, President Tony Allen said, "As we look toward the Fall, we must now chart a new, bolder path for Delaware State University's athletic future, one that should be marked by outstanding academic performance, a culture of winning the right way, a commitment to the community we call home, and an unquenchable HBCU spirit."
Today, Allen reflected on that commitment, saying, "I firmly believe that in Coaches Hill and Waterman, we have found the individuals of quality who will lead their programs to a winning tradition and — more importantly — continue to mold the young women and men who play for them into the leaders that our global community needs."