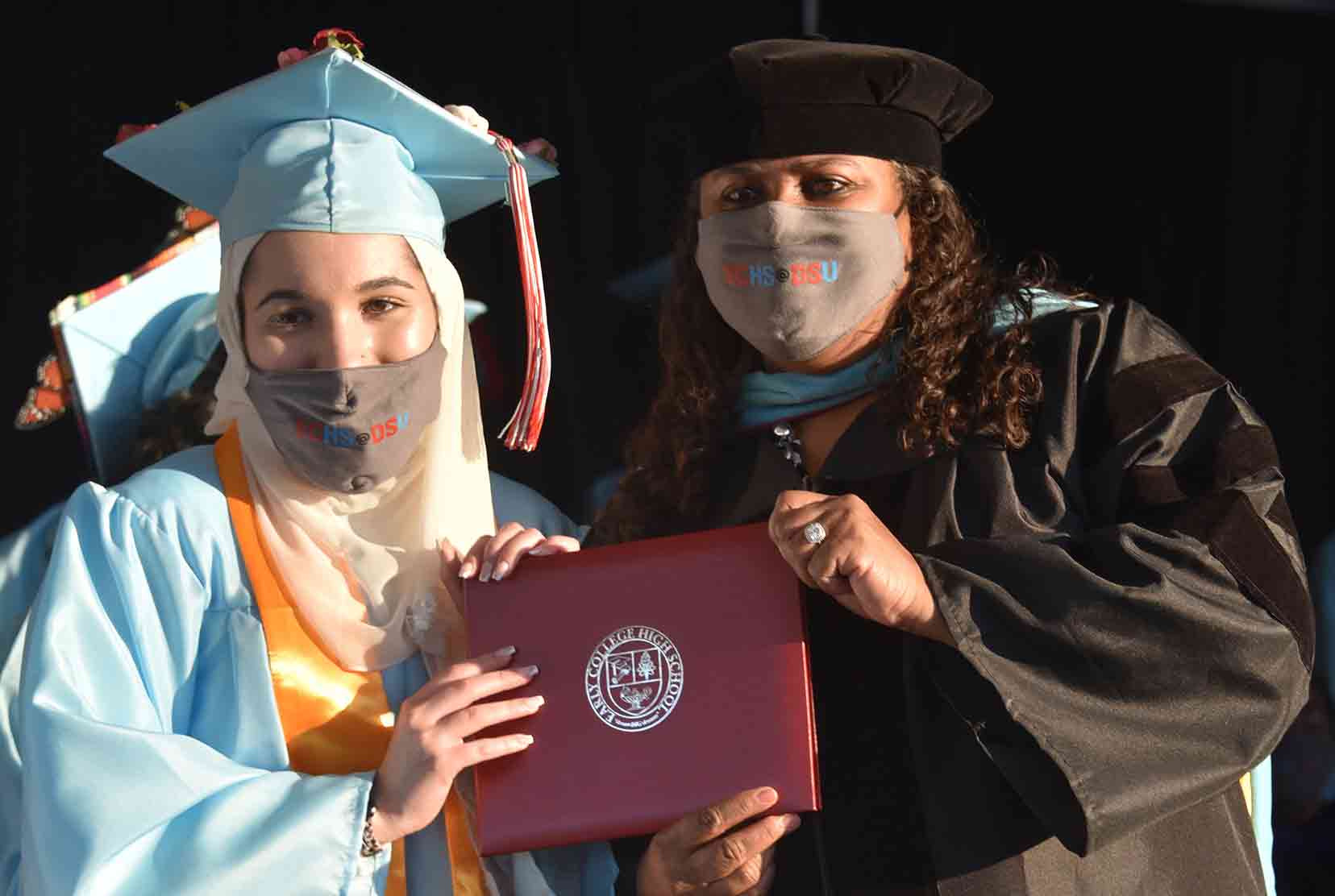 On Campus
Early College HS 2021 Graduation – Photos
Thursday, May 20, 2021
The Early College High School presented diplomas to 91 graduates of its Class of 2021 during an in-person May 18 graduation ceremony at Delaware State University's Alumni Stadium.
Established by Delaware State University in 2014, this was the fourth graduating class in the high school history.
To see images from the graduation, click on the below link:
https://www.flickr.com/photos/48216028@N03/albums/72157719228032549/show
As she proudly looked over the seated graduates with young men dressed in red robes and the young ladies adorned in light blue robes, Dr. Evelyn Edney commended the Class of 2021 for their perseverance over the last COVID-19 school, which force them to complete their senior year with virtual classes.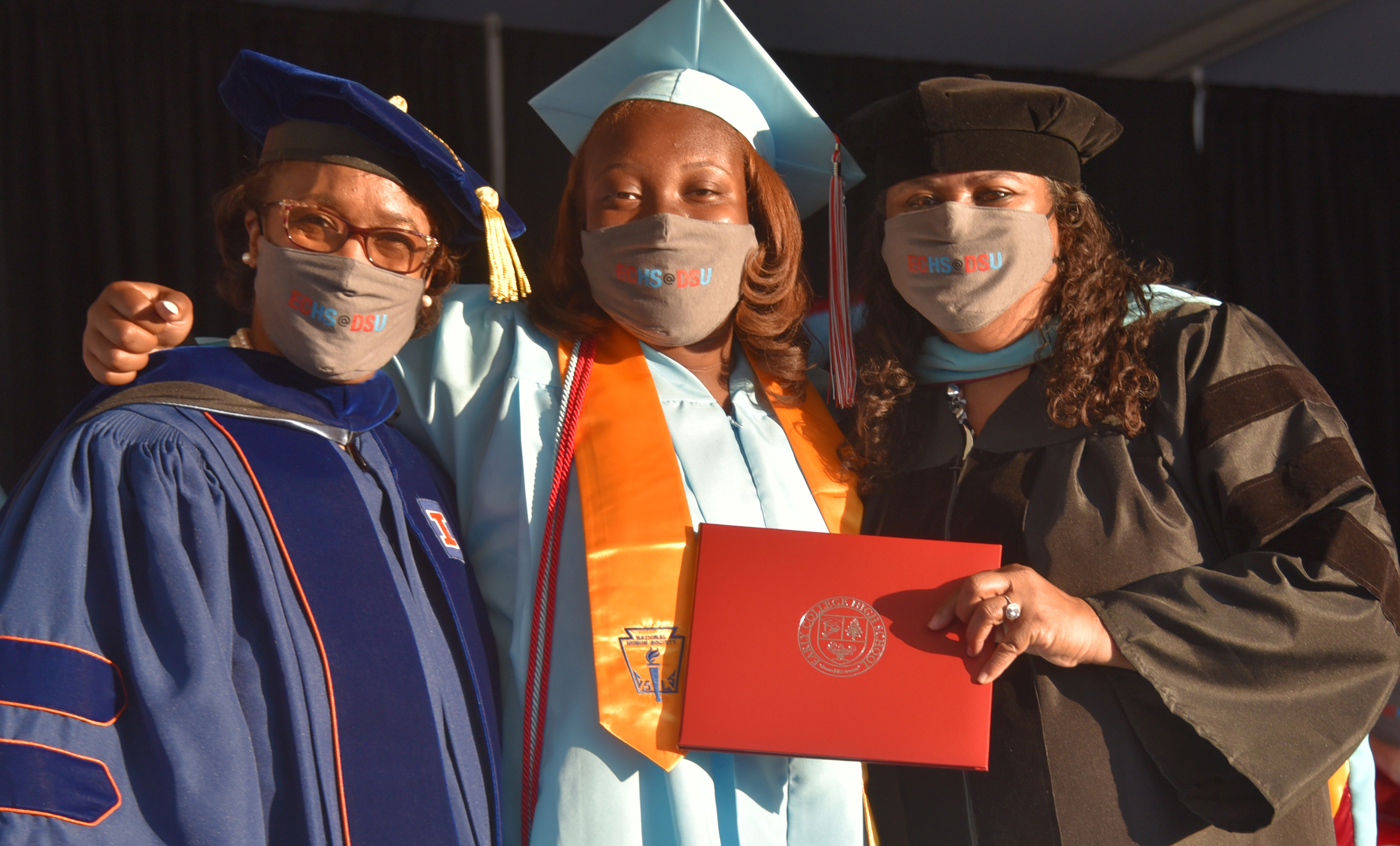 "They rose to the occasion as they have for the last four years. Their ability to put others above themselves is something to which we should all aspire," Dr. Edney said. "They have turned the sadness from this past year into pure joy for so many."
Among the students speakers, the first was Jasmine Horton, the senior class president. She is also the daughter Dr. Marshá Horton, the dean of Del State's College of Health and Behavioral Sciences.
"Our time has come to transition from high school into adulthood. We all have chosen our own path in which way we plan to go," Miss Horton said. "Time got hard, but we did not quit. We made it to graduation."
Yahira Rivera-Lopez, the Class Salutatorian who finished her high school journey with 4.48 grade point average while also earning 62 college credit hours, noted that the Class of 2021 is the future.
"I want to remind all my classmates that this only the beginning," Miss Rivera-Lopez said. "We are going to make mistakes, however those mistakes are going to help us grow and develop into the young adults we want to be."
Zayna Juracka – who Dr. Edney called the "Director of First Impressions" – completed her high school year with a leading 4.589 grade point average and 79 college credit hours earned, winner her the title of Class Valedictorian.
"This is just the beginning of our success story. We all have a dream, and now it is time to turn our dream into reality," Miss Juracka told her fellow graduates. "Keep believing in yourself and never let anyone dull your sparkle.'
The keynote speaker was Devon Still, a 2003-2007 Howard High School football star, who went on become a star defensive tackle for Penn State University and later in the NFL with the Cincinnati Bengals.
Mr. Still gave three keys to succeed: 1.) "If you can see it you can be it," 2.) "Realize that on your journey, you will fail; but that's ok, failure is part of success," and 3.) "Any success that requires the sacrifice of your moral and values is not true success, it is an illusion."
The keynote speaker urged the graduates to be value driven rather than goal driven. "So when you look back on your life, you can be proud of your journey, and not just your success," Mr. Still said.