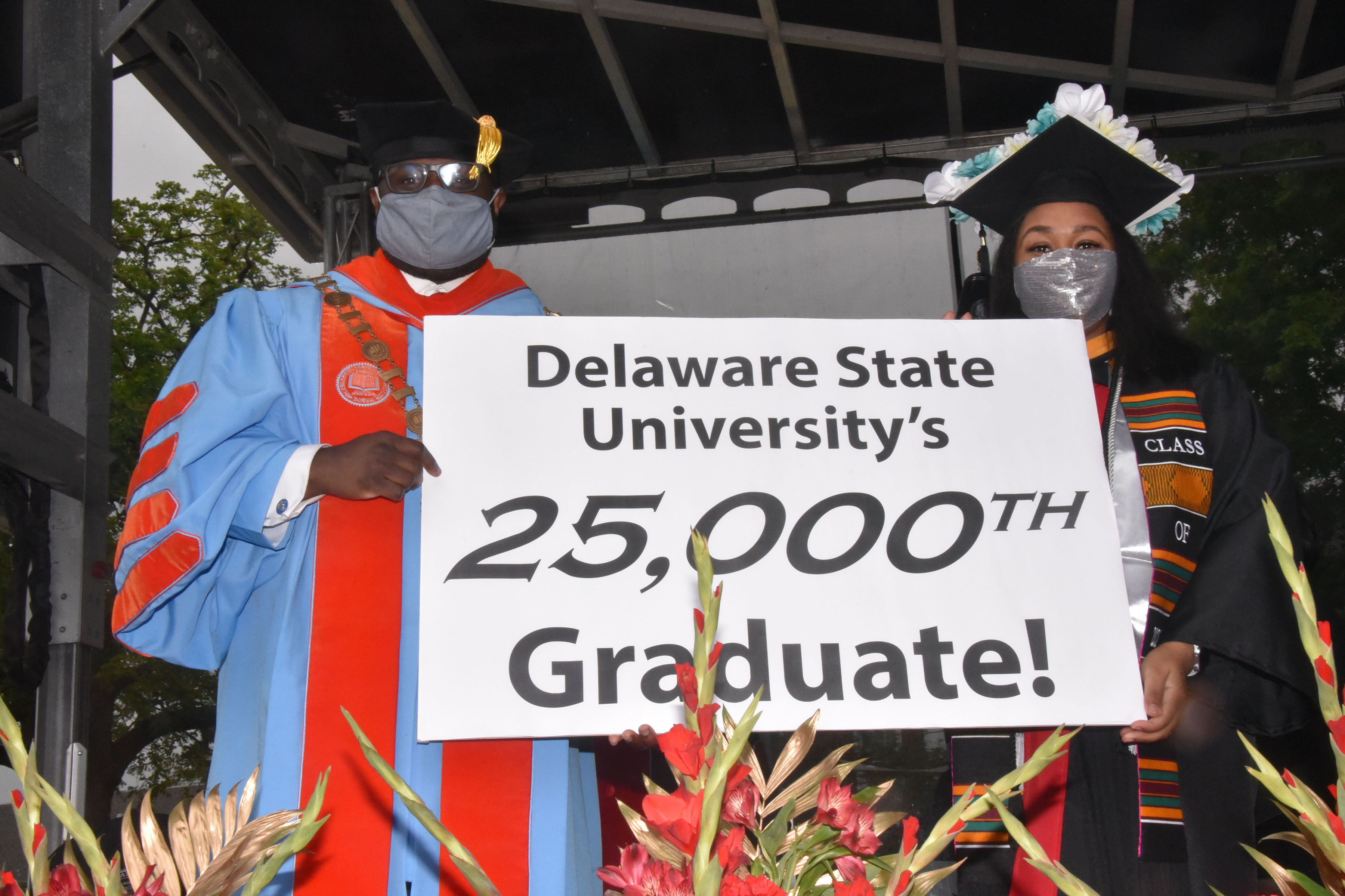 On Campus
Del State holds six Commencement Ceremonies – article and photos
Sunday, May 9, 2021
Delaware State University has established a new record for the number of Commencement ceremonies held in one weekend – six in total – as it complied with COVID social distancing requirements while at the same time fulfilling the desires of its outgoing students to celebrate their degrees with an in-person graduation.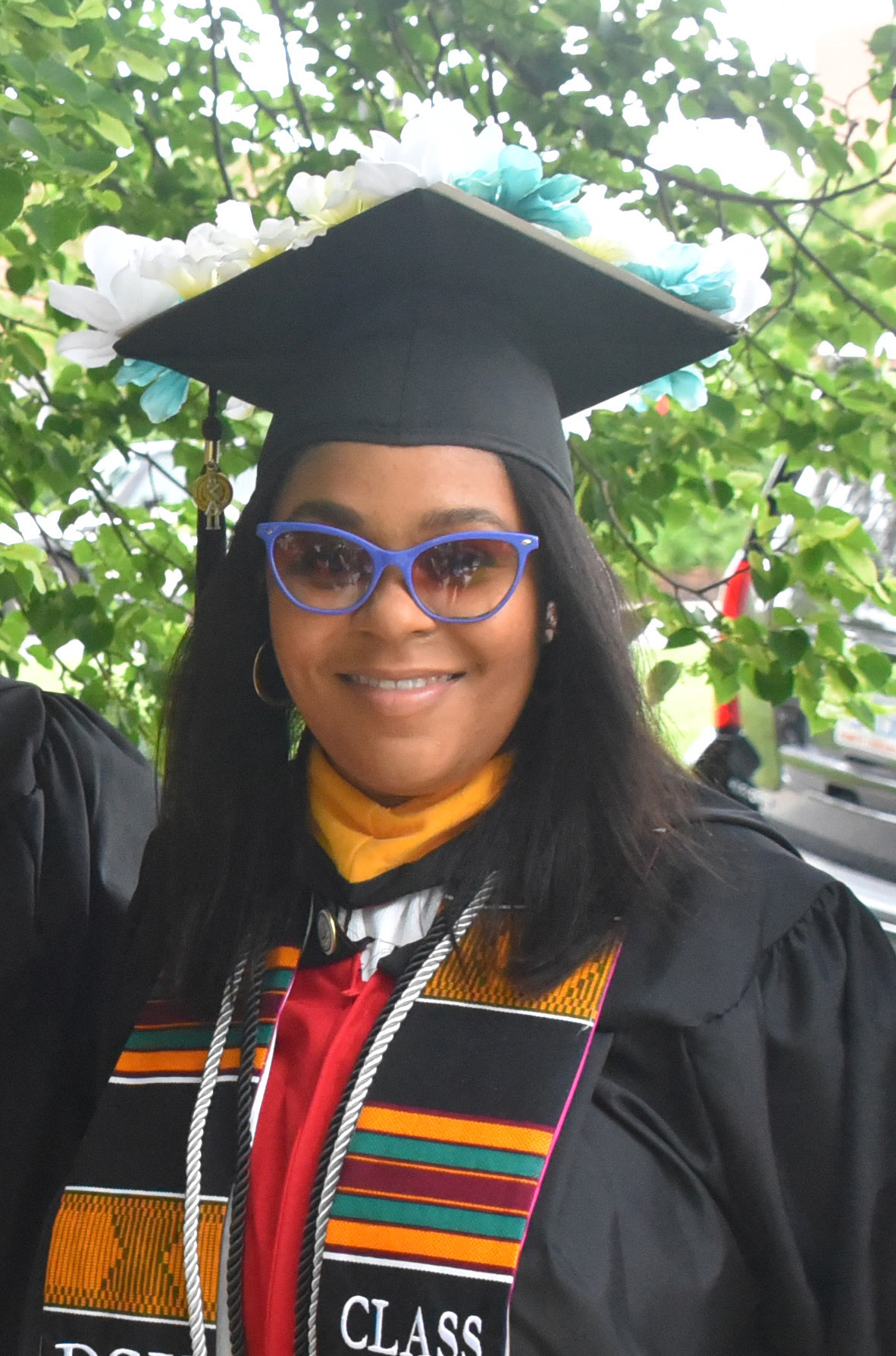 The University's graduation weekend included a May 7 Commencement for graduates who completed their master's and doctoral degrees during 2020 as well in spring 2021, followed by May 8 undergraduate ceremonies for graduates of summer and fall 2020 as well as in spring 2021. The final Commencement ceremony of the day was for the 2020 spring graduates who were deprived last year of a ceremony due to COVID-19 and returned to march across the stage.
To see images from the May 7 Commencement for the master's and doctoral graduates, click on the below link:
https://www.flickr.com/photos/48216028@N03/albums/72157719185621675/show
To see images from the May 8 Commencement ceremonies for undergraduate graduates, click on the below link:
https://www.flickr.com/photos/48216028@N03/albums/72157719132655544/show
About 800 graduates participated in the ceremonies, which were highlighted by video remarks from Gov. John Carney, U.S. Sens. Tom Carper and Chris Coons, and U.S. Rep. Lisa Blunt Rochester. Surprise remarks also came from NBA Hall of Famer Magic Johnson as well as from Andra Day, the Golden Globe winner and Oscar nominee, who also sang a song especially dedicated to the Del State graduates.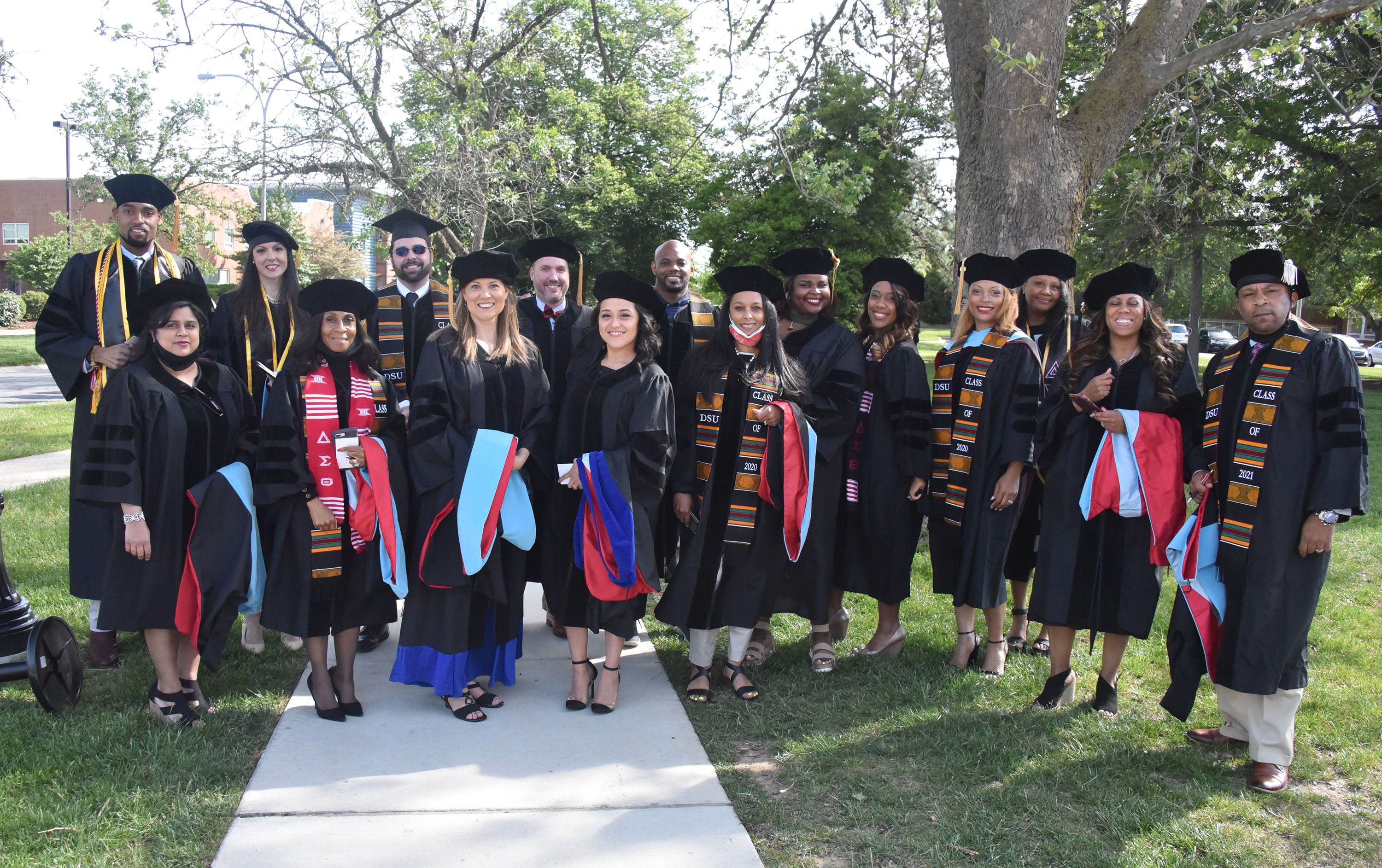 University President Tony Allen told the Class of 2021 graduates that they were chosen for this time. "You have been made better and clearer and with such great certainty of purpose, that your only real choice is to thank your Almighty God and move boldly into your future," he said.
Dr. Allen harkened back to those who have received their diplomas before them throughout the University's 130-year history, ancestors who demand that their sacrifices not be in vain.
"They need you to find your place of usefulness and honor in the world," the University President said. "They demand that you develop the intellect, and the strength and the unrelenting fortitude that knows how to stand up for others in front of the classroom, in the courtroom, at the corporate board table, and at the local community meeting, in your home, in your church, at the lab, and sometimes in the midst of the lion's den."
Delaware Supreme Court Justice Tamika R. Montgomery-Reeves, the May 7 Commencement keynote speaker, noted that the master's and doctoral graduates have been equipped by Del State to change the world – and she challenged them to do so.
"If you see a problem in the world, change it. Don't wait for the perfect moment to act, because it will never come. Act now. Move now. Do it now," Justice Reeves said. "The degree you receive from Delaware State University is not just a nice decoration for your wall. It is evidence that you are committed to be an agent of change and that you are well equipped to succeed."
Noting that Dr. Martin Luther King Jr. showed that everyone can be great because everyone can serve, she called on the graduates to seriously consider a life of service.
"Use your advanced degree to not only improve your lives, but also the lives of someone else," Justice Montgomery-Reeves said.
Commencement was a homecoming for Dr. Harry L. Williams, who prior to his current role as the CEO/President of the Thurgood Marshall College Fund, spent 2010-2017 as the 10th President of Delaware State University.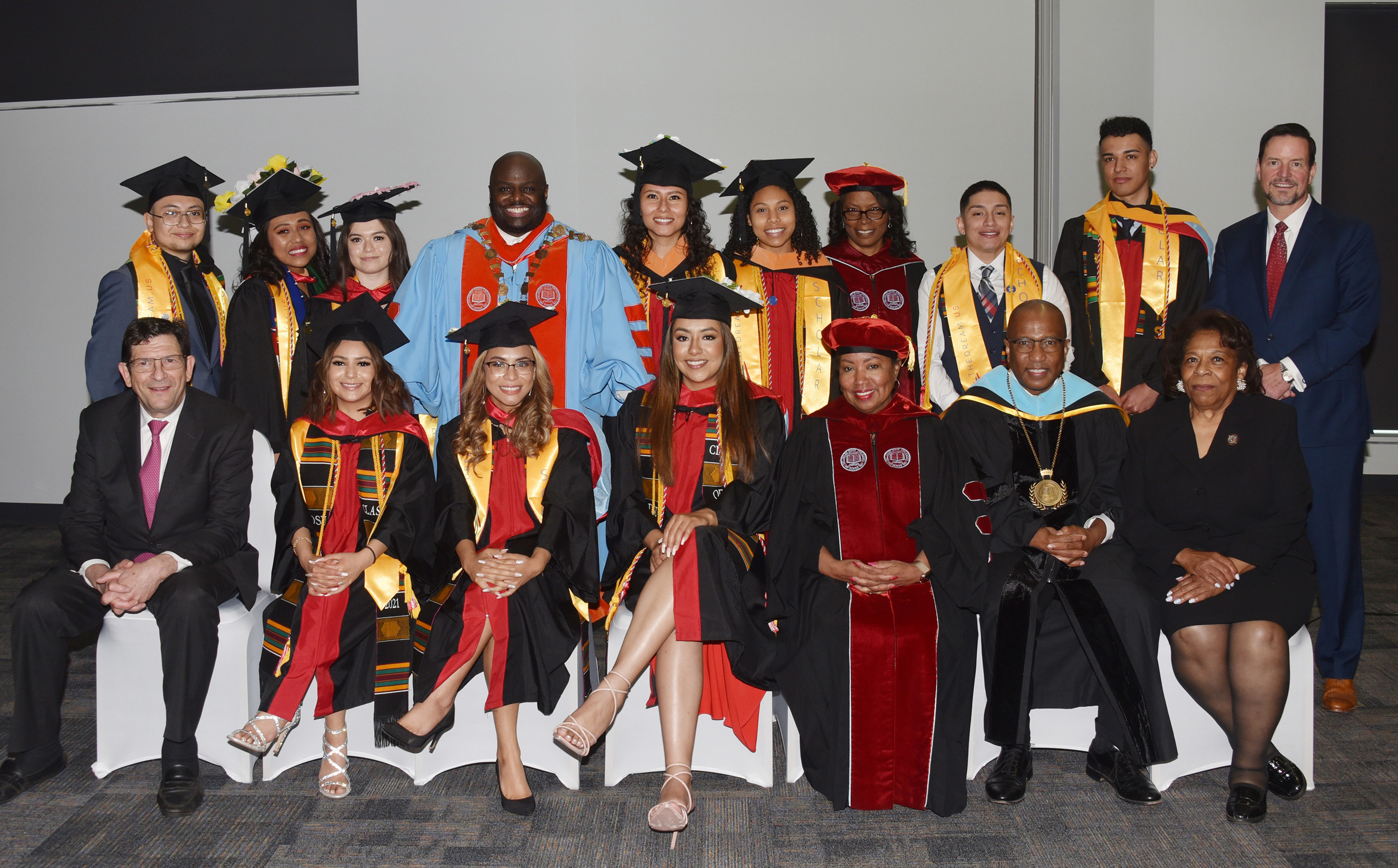 Dr. Williams – who was the keynote speaker for all of the May 7 Commencement ceremonies – noted the challenges that Del State faced and overcame earlier in its history, and how it has become one of the top Historically Black Universities in the country. He told the Class of 2021 the lessons of Del State's perseverance will serve them well on their professional journey.
"By walking on this sacred ground, you made the right decision to attend Delaware State University," Dr. Williams said. "It is going propel you, it is going to provide with what you need for your family. It will provide you the resources and the confidence you need to move in the right direction."
Dr. Williams closed his address by sharing three keys that he learned from his grandmother, who, he noted, only had a second-grade education. He said amid the graduates' future success, to stay grounded they should:
Never ever let anything come between you and your faith.
Never let anyone come between you and your family.
Focus on your passion in relationship to your work.
"Your faith, your family and your passion for what you do will sustain and provide you with everything you need, and you will be successful," Dr. Williams said.
The following ten students maintained a perfect 4.0 grade point average and were each awarded the Presidential Academic Award:
Alexis Atherley, Mass Communications, Clayton, Del.
Komlan Attiogbe, Computer Science, Germantown, Md.
Carlos Garcia Diaz, Physics, Roberts, Ind.
Mary O'Connor, Accounting, North Andover, Mass.
Rubi Guadarrama Omelas, Psychology/Social Work, Sylva, N.C.
Meghan Hamilton, Art Education, Harrington, Del.
Marina Hernandez, Psychology, Charlotte, N.C.
Itzel Serrano Marcial, Nursing, Decatur, Ga.
Journey Saez, Elementary Education, Lewes, Del.
Pamela Schork, Chemistry/Pre-Professional, Dover, Del.
The President Leadership Award was awarded to Corban Weatherspoon, an engineering physics major from Bear, Del.
The College of Business Commencement ceremony also recognized via video 99 graduates of the COB's Accounting Program from Ningbo University of Technology in the People's Republic of China.