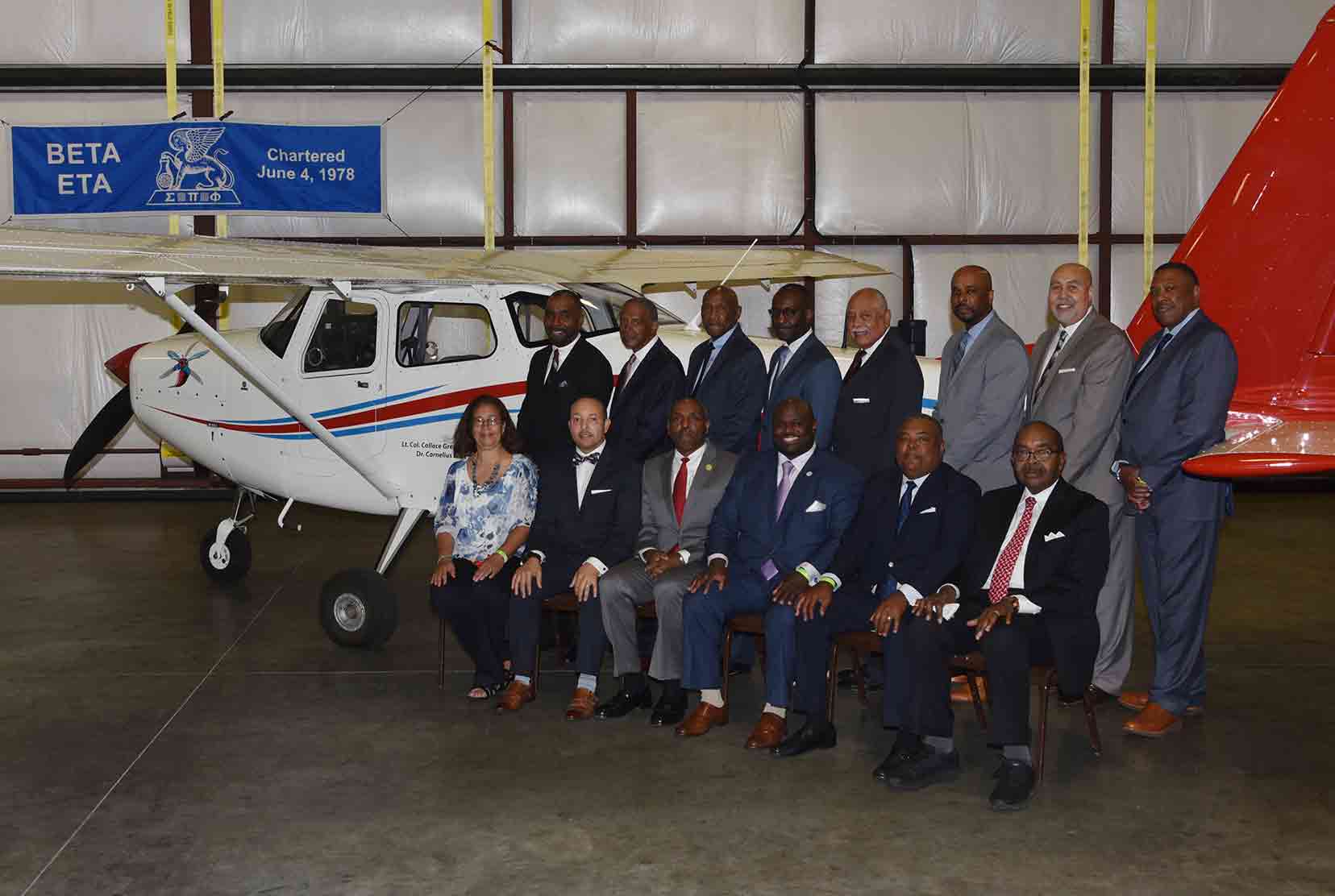 On Campus
Beta Eta donates $10,000 in support of Aviation Program
Thursday, May 20, 2021
An elite fraternity's financial support of Delaware State University's Aviation Program has led the naming of one of its training planes after two of the organization's esteemed members.
Beta Eta, a boulé (chapter) of the Sigma Pi Phi Fraternity, has made a $10,000 donation to the University Foundation to be earmarked for use by the Aviation Program.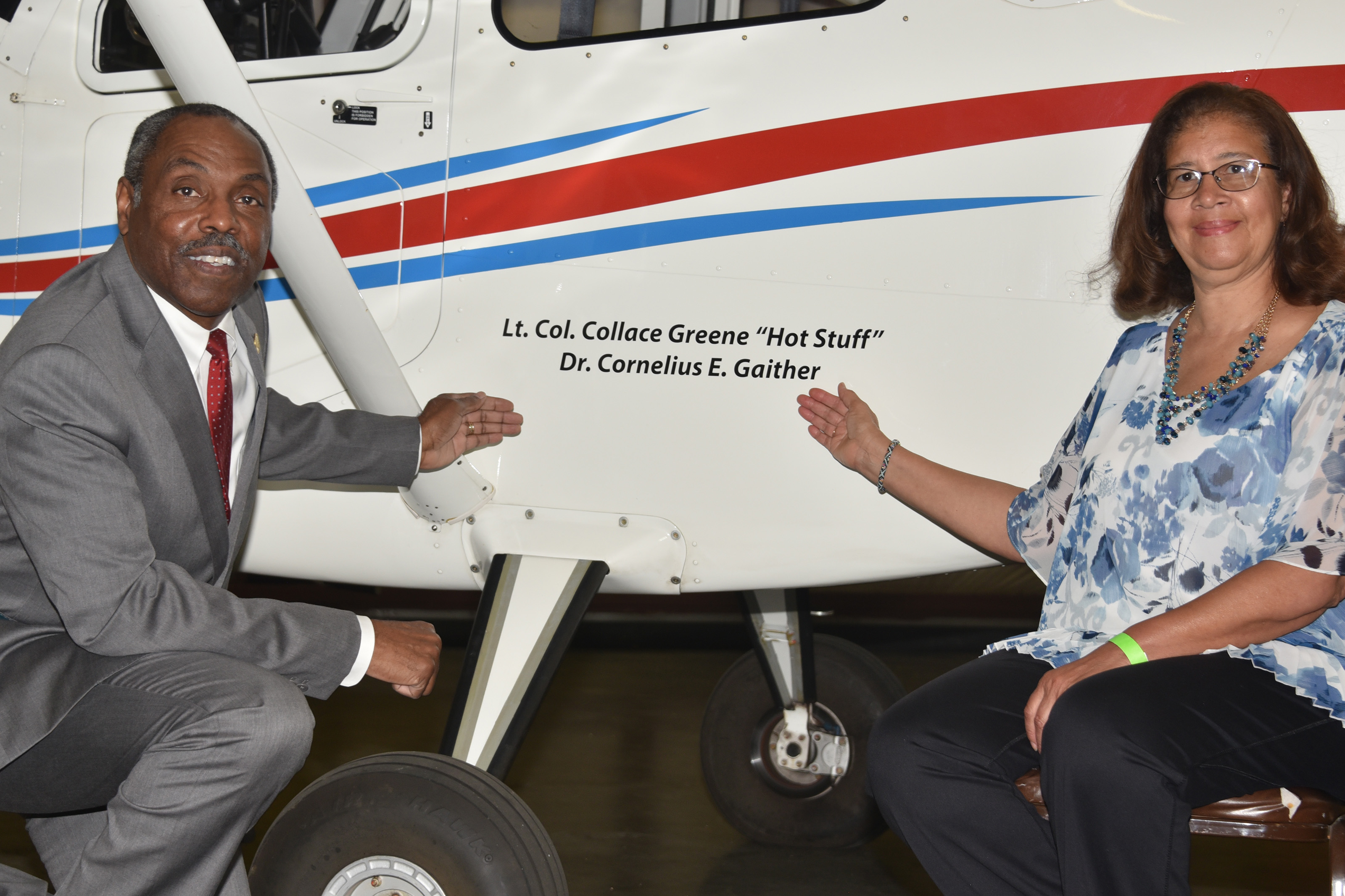 In appreciation for the donation, the Aviation has named one of its Vulcanair single-engine planes – from the new fleet of 11 aircrafts acquired through state funding in 2019 – after two Beta Eta members, the late Dr. Conelius Elbert Gaither and later retired Lt. Col. Collace Greene, also deceased.
Dr. Conelius Gaither was a Tuskegee Airman who later became a Wilmington dentist.
Mr. Collace Green was a Tuskegee Airman and U.S. Air Force aviator who later became the first African American to fly for a Fortune 500 company when he began flying from General Electric.
"The members of Sigma Pi Phi Fraternity, Beta Eta Boulé support of Delaware State University, and its Aviation Program, is intended to assist the University's educational and leadership development of its students," said Vincent Ross, Beta Eta member. "We recognize that the graduates of the aviation program become very successful, and hopefully our contribution will continue to help build a generation prepared to face the responsibilities and challenges of the 21st  century."
A group of the Beta Eta members visited the Delaware Air Park on May 18 to see the unveiling of the names of the plane. They were joined for the name unveiling by University President Tony Allen, Aviation Program Director Lt. Col. (ret.) Michael Hales, and Dr. Vita Pickrum, Vice President of Institutional Advancement.
John Ridgeway, Vice Chair of the University's Board of Trustees, and Dr. Michael Casson, Dean of the College of Business, are both Beta Eta members and were also in attendance at the event.
Founded in Philadelphia on May 15, 1904, Sigma Pi Phi is the oldest continuously existing Greek-letter post-graduate fraternity. It was originally founder by and primarily for eminent professional African American men and later similar professional men of African descent throughout the world.
Its membership have included distinguished and legendary black history figures such as W.E.B. DuBois, Carter Woodson, Dr. Charles R. Drew, James Weldon Johnson, former Virginia Gov. L. Douglas Wilder, and the Rev. Dr. Martin Luther King Jr. The fraternity has over 5,000 active members throughout of the United States, the Bahamas and the United Kingdom.
A fraternity that values "quality over quantity," members are individuals specifically invited to join by Sigma Pi Phi.
In addition to Trustee Ridgeway and Dean Casson, Beta Phi members have included former Del State Presidents Dr. Luna I. Mishoe (a founding member of the boulé), Dr. William B. DeLauder, and Dr. Harry L. Williams.