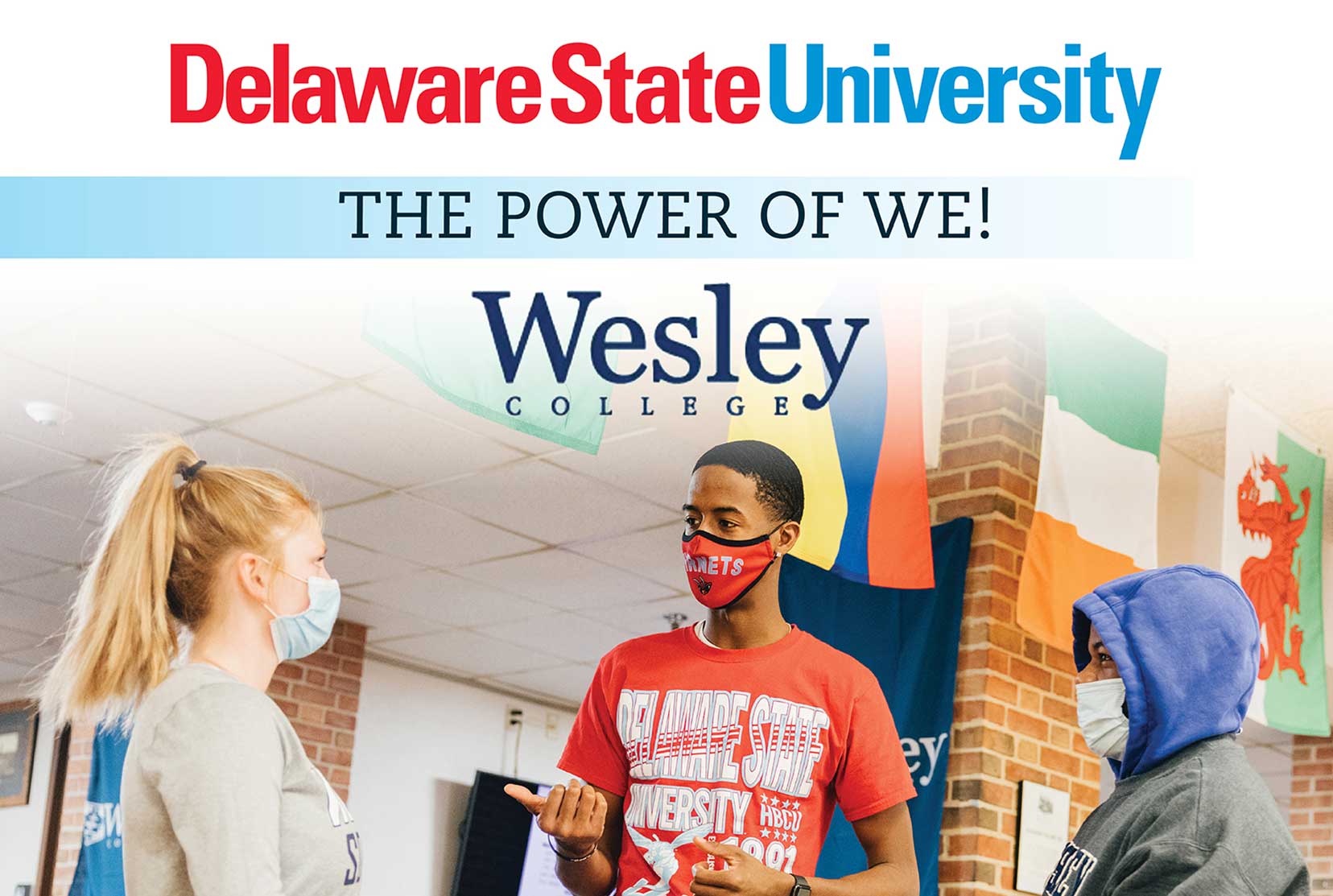 Office of the President
The Power of WE: Wesley College joining Delaware State University
Friday, April 23, 2021
By Dr. Devona Williams and Dr. Tony Allen
Last summer, in the throes of the pandemic, with America's eyes sharply on race relations for the first time in generations and amid politics that marked a nation divided, Delaware State University decided to acquire Wesley College.
Some thought a university like ours should focus its attention solely on helping students navigate the rapidly changing American landscape. We believe that is precisely what we are doing.
Thanks to the unremitting efforts of students, staff, faculty, alumni and friends, we have proven that we can face real challenges with resolve; discard traditional thinking for innovation when it matters most; and encourage partners to bring their time, talent and resources to a noble mission, while still speaking truth to power with the "audacity of hope."
Although this is the first time that a historically Black college or university has acquired another institution, that is not the reason this is such a compelling opportunity. Bringing Wesley College's 147-year-old tradition into the Delaware State University family is a once-in-a-generation opportunity that matches our highest aspirations and represents a defining moment for our future.
To serve substantially more students who need our brand of excellence, education and care, we must increase our footprint, expand key academic programs, grow our research base and enhance our economic impact on the state of Delaware. The university also needs a more direct connection to the economic, social and cultural life of downtown Dover, which is ripe with opportunity, particularly for people of color.
As of July 1, Delaware State University will have a student body of nearly 6,000 students, a $30 million research portfolio and the enhanced capacity to generate $350 million annually in economic impact for Dover, Kent County and the entire state.
The primary driving motivation behind this acquisition, however, has been increasing the opportunities for our students, especially those from Delaware. We know the university will be a new place and space for all Wesley Wolverines who choose to become Hornets, so we want them each to know that "your success is our success, and we are proud to welcome each of you into the Delaware State family."
We are working hard to earn every current Wesley student's choice to enroll at the university. Continuing Wesley students will have all credits transferred to the university without exception, be instructed in the degree program of their choosing and pay much less in tuition, room and board than previously.
The university has also offered continuing employment to nearly 60% of our Wesley colleagues. We are extremely excited about what their additional talent, spirit and energy will add to our prospects.
On the downtown Dover campus, we are bringing together the health sciences curricula of both institutions in what will be aptly named, "Wesley College of Health and Behavioral Sciences."
This new academic college will directly respond to health care market needs, specifically for medical professionals and practitioners. With a 7.4% annual career expansion rate over the last eight years, health professions today are among the country's fastest-growing degree programs.
Delaware suffers from a critical shortage of registered nurses and nurse practitioners. Job-fill rates range from 9%-16%, exacerbated by the continuing scarcity of qualified candidates of color. We anticipate doubling the combined annual production of highly qualified nurses by both current departments over the next four years.
Wesley's strong nursing and occupational therapy programs combined with the university's leadership in public/allied health, nursing, social work, psychology and translational research position the new college for long-term sustainable growth and profitability.
The financial impact of the transaction is equally significant. Over a three-year transition period, the combined entity is projected to realize $25 million in savings and optimize our combined real estate portfolio, thereby redirecting more resources toward serving students and investing in new growth opportunities for central Delaware.
Those three years will also see a deeper, more consequential relationship with the city of Dover and Kent County. We will expand our job-incubation partnership with the National Council on Agricultural Life and Labor Research (NCALL), increase local cultural opportunities through the Schwartz Center for the Arts and substantially grow workforce-development and adult-education initiatives with the Delaware Department of Labor.
When we first entered the agreement last summer, both institutions recognized that multiple contingencies must be met to finalize the transaction, including:
Delaware State University needed to secure sufficient funding outside normal operating revenue to manage the acquisition.
The Middle States Commission on Higher Education (MSCHE) would have to approve the deal.
A successful organizational transition plan that serves all students' needs and ensures the university's long-term financial stability and growth had to be developed.
We have made steady progress. Support from philanthropic partners including MacKenzie Scott, the Education Finance Institute and the Longwood Foundation has been generous. MSCHE's preliminary review of our application revealed no concerns. Our organizational plan has been guided by independent, in-kind support from one of the largest management consultancies in the world.
What this has all proven is "the power of WE."
From both schools' Boards of Trustees to the executive leadership teams down through to all levels of the communities, there has been a selfless devotion to seizing this opportunity.
It has not and will not be easy — nothing worthwhile ever is — but it is the quintessential example of how we deliver on the promise we have held for 130 and 147 years, respectively: access and opportunity for all. That's what a substantively diverse, contemporary and unapologetic HBCU is all about.