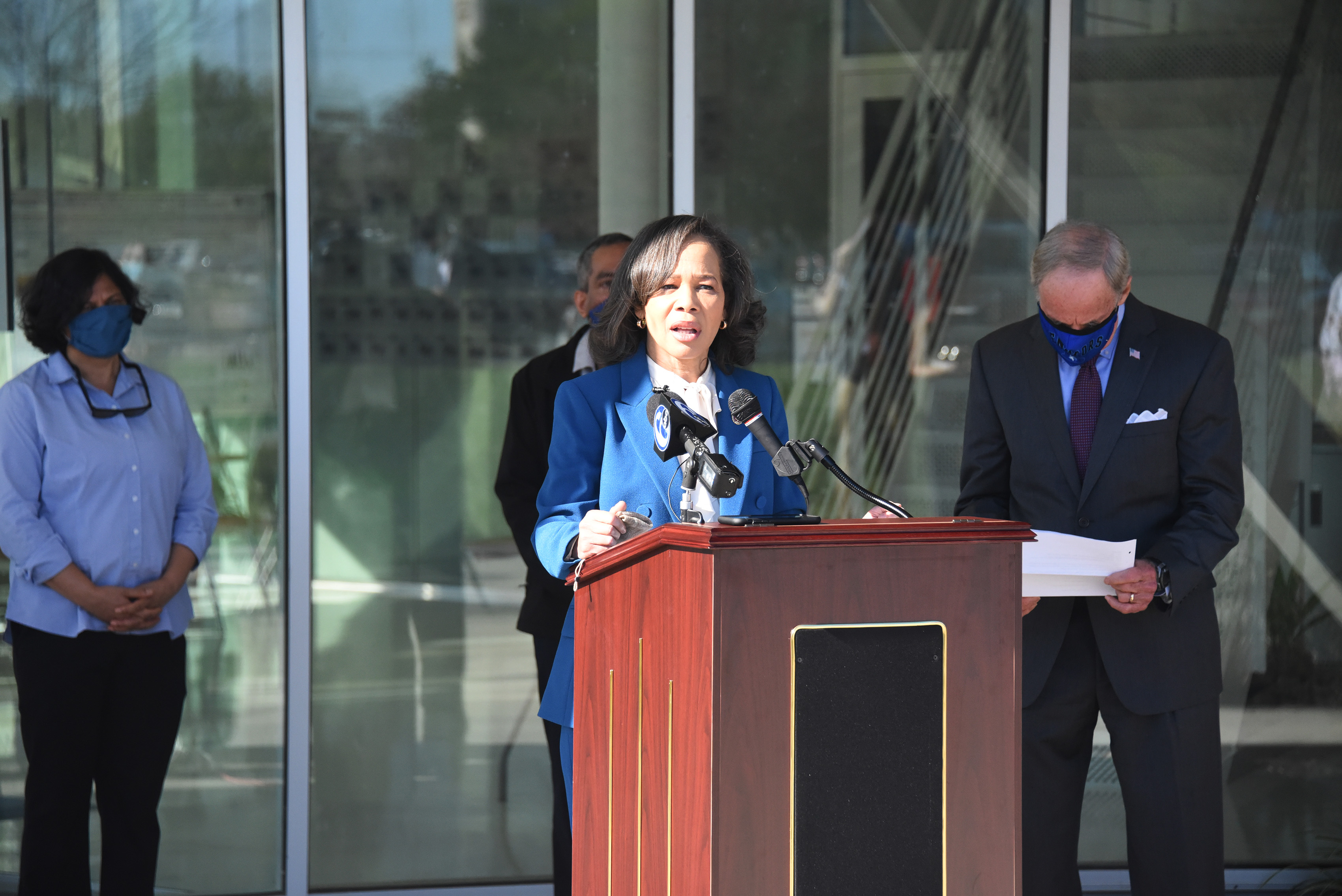 On Campus
Congressional Delegation celebrates Quantum Sensing Center
Friday, November 6, 2020
Delaware's entire Congressional Delegation paid a Nov. 5 visit to Delaware State University to celebrate the recently awarded $7.5 million Department of Defense grant for the establishment of a Quantum Sensing Center on campus.
U.S. Senators Tom Carper and Chris Coons as well as U.S. Rep. Lisa Blunt Rochester gathered to talk about the research grant that was a part of the Department of Defense's $50 million investment in Historically Black Colleges and Universities and Minority-Serving Institutions to conduct boundary-pushing research.
In a media event held outside of the Optical Science Center for Applied Research Building, University President Tony Allen introduced the lawmakers as the "best Congressional Delegation in the country," noting that they played an integral role in every federal grant that has been awarded to Del State.
Rep. Rochester, who is the chair of the bipartisan House Caucus on the Future of Work, noted Delaware State University's focus on excellence and on the future.
"The idea that new scientists will be developed and come out of this center, the idea that we are building a cadre of people to lead our country and lead the world is reason for celebration," Rep. Rochester said. "The work of Delaware State University, under the leadership of President Tony Allen, is taking this University and this country to a new level."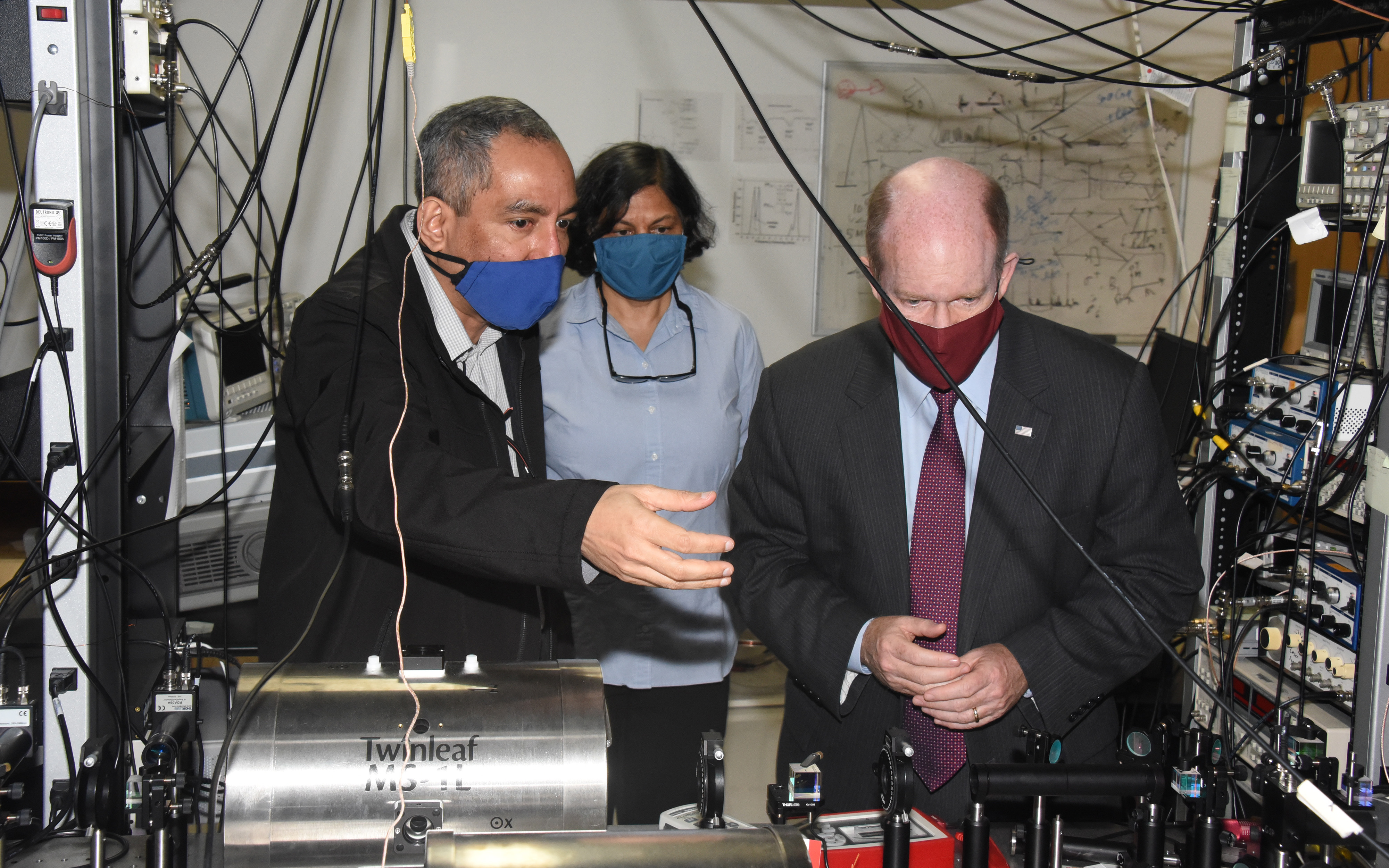 Sen. Carper said that such research could pay dividends for Delaware's economy. "One of the things we hope we're doing is providing opportunity to monetize the federal funded research to turn that into employment, opportunities for jobs and businesses that are successful," he said.
Sen. Coons showed a strong technical understanding of the research.
"A lot of (the center's) work is essentially about the spin of atoms themselves, grasping and manipulating and managing and then applying the insights from the actual spin," Sen. Coons said. "They have literally moved the frontiers of science from a challenge being dealing with the spin of a planet so large we can barely sense that we're on a planet to an atom so tiny that it defies our perception."
Del State is one of only four HBCUs recently awarded one of the major research grants from the Department of Defense's Office of Research and Engineering. Dr. Gour Pati is the principal investigator who is leading the Quantum Sensing Center team.
"Quantum technology is the technology of the future, and it is being used to build very powerful quantum computers," Dr. Pati said. "Someday in the near future, quantum computers will supersede and outperform the classical computer in many respects."
Rep. Rochester noted that the quantum sensing research would have many applications. "It can be used in so many remarkable ways," she said. "The potential environmental application, like the early detection of volcanic eruptions, to public safety applications, like being able to see around corners, to public health applications, like the early detection of multiple sclerosis. The potential in this field is unlimited."
Dr. Renu Tripathi, Professor of Physics and Co-Investigator/Director of the center said the research would also yield significant educational benefits at the University.
"Extensive education and training will be provided to graduate and undergraduate students, and special courses will be developed in quantum sciences in the engineering and physics curriculum," Dr. Tripathi said.
Also a part of the Quantum Sensing Center team are Dr. Deborah Santamore (Co-PI), Professor; Dr. Jun Ren (Co-PI), Associate Professor; as well as Dr. Matthew Bobrowski (Sr. Key Personnel), Visiting Associate Professor of Physics and Astronomy.