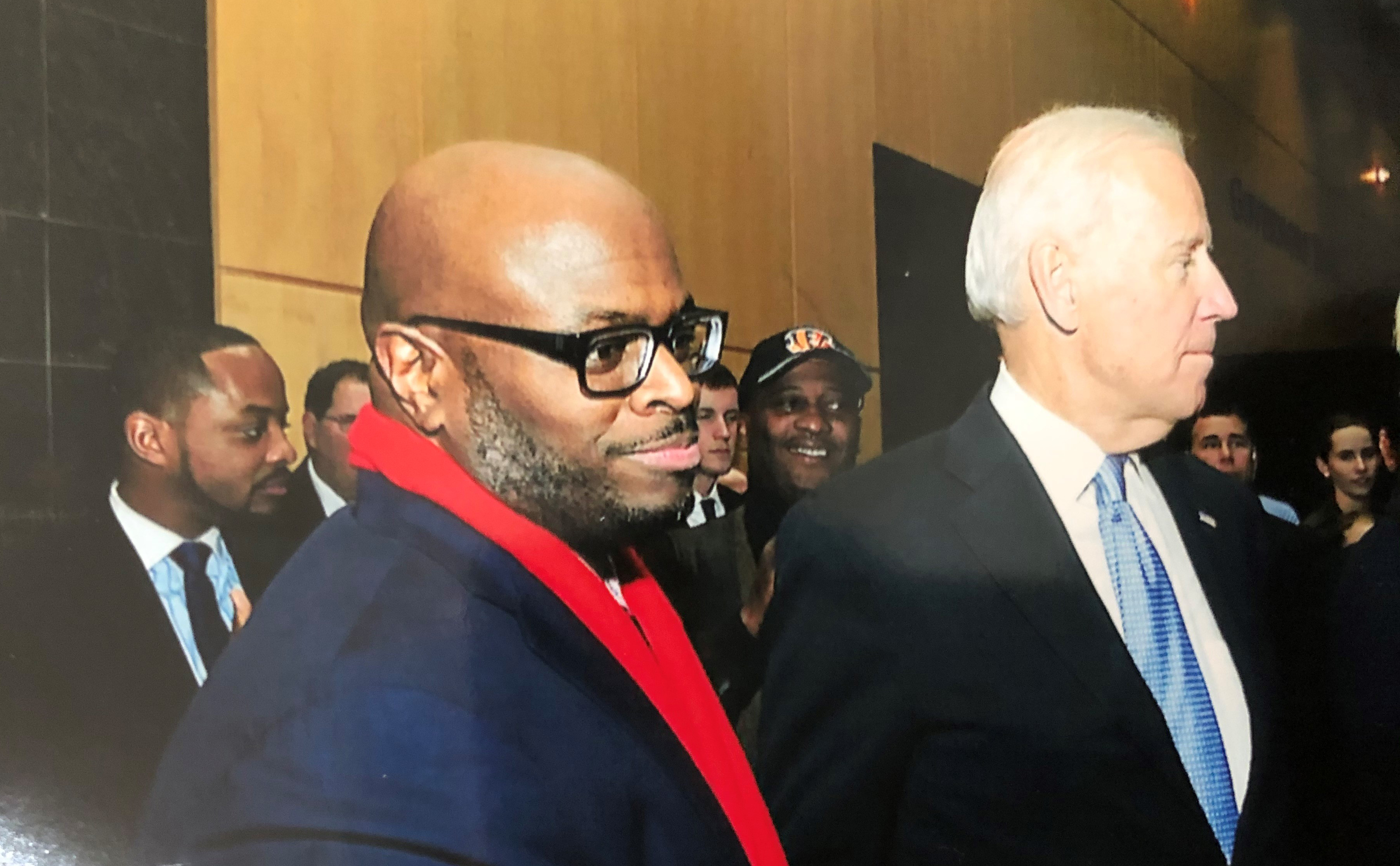 On Campus
Dr. Allen named on Biden Transition Team
Tuesday, September 8, 2020
Democratic Presidential Nominee Joe Biden has appointed Delaware State University President Tony Allen to serve on the Advisory Council of the Biden Transition Team.
The Transition Team is separate from the Biden Campaign and will function to ensure the continuity of the government should the former Vice President win the November presidential election.
Dr. Allen served as a Speechwriter and a Special Assistant for then-U.S. Sen. Biden from 1997-2000.
"More than 20 years ago, I worked for Joe Biden," Dr. Allen said. "We met in 1997 when he took a chance on a young, single father completing his graduate studies and asked me to come work in his Senate office, as a speechwriter and a liaison to the City of Wilmington. What I didn't know then was that he would become one of the primary catalysts to my life in public service."
He added that Joe Biden's example gave him the confidence and the conviction to serve.  "I could not be more honored and humbled by his invitation to offer counsel and perspective in an unprecedented moment in our nation's history," Dr. Allen said.
The University President also served on previous transition teams for former Delaware Govs. Jack Markell and John Carney.
Former Delaware U.S. Senator Ted Kaufman, one of the Co-Chairs of the Transition Team, said the group's work will be in preparation for backdrop of a global health care crisis and the struggling economy that, if elected, the Biden administration will inherit.
"This is a transition like no other, and the team being assembled will help Joe Biden meet the urgent challenges facing our country on day one," Kaufman said. "The co-chairs, advisory board, and senior staff are a diverse group of experts who are committed to helping a possible Biden-Harris administration beat the public health crisis and put Americans back to work in good-paying jobs." 
Those serving on the Biden Transition Team include:
CO-CHAIRS
Anita Dunn, Senior Advisor to Vice President Biden
Michelle Lujan Grisham, Governor, State of New Mexico
Ted Kaufman, former United States Senator from Delaware
Cedric Richmond, Representative for Louisiana's 2nd Congressional District and National Co-Chairman, Biden for President 
Jeff Zients, former Director of the White House National Economic Council
ADVISORY BOARD
Dr. Tony Allen, President, Delaware State University
Jared Bernstein, Senior Fellow at the Center on Budget and Policy Priorities
Pete Buttigieg, former Mayor, South Bend, Indiana and 2020 Democratic Presidential Candidate
Leslie Caldwell, former Assistant Attorney General for the Criminal Division, United States Department of Justice
Mark Gitenstein, former United States Ambassador to Romania
Cecilia Martinez, Executive Director for Earth, Energy and Democracy, Energy and Climate Researcher with a Focus on Environmental Justice and Equity 
Bob McDonald, retired Chairman, President & CEO of The Procter & Gamble Company; 8th Secretary of the Department of Veterans Affairs
Minyon Moore, former Assistant to the President and Director of the White House Office of Public Liaison
Dr. Vivek Murthy, former Surgeon General of the United States
Ambassador Susan E. Rice, former United States Ambassador to the United Nations & National Security Advisor
Teresa Romero, President, United Farm Workers
Cathy Russell, former United States Ambassador-at-Large for Global Women's Issues 
Lonnie Stephenson, International President of the International Brotherhood of Electrical Workers
Felicia Wong, President and CEO of the Roosevelt Institute
Sally Yates, former Deputy Attorney General, United States Department of Justice