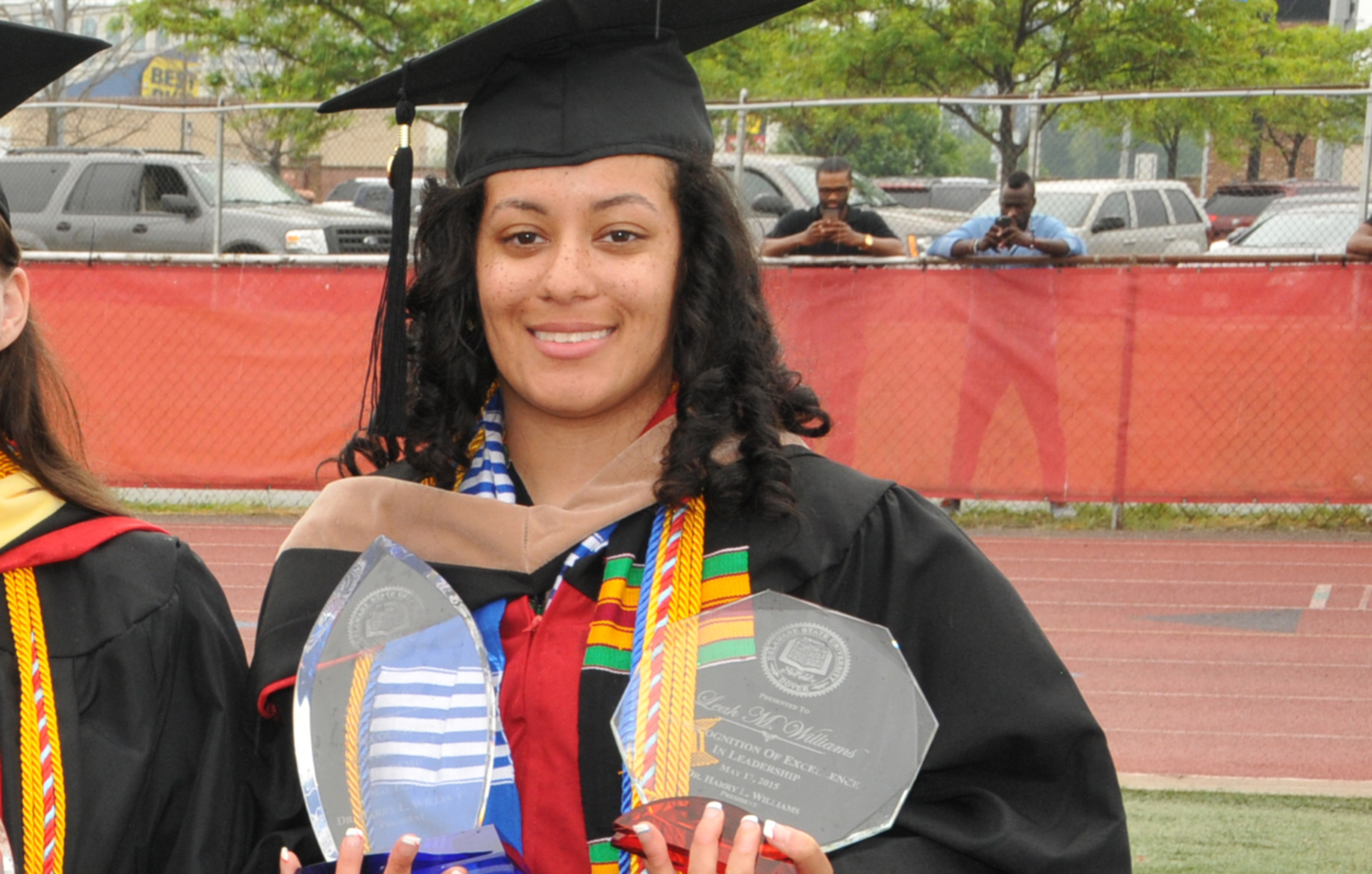 On Campus
2020 Convocation features alumna Leah Williams as keynote
Thursday, September 17, 2020
Leah Williams – one of its most prolific Del State graduates of the last decade – returned to her alma mater on Sept. 17 as the Convocation keynote speaker to remind the current classes of students of the role HBCUs played in the Civil Rights years of Martin Luther King and their place in the current social justice struggles.
Ms. Williams, Classes of 2015 and 2016, speaking during the virtual ceremony, said the current unrest and racial tension are the "new Civil Rights movement." She said country is at a critical turning point, and noted, "How precious time is and the importance of utilizing our 'now.'
Armed with the Bachelor of Science in Management and a Master of Business Administration she earned at Del State, Leah is now a Supply Chain Subcontracts Specialist for the Northrop Grumman Corp., one of the top defense technology companies in the world. Earlier this year, Ms. Williams also completed a Master of Cybersecurity Technology from the University of Maryland.
In her Convocation address, Ms. Williams noted that Historically Black Colleges and Universities were instrumental in the Civil Rights movement of the 1950s and 60s, and HBCU students today are vitally important now in what is essentially the new Civil Rights movement.
"Some of the crucial Civil Rights movement activities took place or originated on HBCU campus. Voter rights registration drive were held on campus, boycotts and marches were led by HBCU students," she said. "HBCU students believed in their ability to make a difference in their "now." And (DSU) students, you can believe the same."
While acknowledging that engaging with others looks different now in this "new normal" of COVID-19, she said "whether it is being actively engaged with the campus community or the larger community, virtually or in-person, I encourage you to come together, to speak up, and to use your voice to identify, address and effect change."
Ms. Williams said if Del State students take advantage of the "now" and positively take advantage of every moment they have at DSU, "you will truly be equipped to perform at the next level and have the confidence continue to be seen, to be heard and to be that representation and change that we need."
She said it is especially important for students to make their voices heard in the upcoming election. She recalled the pride she had in casting her absentee ballot from Del State in 2012 in support of the country's first African American president – Barack Obama. Ms. Williams urged the students to seek help if they are unsure how to obtain their absentee ballots to vote.
"Your vote can start moving this country in a positive direction of equality," she said. "Don't miss out on your opportunity to vote in the upcoming election."
Ms. Williams made history as an undergraduate in 2015 when she became the first Del State graduate to be awarded both the Presidential Academic Award in recognition of her 4.0 GPA, and the Presidential Leadership Award. She was also a 4.0 master's degree student at the University of Maryland.
She has continued to make her mark professionally. In 2017 Ms. Williams was selected as one of the Top 30 under 30 Rising Supply Chain Stars in the country by Thomas & the Institute of Supply Management. In 2018, Ms. Williams was recognized as the Top Supply Chain Analyst of the Year by the International Association of Professionals. In 2019, she was selected Woman of the Year by the Northrop Grumman Women's International Network. The Del State alumna has been featured on the Aspire TV Network, the HBCU Nation Radio Show, HBCU Times Magazine, the nonprofit Black Women in Business organization, as well as other media organizations.
In speaking at the official ceremonial opening of the school year, University President Tony Allen gave the students his wisdom on "change" and why it is important to deal with it.
"The only thing that remains constant is change," Dr. Allen said. "Those who can adapt, persevere," Dr. Allen said. "Those who cannot merely fade away."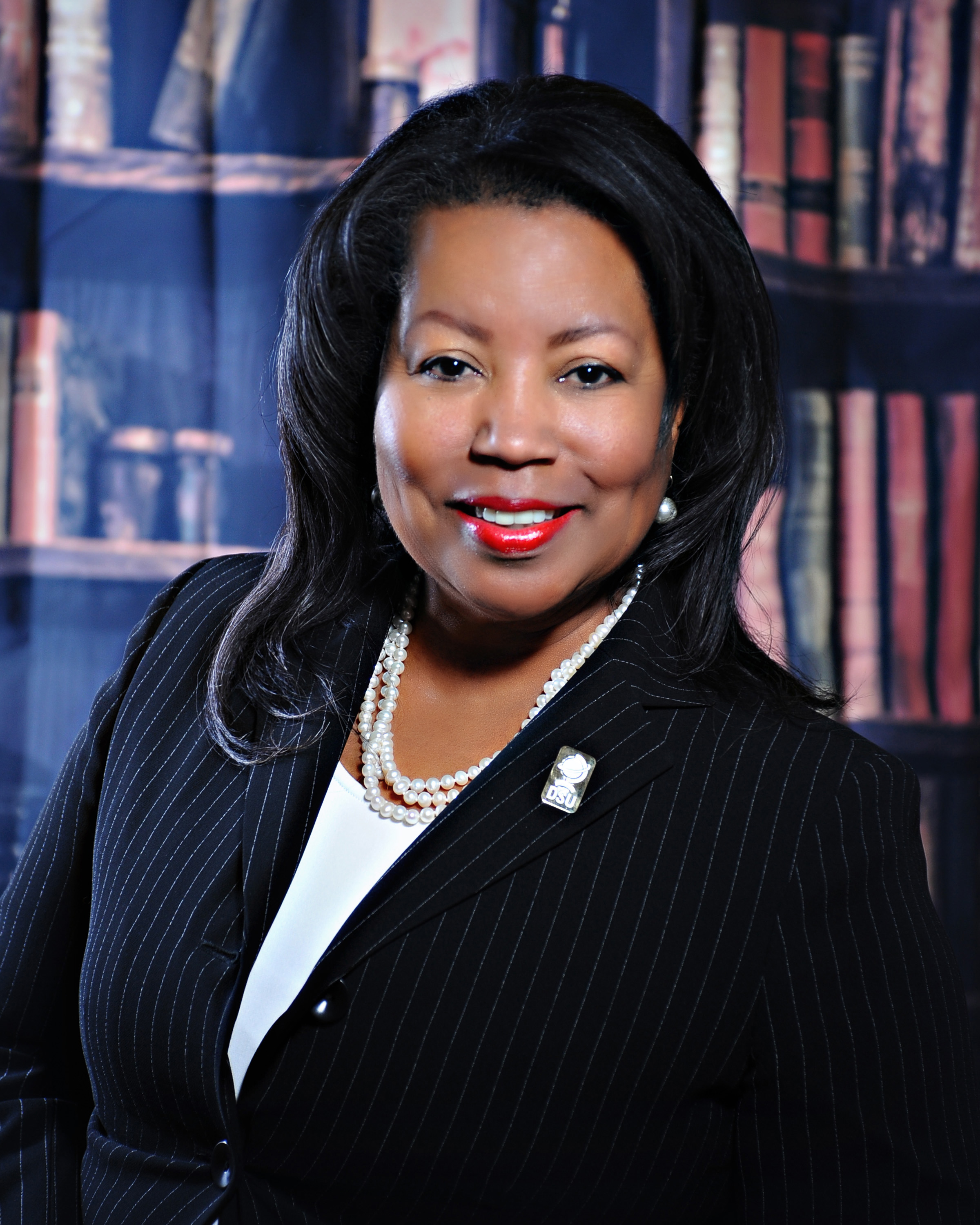 Dr. Devona Williams, Chairperson of the University's Board of Trustees, also addressed the students during the Convocation, reminding them of their important role in keeping the University a safe environment during the pandemic.
"I appeal to you to comply with the safety precautions that are in place for your protections," the Board Chairperson said. "If everyone does what is expected and required, we can avoid the problems that have caused other institutions to send their students home and close their campuses."
Dr. Williams said she adheres to the public health guidelines by always wearing a mask in public and even keeping spare masks in her car to share with others who forget. And Dr. Williams added that she always has an answer for those who are not in agreement with the safety measures.
"I remind them that I am protecting myself as well as them, and that my life depends on it," Dr. Williams said. "No apologies."
As always, the Convocation ended with the University's Alma Mater – sung harmoniously by six members of the Del State Concert Choir.