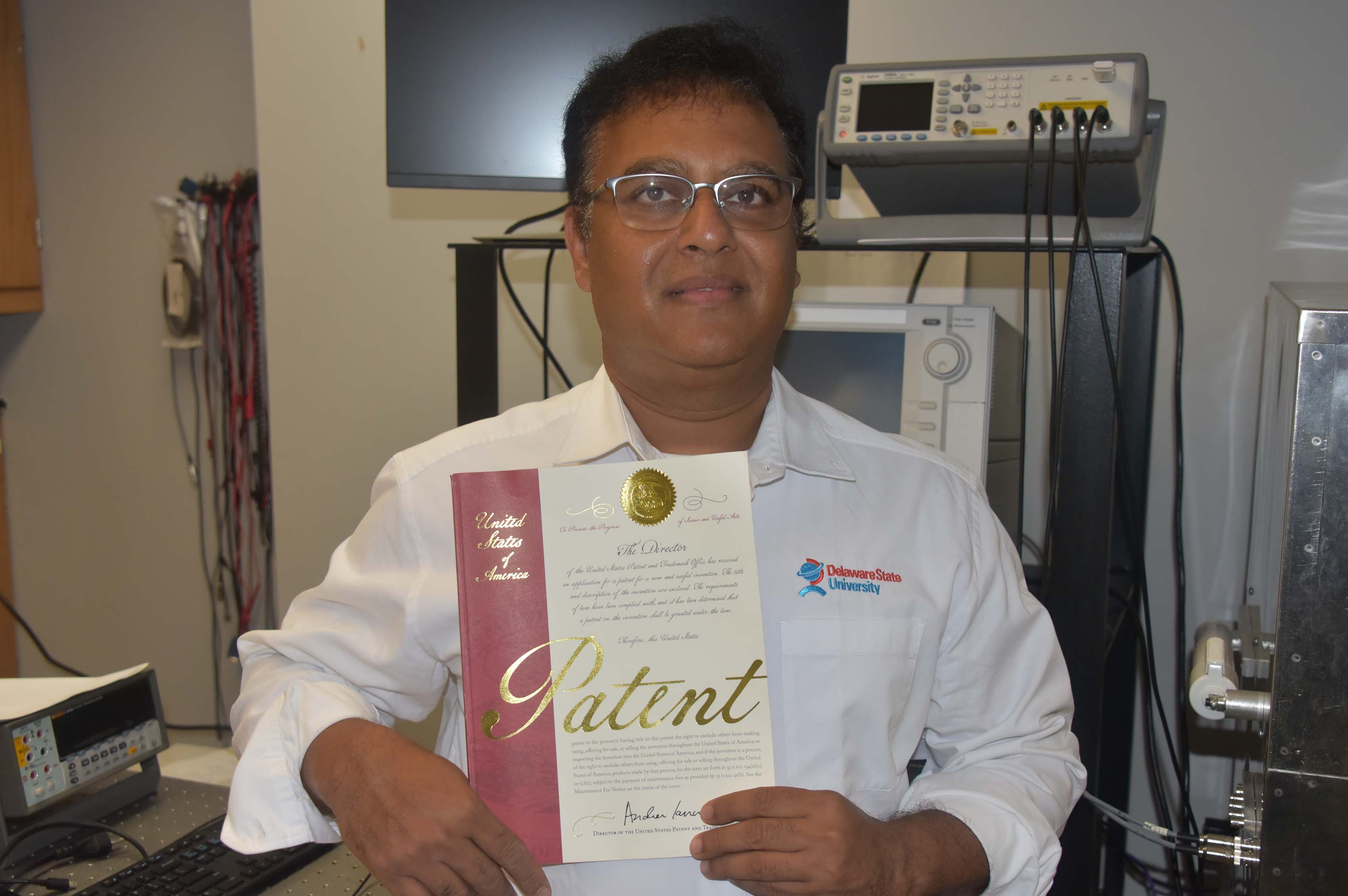 On Campus
University, Dr. Mukti Rana awarded a new patent
Monday, July 20, 2020
A new innovation has been added to the list of patents that have come out of Delaware State University.
Recently the U.S. Patent and Trademark Office awarded the University and Dr. Mukti Rana, Professor of Physics and Engineering, a patent for the discovery of a new alloy material –consisting of Germanium, Silicon, Tin and their oxides.
The alloys can be used as the sensing layer of a microbolometer, which is used in detecting electromagnetic radiation in medium wavelength infrared and long-wavelength infrared regions. These sensors are widely used in night vision cameras, firefighting operations, surveillance, security and space exploration.
The new invented material shows greater change in sensor resistance to temperature changes from the radiation in wavelength from various objects, surpassing the change in resistance of sensors that have been widely used on microbolometers in the past. The new alloys also show more absorption of infrared radiation in the above mentioned wavelength regions.
This patent is similar to an alloy material discovered by Dr. Rana in 2019 and patented. While containing largely the same elements, the atomic composition of the most recently discovered alloy material is different, qualifying it for a separate patent.
In addition to Rana serving as the principal investigator of the research that produced this latest patent, the co-principal investigator is Larine Mbabit, a former undergraduate research assistant who graduated from Del State in May 2020 with a Bachelor of Science in Engineering Physics. Also a co-investigator is Nibir Dhar, Chief Scientist of Science and Technology at the U.S. Army's Night Vision & Electronic Sensors Directorate located at Fort Belvoir, Va. 
​This is the third patent awarded to the University with Dr. Rana being the principal investigator for all of them – all awarded within the last year. Funding for the research came from the Army Research Office. In addition to the two alloy material patents, the University and Dr. Rana also were awarded a patent in 2019 for the design of a semiconducting microbolometer for use in detecting electromagnetic waves in medium-wavelength and long-wavelength infrared.
To date, there have been six patents that have been produced by the University and its faculty scientists.