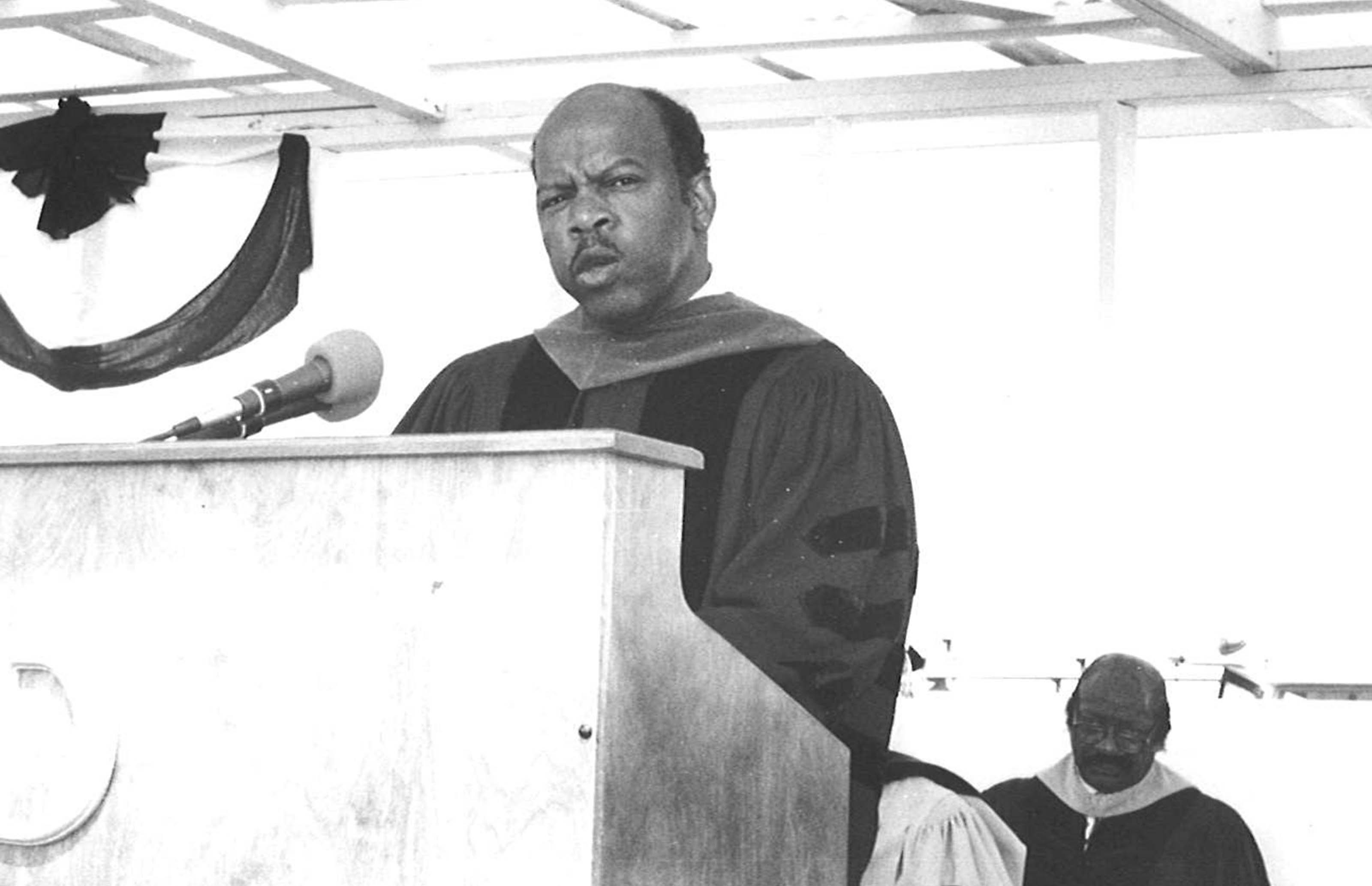 On Campus
Delaware State University History Series – John Lewis at Del State
Wednesday, July 22, 2020
The third installment of the Delaware State University History Series looks back, appropriately, to 1988 when the "Lion of Civil Rights" John Lewis spoke at then-Delaware State College.
The history of Delaware State University is blessed to note that the presence and booming voice of John Lewis made it to the Del State campus during his lifetime.
On May 15, 1988, the 97th anniversary date for then-Delaware State College, Congressman John R. Lewis spoke to 383 graduating seniors as well as their families and friends as he served as the keynote speaker at that year's Commencement Ceremony held at Alumni Stadium. The Commencement also marked the first nine graduates of its Master of Business Administration program.
While he was only in his second year in Congress, Lewis' address was drawn more from his then-three decades of civil rights activism.
Under sunny skies and a brisk wind, Lewis made it clear to the Class of 1988 that their responsibility was to make a difference.
"You have a mission to give something back to the community," Lewis said. "We should be ashamed to die until we have made some contribution to humanity."
Prior to his election to Congress, Lewis' life was all about civil rights, which entailed making "good trouble, necessary trouble." A follower of the nonviolent philosophy of Mahatma Gandhi and Martin Luther King Jr., Lewis still wears the scars of his young adult years in the 1950s and 1960s from participating in sit-ins, the Freedom Ride, and marches, often physically attacked, often jailed.
It was Lewis who was leading the march across the Edmund Pettus Bridge in Selma on that fateful day memorialized as "Bloody Sunday," in which participants were brutally beaten with nightsticks by Alabama State troopers.
He told the Alumni Stadium crowd that his courage was inspired at age 15 by Dr. King.
"His words stirred me, because he dared to stand up," Lewis said. "And I could see that he was not just speaking for blacks, but for all humanity,"
His Alabama childhood as the son of sharecroppers also motivated him to join the civil rights struggle.
"Black youths attended training school, not high school," he said in his address. "It was a closed society; everywhere I turned I found walls."
Undeterred, Lewis went on to enroll in American Baptist College and later Fisk University. He focused so much of his time to the civil rights movement, he suspended his academic study for a few years before resuming his enrollment and graduating from Fisk in 1967.
As one of the founding members of the Student Nonviolent Coordinating Committee (SNCC), he became one of its primary strategists. He would serve as the SNCC Chairman from 1963-1966, which also gave him a seat at the "Big Six" leadership table for the planning of the historic 1963 March on Washington.
He told the graduating class that he and many others paid the cost of their activities as they endured violent assaults by police and angry mobs and arrests by racist law enforcement officials. Lewis said he was jailed 40 times.
"We were not struggling against people, but against an evil system that would destroy us all," he said. "It was a struggle between the forces of hate and love."
Delaware State News reporter Thomas O'Toole, who covered the ceremony, described the civil rights giant this way:
"Lewis, characterized by Time Magazine as one of the world's 'Living Saints,' looked every bit the part in the black robe and purple sash. He exhorted the 383 graduates assembled at Alumni Field on the Dover campus in ringing, powerful tones."
"You must become the conscience of your community. Work for social and economic justice," Lewis told the Class of 1988. "You have a mandate, a mission and a moral obligation to work for justice, to love your neighbor, to be sensitive to those who have been left out and left behind."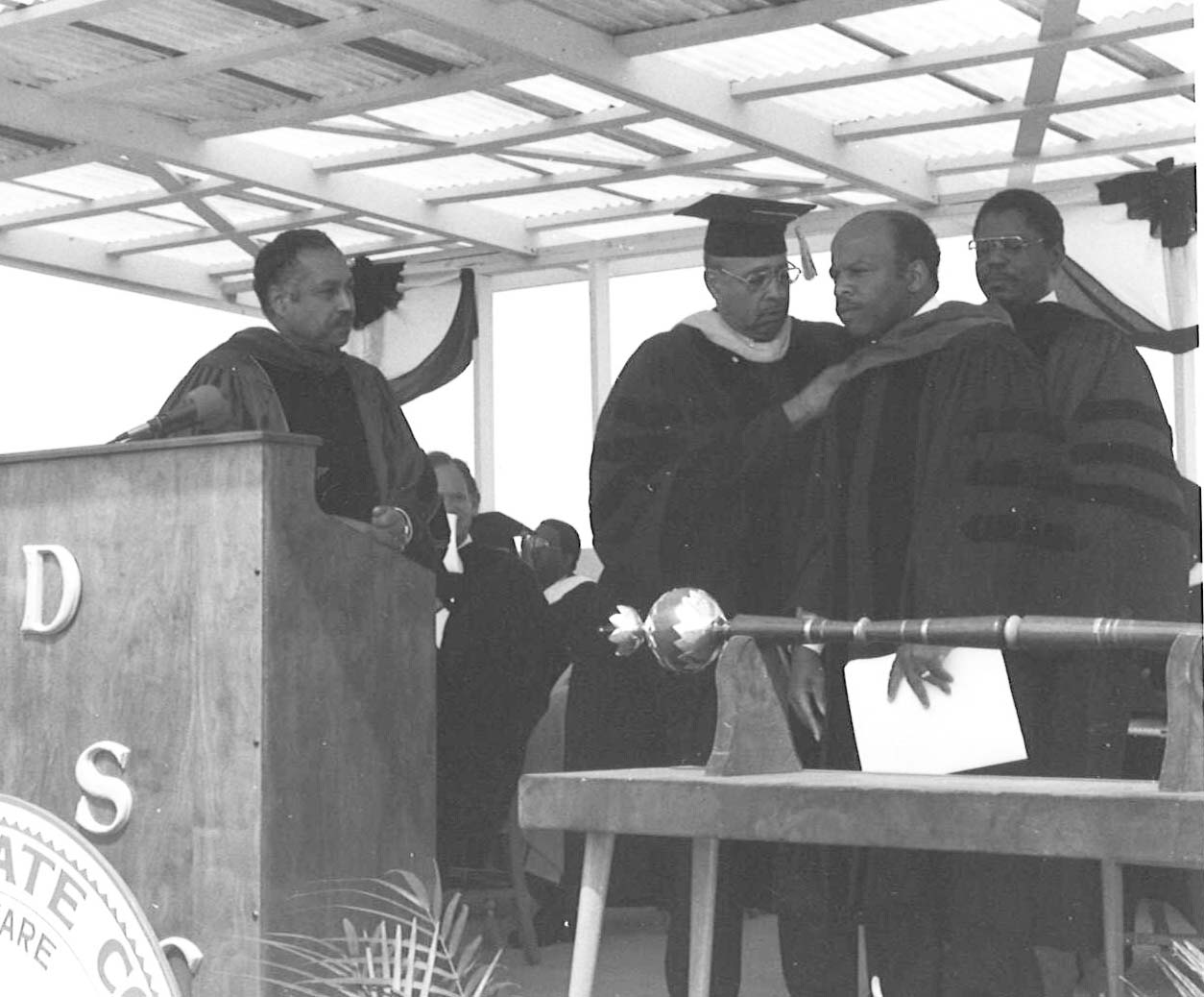 Lewis also expanded his address to share some of his world view.
"We have seen men sacrifice truth for a false and negative peace," said Lewis, who represented Georgia's Fifth District in Congress. "I strongly believe the means and ends are inseparable. The means by which we stand must be consistent with the ends we seek."
After his address, Del State President William B. DeLauder presented Lewis with an Honorary Doctor of Laws. Dr. Ulysses S. Washington, Grand Marshal, and Dr. Henry Tisdale, then-interim Vice President of Academic Affairs, placed the doctoral sash on Lewis. It was Dr. DeLauder's first Del State Commencement of his tenure, since at the time he was still in his initial year as president.
Dr. DeLauder and Lewis were joined on the Commencement stage that day by Del State Board of Trustees Chairman William Dix, Dover Mayor John Richter, then-U.S. Rep. Thomas R. Carper and Delaware Gov. Michael N. Castle.
Later, Gov. Castle would serve for many years in Congress with Lewis.
"I had great respect for him and he was well regarded as a member of Congress," Castle said. "Of course he was universally respected as a great leader in terms of the racial issues that have faced the country."