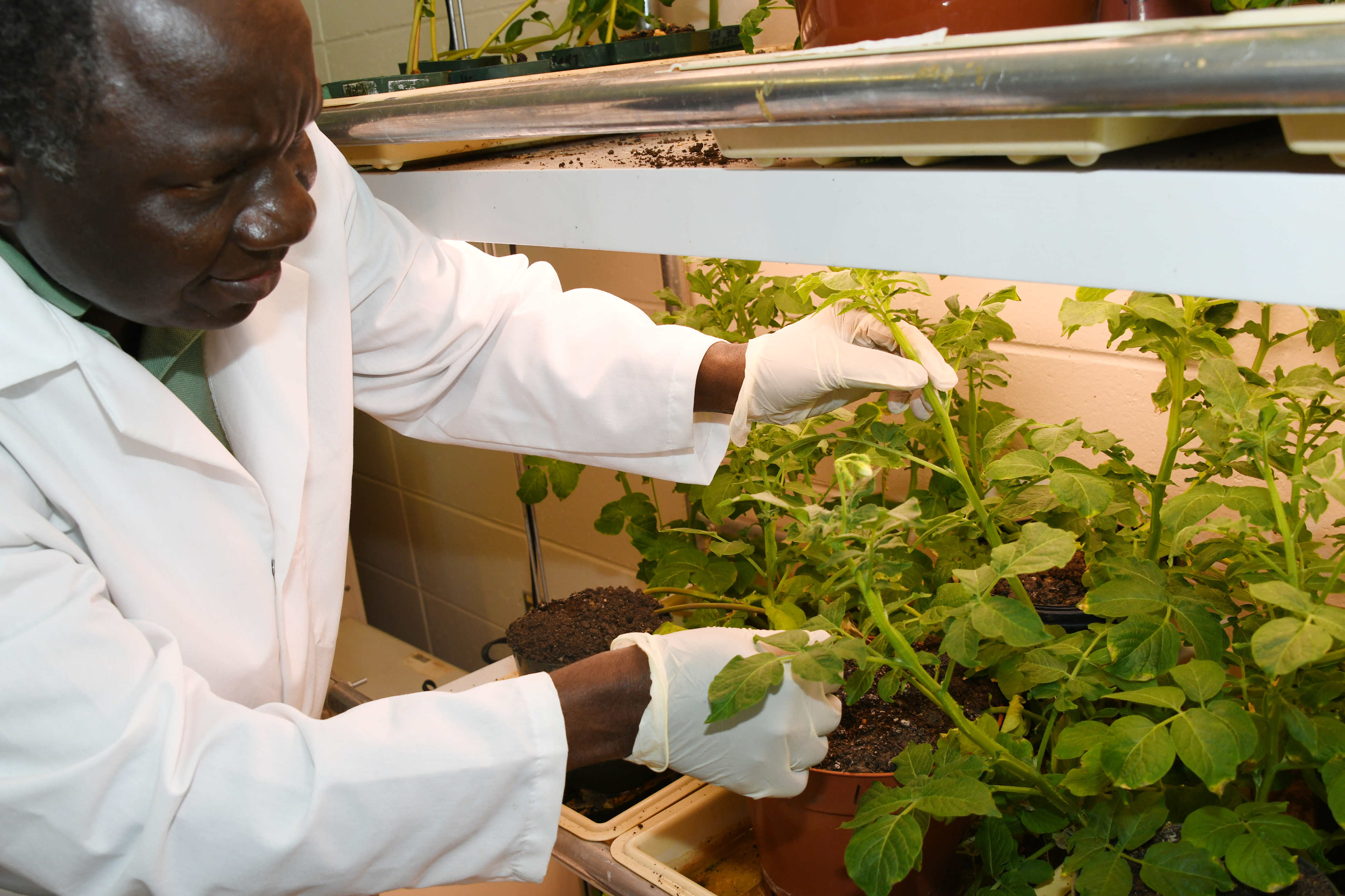 On Campus
Dr. Vincent Fondong awarded $1.1 NSF research grant
Thursday, April 30, 2020
Dr. Vincent Fondong, professor of biological science, and his research recently received further validation from the National Institute of Food and Agriculture (NIFA), as it has awarded him a new four-year $1.1 million grant.
Dr. Fondong successfully submitted his research proposal to the National Science Foundation (NSF) and the NIFA, which are jointly administering the Plant Biotic Interaction Program, prompting the NIFA to award him the grant as part of that scientific initiative.
While Dr. Fondong – the principal investigator of the grant – has focused most of his 18-year research at Delaware State University on the impact of plant viruses on African crops such as the cassava plant, his current research seeks to address a serious crop virus problem in the United States.
Specifically, Dr. Fondong will conduct his research on the "Potato virus Y," which causes potato tuber diseases and decreases the yield and quality of that crop. The main objective of his research will be to use high-resolution deep sequencing to better understand the mechanism through which the Potato virus Y causes disease in potato tubers (which are the potatoes harvested for consumption as well as planted to grow a new crop).
"We will also work to develop an innovative new biochemical pathway to manage this virus," Dr. Fondong said. "The importance of this novel pathway is that it would lay a foundation for the production of a non-GMO virus resistant potato."
The market is resistant against GMO (genetically modified organism) crops. This means Dr. Fondong's approach could prove to be more economically viable for the potato market.
Dr. Fondong has been awarded almost $9 million in research grants since he arrived at Delaware State University in 2002. The five of those grants came from the NSF totaling just over $7.3 million. He has also received $2.4 million in training grants.
Collaborating with Dr. Fondong on the research is Dr. Blake Meyers of the Danforth Plant Science Center in St. Louis, Mo., the co-PI of the grant.