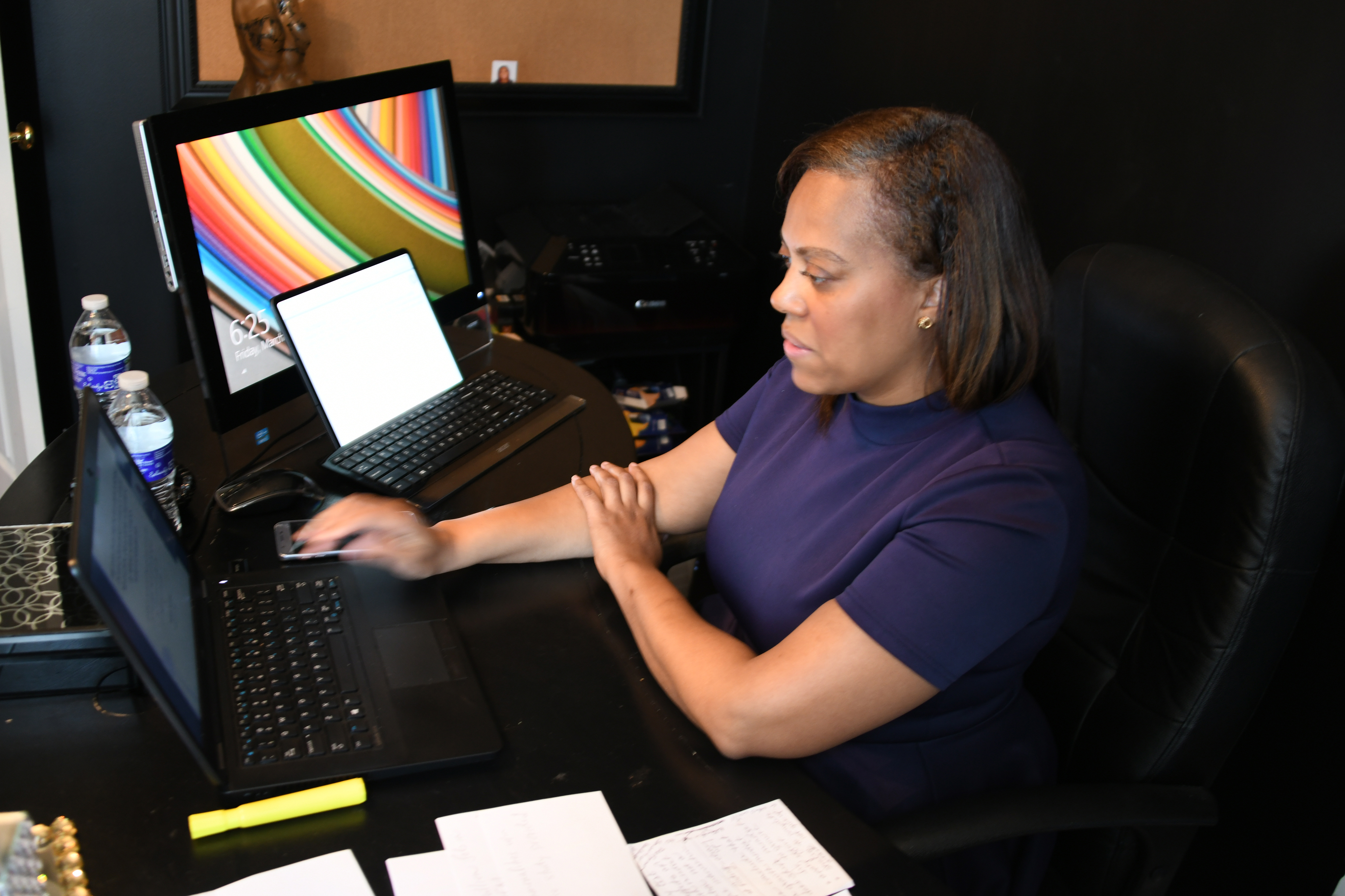 On Campus
1st-ever Virtual Dissertation Defense at Del State
Friday, March 20, 2020
Within the fully online academic operations at Delaware State University, its doctoral program has made institutional history as a result of the ongoing Coronavirus pandemic.
Varneka Baynard, an Ed.D. in Educational Leadership candidate, became the first doctoral student at the University to give a final dissertation presentation via video conferencing.
"I was scared last week. I thought if they cancel class, I would go another semester without being able to finish," Ms. Baynard said. "But by the grace of God, Dr. (Nirmaljit) Rathee and the committee, I can finish."
When the University leadership decided to indefinitely suspend in-person classes on campus, the Education Department determined that doctoral dissertation presentations should not be halted by the pandemic, and proceeded to implement a video-conferencing capability from Microsoft Team Zoom.
The capability was given its first workout at Del State on March 19 when Ed.D. candidate Brenda Farmer successfully gave her dissertation proposal presentation.
That established a comfort level for the Dissertation Advisory Committee to receive the first-ever virtual final dissertation since the University established its first doctoral program in 2004. Ms. Baynard successful presented and defended her dissertation on "The effects of the use of a growth mindset intervention on self-efficacy, student motivation, and academic achievement of middle school students with vulnerabilities."
"After the presentation and the question and answer session, the committee deliberated and found the research work and the presentation to be of high caliber and declared the defense successful," said Dr. Nirmaljit Rathee, director of Education Graduate Programs.
Ms. Baynard said the video-conferencing process was smooth and without interruption. She added that she was deeply appreciative that Dr. Rathee and the committee refused to allow the pandemic situation to delay her doctoral pursuit.
"Dr. Rathee worked diligently to make it a smooth process," Ms. Baynard said. "She sent me a link to Microsoft Zoom so I could practice on it, and that put me ease. She really worked with me so I wouldn't have any difficulty during the dissertation."
Having successfully defended her dissertation, Ms. Baynard is on track to be awarded her Ed.D. in Educational Leadership in May.
The Dissertation Advisory Committee included Dr. Gwendolyn Scott Jones (chair), Dr. Kemal Atkins and Dr. Jones Abraham.
Dr. Rathee said that during the duration of the pandemic crisis, the Education Graduate Program would continue to conduct future dissertation presentations in this technological manner.