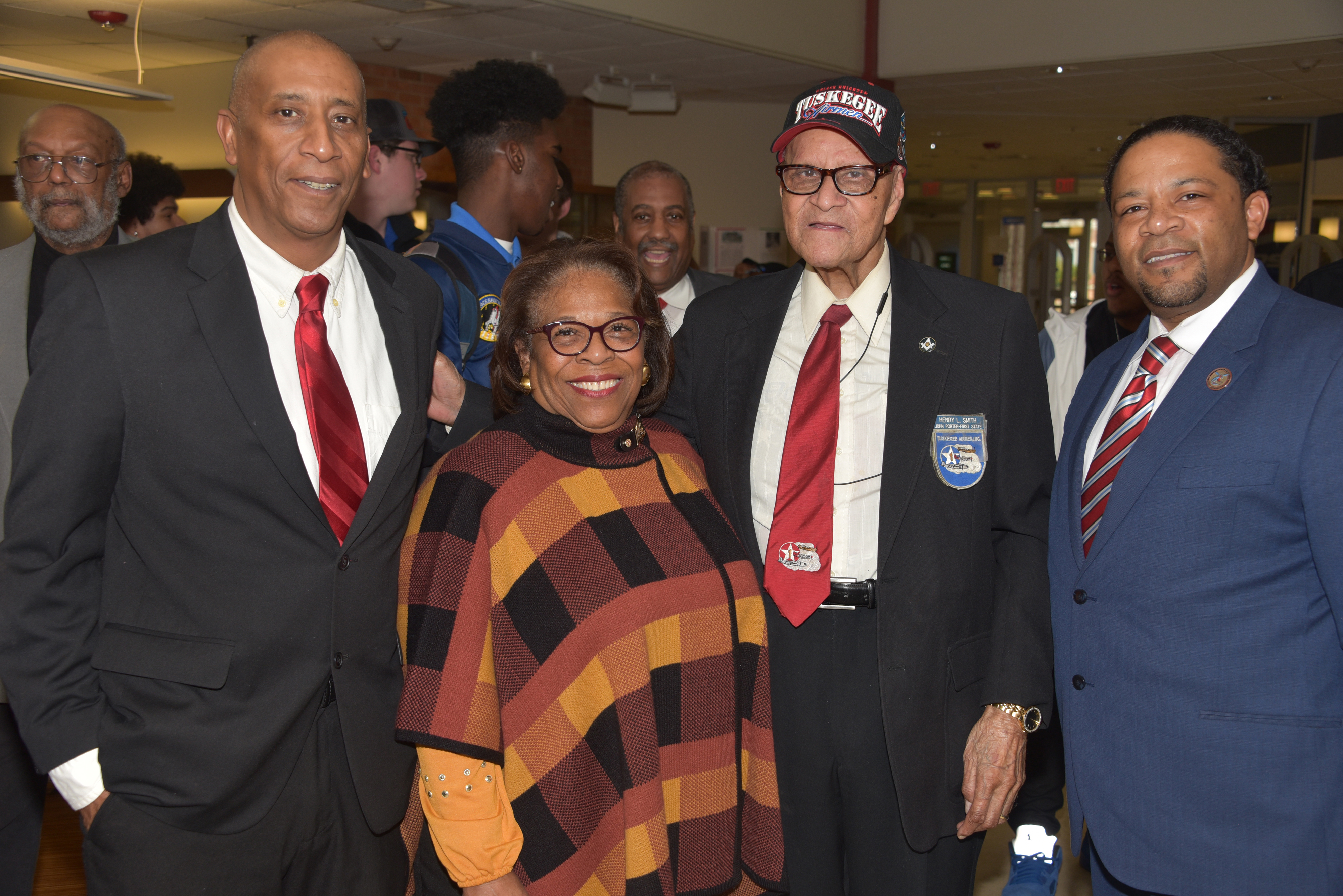 On Campus
Tuskegee Airman Program
Tuesday, February 4, 2020
Delaware State University took a Black History moment to celebrate the famed Tuskegee Airmen – the historic World War II black aviators and their support personnel, of whom some had Del State connections.
The John H. Porter Chapter of the Tuskegee Airmen educated students, staff and community members about the famed group during a Feb. 4 program in the William C. Jason Library on campus.
The gathering heard from Henry Smith, a 93-year-old Tuskegee Airman from Dover, who was an aviation mechanic who helped keep the "Red Tail" aircraft in the air.
The retired Senior Master Sergeant went on to serve 32 years in the U.S. Air Force.
"Every time I decided to get out, my wife got pregnant or I got promoted, so I ended up staying in a long time," Mr. Smith said.
Retired Brig. Gen. Ernest Talbert Jr. – the son of Ernest Talbert Sr., a late business professor at then-Delaware State College in the 1950s and '60s – not only presented some history about the Tuskegee Airmen, but also about the protests of blacks in the then-segregated military that led to the integration of the U.S. Armed Forces.
Gen. Talbert told of an April 1945 event that became known as the "Freeman Field Mutiny," in which 61 black officers entered a segregated Officers' Club at Freeman Army Field near Seymour, Indiana. Initially, three of the protesting officers were arrested, and later 101 officers were charged after they refused to sign an illegal order that acknowledged that they could not enter the white Officers' Club.
"Their refusal to accept the situation, their arrest and the subsequent court martial of some of their members was one of the events that influenced President Harry Truman's desegregation of the Armed Forces three years later," Brig. Gen. Talbert said.
The Tuskegee Airman Chapter also announced that the circular sidewalk areas outside the front of the Jason Library would be dedicated as the DSU Tuskegee Airmen Plaza in memory of the Del State students who trained in the Civilian Pilots Training Program in the late 1930s as well as those who went on to be Tuskegee Airmen.