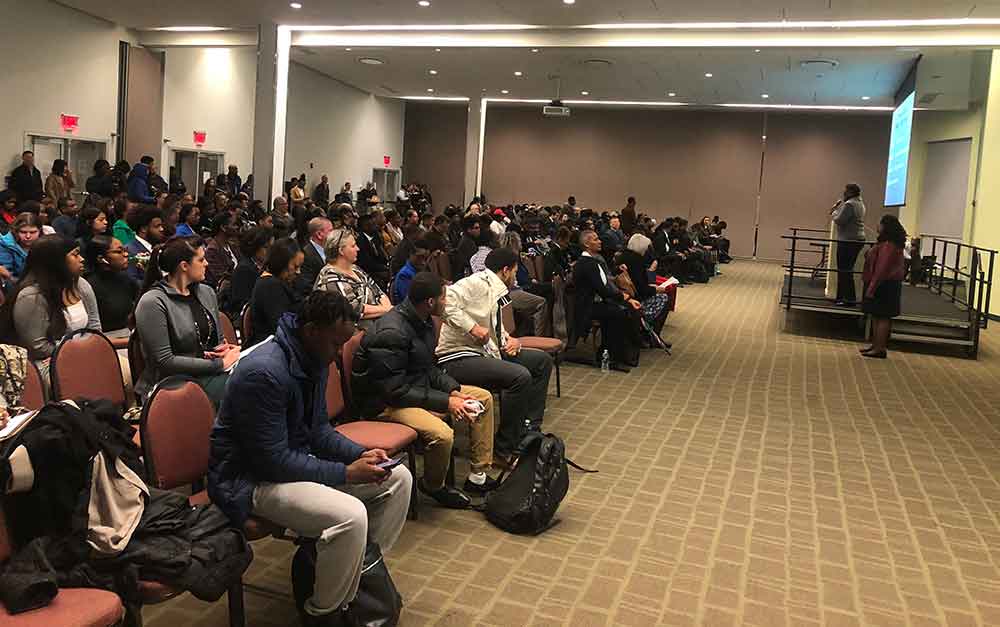 On Campus
MSCHE Kickoff Town Meeting
Tuesday, February 11, 2020
A standing-room-only crowd of over 400 faculty, staff, and students packed the parlors of the Martin Luther King Jr. Student Center on Tuesday, February 11, for the Town Hall meeting that kicked off the University's Self-Study for reaccreditation by the Middle States Commission on Higher Education (MSCHE).
President Tony Allen introduced the event by explaining, "Accreditation is what we undergo to verify the quality of the experience we provide here at Delaware State University. It's one of the ways prospective students and their families can know we are a legitimate institution that does what we say we'll do, and it helps establish our credibility when we ask the State or private sector funders for support."
"A detailed Self-Study is required of us every eight years," explained Interim Provost Dr. Saundra DeLauder. "It measures everything we do. Not just education, but planning, resources, infrastructure—literally everything."
Steering Committee Co-Chairs Drs. Lynda Murray-Jackson and Alexa Silver laid out the calendar of events and the scope of the work for attendees. The Self-Study process, which began last fall, will continue through the end of 2021, after which a formal report will be filed with MSCHE. A site visit by the MSCHE Evaluation Team will follow in Spring 2022, making the final recommendation on acceptance of the Self-Study.
Dr. Silver emphasized, "When the team visits, they are allowed to speak to anyone on campus, and ask any questions they like. That's why we need to spend part of the next two years making sure everyone, from students to administrators, know the key answer." She also asked respondents to be "honest but fair. We're not perfect, and we aren't going to try to portray ourselves as such, but we are working hard on continuous improvement."
The process will be supervised by a Steering Committee, Dr. Murray-Jackson explained, that is chaired by herself, Dr. Silver, Dr. DeLauder, and Vice President for Strategic Enrollment Management Mr. Antonio Boyle. Working with them are the co-chairs of the eight working groups that collect evidence for compliance with each standard, then perform the analysis to process that evidence for the final report.
The co-chairs both placed stress on the need for student volunteers to work with the process. "This is your University, and we want your voices to be heard," they said.