On Campus
New Twin-Engine plane delivered to Aviation Program
Tuesday, December 3, 2019
As part of the new fleet acquisition for the University's Aviation Program, a new Piper Seminole twin-engine plane has landed to be used by students training to be professional pilots.
According to John Sherman, chief flight instructor, the Piper Seminole is the most sophisticated avionics package in the training world. It is a vast upgrade from the 1972 Piper Seneca twin-engine plane that the program has used for years. The Seminole has a state-of-the-art glass instrument panel (as compared to the digital round gauges installed on older planes).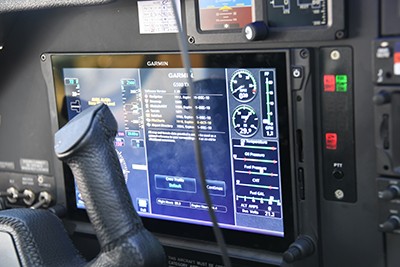 "It is also lighter twin-engine, so it is easier to fly, especially for the women," Chief Sherman said. "The Seneca is heavy to rotate and land."
Chief Sheman said the Seminole is more efficient on fuel, which will yield lower costs to fly the twin-engine plane as compared to the older Seneca.
"It is also the only plane we have that has an autopilot that couples onto the avionics, and it will enable students to do instrument approaches," he said. "This trains our students ahead of time for what they will be facing when they go to the regional airlines. Before, we never had ability to train them on autopilot."
The fleet acquisition – which was made possible by a $3.4 million grant from the Delaware Higher Education Economic Development Fund – also includes the purchase of ten new Vulcanair V1.0 FAA-certified single-engine aircraft from Ameravia Inc. (Vulcanair Aircraft distributor in the U.S.). To date, five of the Vulcanair planes have been delivered, and the other five are expected to be at the Delaware Air Park by the end of January 2020, according to Lt. Col. Michael Hales, director of the Aviation Program.
Both the single-engine plane and the twin-engine plane are essential for students to be certified as professional pilots and to complete their aviation degrees. Students need the single-engine plane to achieve their ratings for private pilot, instrument, commercial, certified flight instructor, and certified flight instructor instrument.
The twin-engine plane is necessary for students to earn their multi-engine rating.