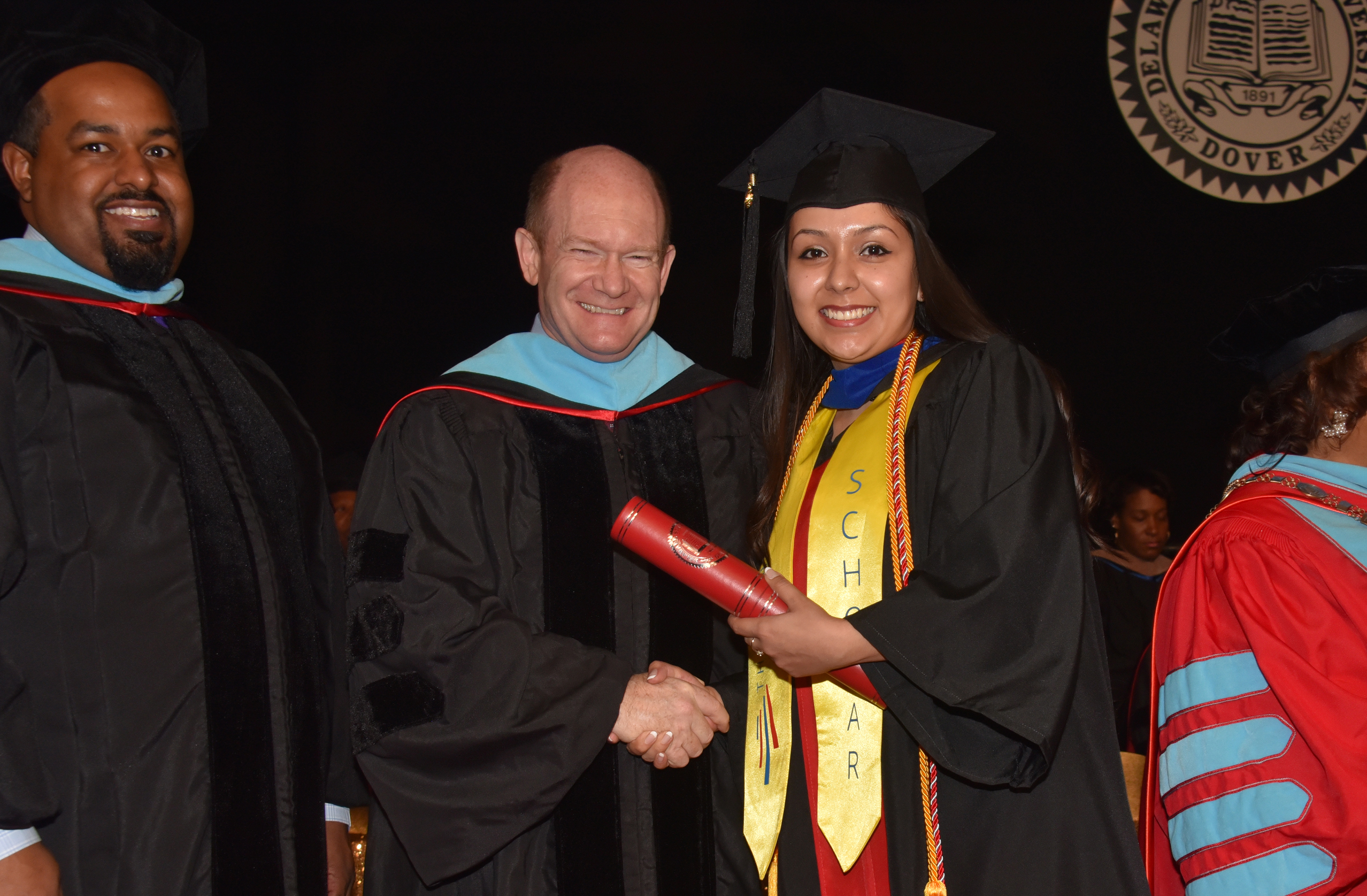 On Campus
First Opportunity Scholarship Dreamer graduates
Wednesday, December 18, 2019
Nine years ago, Dulce Guerrero graduated from high school in Cobb County, Georgia, with dim hopes to continue her education in college, despite having excelled academically there.
An undocumented student who came with her parents to the U.S. when she was age 3, Ms. Guerrero found herself shut out of colleges and universities in Georgia due to her immigration status. State universities prohibited the enrollment of such students, and other institutions of higher education classified her as an out-of-state student, blocking her with cost-prohibitive tuition rates.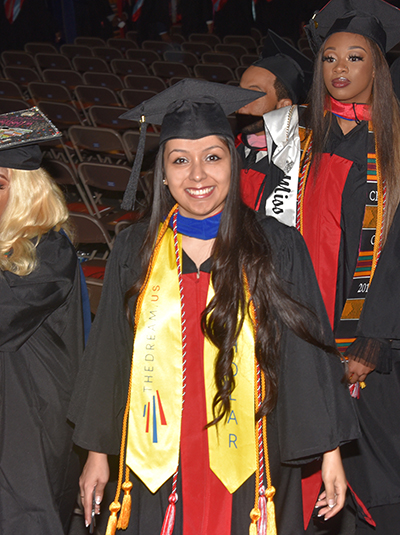 Fast-forward to Dec. 14, 2019, and Ms. Guerrero's once dismal hopes for advanced education diametrically changed to achievement, as she completed her Bachelor of Arts degree in Political Science at Delaware State University.
"I am extremely excited because this is a dream I have worked very hard to accomplish," Ms. Guerrero said. "My life has been full of obstacles due to my immigration status, obstacles that have always limited me, but never stopped me."
Ms. Guerrero's opportunity at the University came from TheDream.US, an organization that since 2016 has opened the door to higher education to undocumented students – known throughout the country as "Dreamers" – through its Opportunity Scholarship program. Dreamers who are academically high performing high school graduates are able to apply for a full ride scholarship.
After graduating from high school in 2011, Ms. Guerrero spent the next five years working with nonprofit organizations that fought for tuition equity for undocumented students. She became a plaintiff in a 2013 lawsuit against the University System of Georgia that sought educational equity of Dreamers.
During that period, she also took advantage of President Barack Obama's Deferred Action for Childhood Arrivals (DACA) program, which protects the children of illegal immigrants from deportations.
Then in 2016, she found out about the Opportunity Scholarship.
"I had been connected with different nonprofits that were doing immigration work for the last five years, and someone sent me the link and told me that I should apply for it," she said. "I literally applied five days before the deadline. I felt I had nothing to lose, so I was rushing to get tax papers, write my essay, get my SAT scores, and submitted it the day before the deadline."
That summer, TheDream.US awarded her the scholarship. The organization initially partnered with two schools – Delaware State University and Eastern Connecticut State University – and Ms. Guerrero selected Del State.
"(Delaware State University) was very welcoming," she said. "Georgia is a very anti-immigrant climate and you feel it wherever you go. It was very different being welcomed and accepted in the community and the University."
Joining 33 other Dreamers in that first class of Opportunity Scholarship recipients, Ms. Guerrero resumed her academic excellence at the University with laser focus on her studies and shunned most extracurricular activities.
When the Trump Administration rescinded DACA in 2017, Ms. Guerrero made an exception to her "no extracurricular activity" rule, and led a group of Dreamers from the University on several trips to Washington, D.C., to lobby members of Congress concerning their immigration rights.
"A lot of the Dreamers were very nervous and scared, and I already had some experience doing advocacy and lobbying work, so I knew that was a way for them to channel their energy and the fears into something productive," she said.
Ms. Guerrero took the lead organizing the trips, the fundraising to cover the cost, scheduling the meetings, as well as showing her fellow Dreamers how to share their stories with the legislators, to enable them to lobby and advocate on behalf of themselves.
"There were some who were responsive, and others that wanted to shut us down," she said. "It was good for us to go to have those conversations because although they were difficult, they were necessary for us to move forward toward some bipartisan legislation."
During the summers, Ms. Guerrero did internships in Texas that earned her college credit hours, putting her ahead of the Dreamers she arrived with and enabling her to graduate a semester early and become the first to do so. The rest of that Opportunity Scholarship class will graduate in May 2020.
Now in possession of a Bachelor of Science in Political Science, Ms. Guerrero is setting her sights on finding employment that is worthy of the education she has obtained. She also has an aspiration to enroll in law school and become an immigration attorney.
"I am very appreciative and grateful that I have been able to attend Delaware State University," she said.
Delaware State University – which has enrolled a new class of undocumented students annually since 2016 – currently has 149 Dreamers who have received the Opportunity Scholarship.