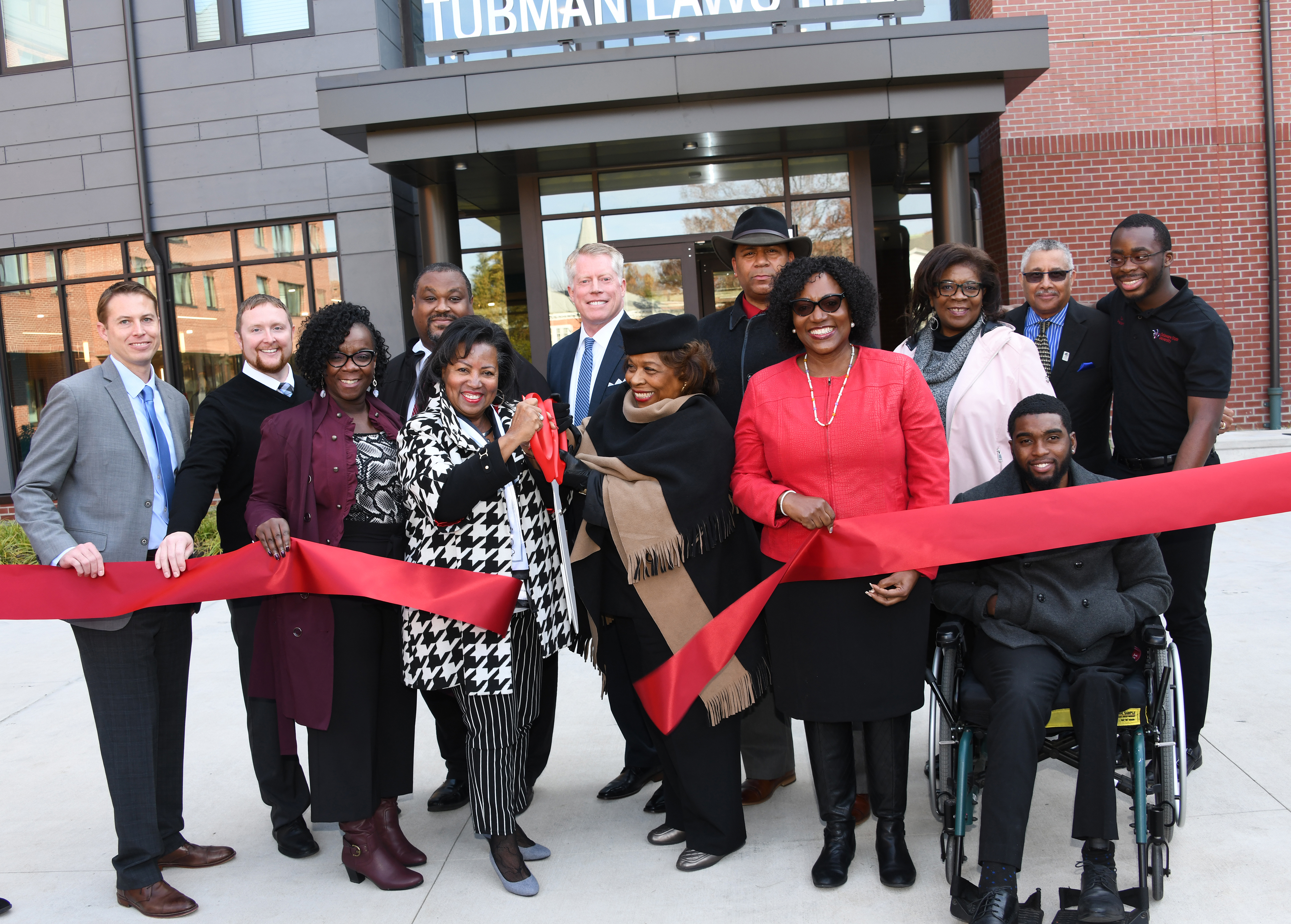 On Campus
University, ACC formally dedicate Tubman-Laws Hall
Thursday, November 21, 2019
Delaware State University and American Campus Communities held a ribbon cutting ceremony on Nov. 21 to formally dedicate the new Tubman-Laws Hall, the newest residential facility among the institution's living-learning community complex.
To view images from the ceremony, click on the below photo link:
https://www.flickr.com/photos/48216028@N03/albums/72157711879424806/show
The nearly 200,000-sq-foot residence hall accommodates 620 upperclassmen students in semi-suite and suite-style units and provides a new dining facility along with a ground floor innovation center. The ground floor innovation center connects the University's academic programs and student affairs environment to achieve DSU's priority of student success.
 "We are delighted that we have been able to construct and open a state-of-the-art facility at this time, while still maintaining the history of the University by keeping the names of the two facilities that were demolished, Tubman Hall and Lydia P. Laws Hall," said University President Wilma Mishoe, president of Delaware State University. "Harriet Tubman, the great conductor of the Underground Railroad, and Lydia Laws, the first female instructor in the early years of the State College for Colored Students, have been a memorialized part of the campus for about 60 years, and now that will continue with this new residential hall."
With this new addition adjacent to historic Loockerman Hall, a total of 2,900 out of 5,054 students will now have the opportunity to live on campus. Tubman-Laws Hall replaced two of the oldest residential facilities on campus, known as Tubman and Laws Hall also eliminating over $15 million in deferred maintenance from the two original residence halls.
"We were glad to partner with Delaware State University to offer a fresh and modern on-campus living experience to help enhance students' college journeys," said James Wilhelm, executive vice-president of public-private transactions for American Campus Communities. "It is important to us, and those we partner with, that students feel supported and truly love where they live."
Residents have access to a cafe, game room, study lounges, laundry facilities and an on-site Dunkin' Donuts. Usman Tijani, senior and president of the Student Government Association said the new facility shows how much DSU is evolving.
 "You have everything in the new residential hall," said Tijani. "You can eat there, study there, chill there, wash your clothes. You really don't have to leave the building, except to go to class. It's a one-of-a-kind dorm."
The transaction for Tubman-Laws Hall was structured under the American Campus Equity (ACE)® program, a public-private partnership that provides on-campus housing to universities without using school funds or tax-payer dollars. Universities are able to expand and modernize their student housing portfolios without using their financial resources while allowing ACC to offer affordable rents to residents by delivering high-quality student housing with lower development costs and operating expenses.