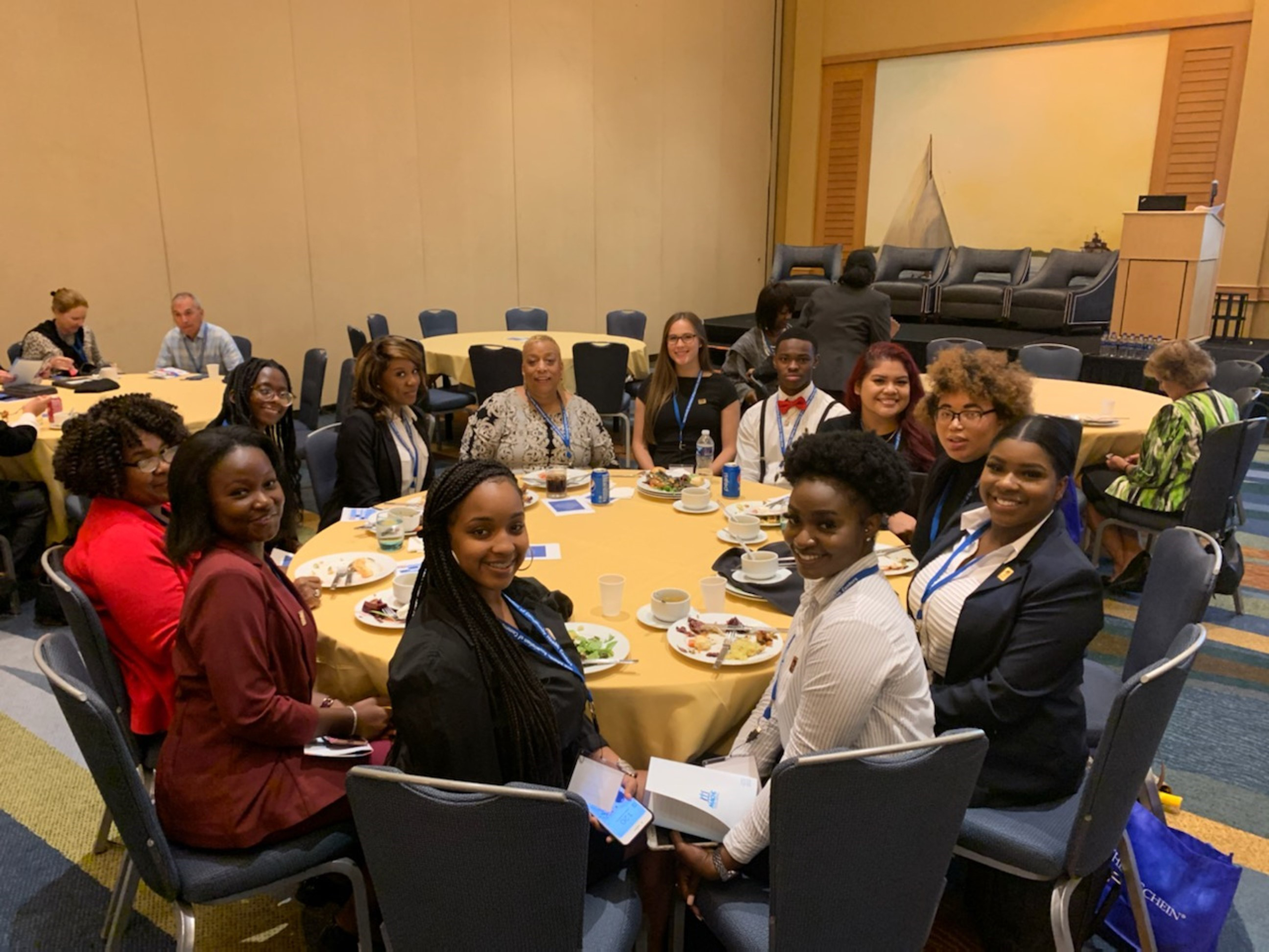 On Campus
Students attend community health conference
Tuesday, October 15, 2019
Using her connections to the Mid-Atlantic Association of Community Health Centers (MACHC), University Board of Trustees Chairperson Dr. Devona Williams made it possible for 10 Delaware State University students to attend the organization's One Voice Together Conference in Chesapeake, Md. on Sept. 30.
The MACHC – for which Dr. Williams serves as consultant – supports community health centers in Delaware and Maryland as an advocate for federal funding, increased access to healthcare and on other important issues.
In addition to meeting and hearing the perspectives of community health professionals, the students also were exposed to other healthcare entities through an exhibition area where they interacted with some healthcare products and services providers.
"As we entered the exhibition, we were greeted by different corporations such as LabCorp, Quest Diagnostics, Pfizers, etc., who explained how their services promoted public health disparities," said Donah Opande, a senior public health major. "The exhibition gave me the opportunity to network with people working in public health on the East Coast."
Dominique Theodore, senior public health major, was particularly impressed by a discussion session on "Health Disparities that affect LGBTQ"
"One of the reasons that I appreciated this session…, is because they are open to having conversations that are important, but are not always addressed in professional and established offices," Ms. Theodore said.
Anijah Allen, a senior psychology major, was grateful for the invitation to the conference.
"This conference was the most informative and influential event I've attended thus far," Ms. Allen said. "The entire conference was full of lots information and opportunities that public health and psychology majors can benefit from."
The University students in attendance at the conference included Anijah Allen, Mayair Berry, Jaden Carr, Anabelle Cimoli, Samyah Myers, Donah Opande, Estella Rivas, Dominique Theodore, Trelsie Trotman and Aletha Wolo. They were accompanied by Marcille Sewell, practicum coordinator for the University's Department of Psychology.