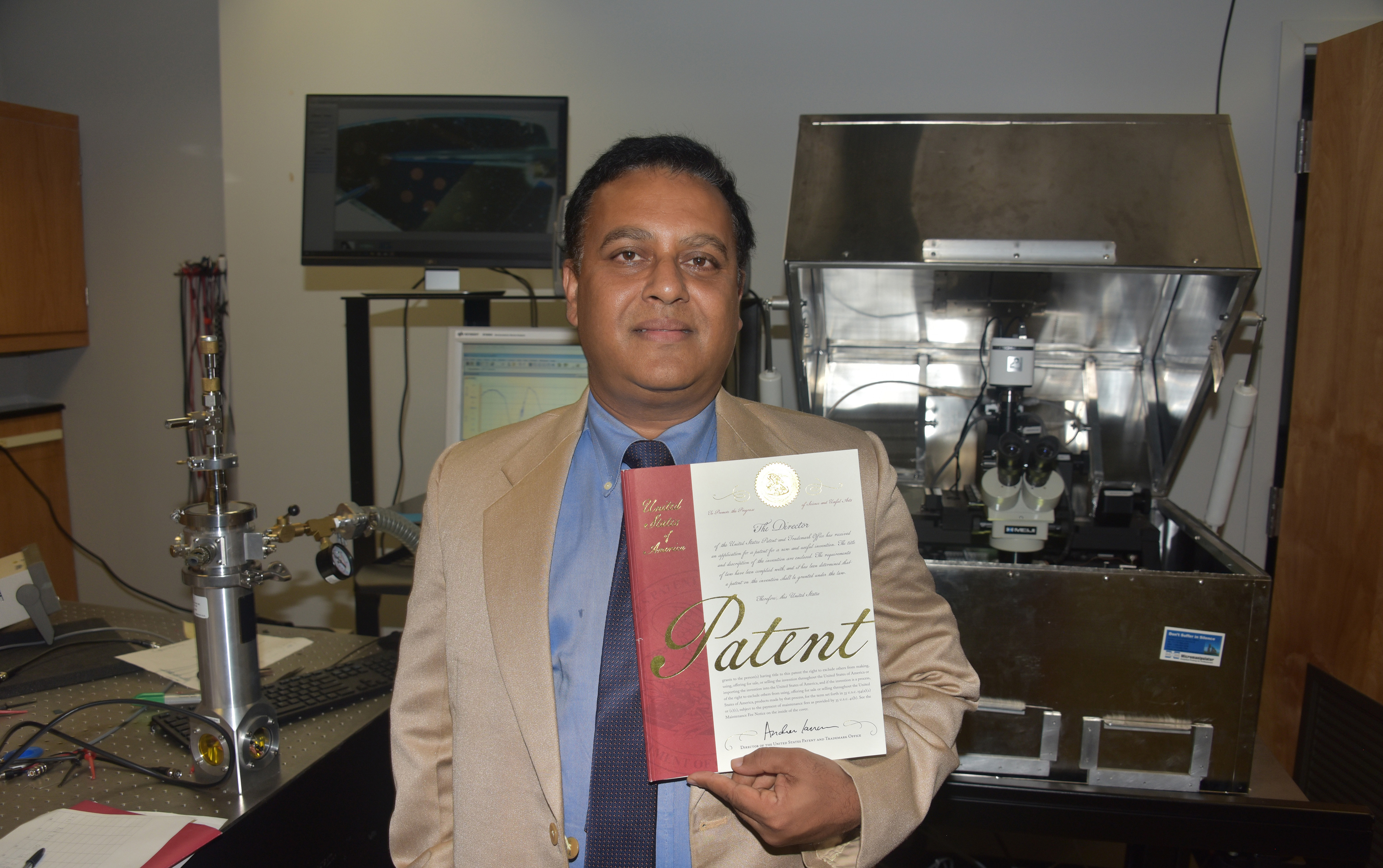 On Campus
DSU awarded two U.S. Patents
Wednesday, October 23, 2019
Delaware State University's research portfolio has recently bore scientific fruits with the award of two U.S. Patents for separate applied optics innovations at the institution.
The U.S. Patent and Trademark Office awarded the following patents to Delaware State University:
The University has been awarded a U.S. Patent for its design of a semiconducting microbolometer for use in detecting electromagnetic radiation in medium wavelength infrared and long-wavelength infrared regions.
The principal investigator of the research is Dr. Mukti Rana, professor of engineering, and the co-principal investigator is Andrew Voshell, a Delaware native from Felton and current DSU graduate student in the Master of Science in Applied Optics program. Funding for the research came from the U.S. Department of the Navy and NASA.
"NASA's Office of STEM Engagement is excited to play a role in Delaware State University's newest Optics for Space Technology and Applied Research (O*STAR) Center.  DESU, the only HBCU in the nation to offer a Ph.D. in Optics, is making considerable contributions to the NASA's Space Technology Mission Directorate and will help contribute to the success of the agency's mission. I am very proud of this partnership and look forward to the future with DESU." Said David Berger, activity manager for NASA's MUREP MIRO project.
The University has been awarded a U.S. patent for its discovery of a new alloy material –Tin-doped Germanium Silicon Oxide. The alloys can be used as the sensing layer of the above-mentioned microbolometers. As a technology used widely in night vision cameras, fire-fighting operations, surveillance, security and space exploration, the Tin-doped Germanium Silicon Oxide show greater change in sensor resistance to temperature changes from the radiation in wavelength from various objects, surpassing the change in resistance of sensors that have been widely used on microbolometers in the past. The new alloys also show more absorption of infrared radiation in the above mentioned regions.
Once again, Dr. Rana is the principal investigator in the new alloys discovery. The co-principal investigator is Jaime Cardona, a former graduate assistant from Irving, Texas, who graduated from Delaware State University in September 2019 with a Master of Science in Applied Optics. The funding for the research came from the U.S Department of Defense and NASA.
"Dr. Rana's research on infrared materials offers significant potential advances for adaptive sensors, especially mid-wave infrared and long-wave-infrared thermal imaging," said Dr. Michael Gerhold, program manager, electronics division, Army Research Office, an element of the U.S. Army Combat Capabilities Development Command's Army Research Laboratory. "This technology could lead to improved night vision for the military for both visual guidance and targeting."