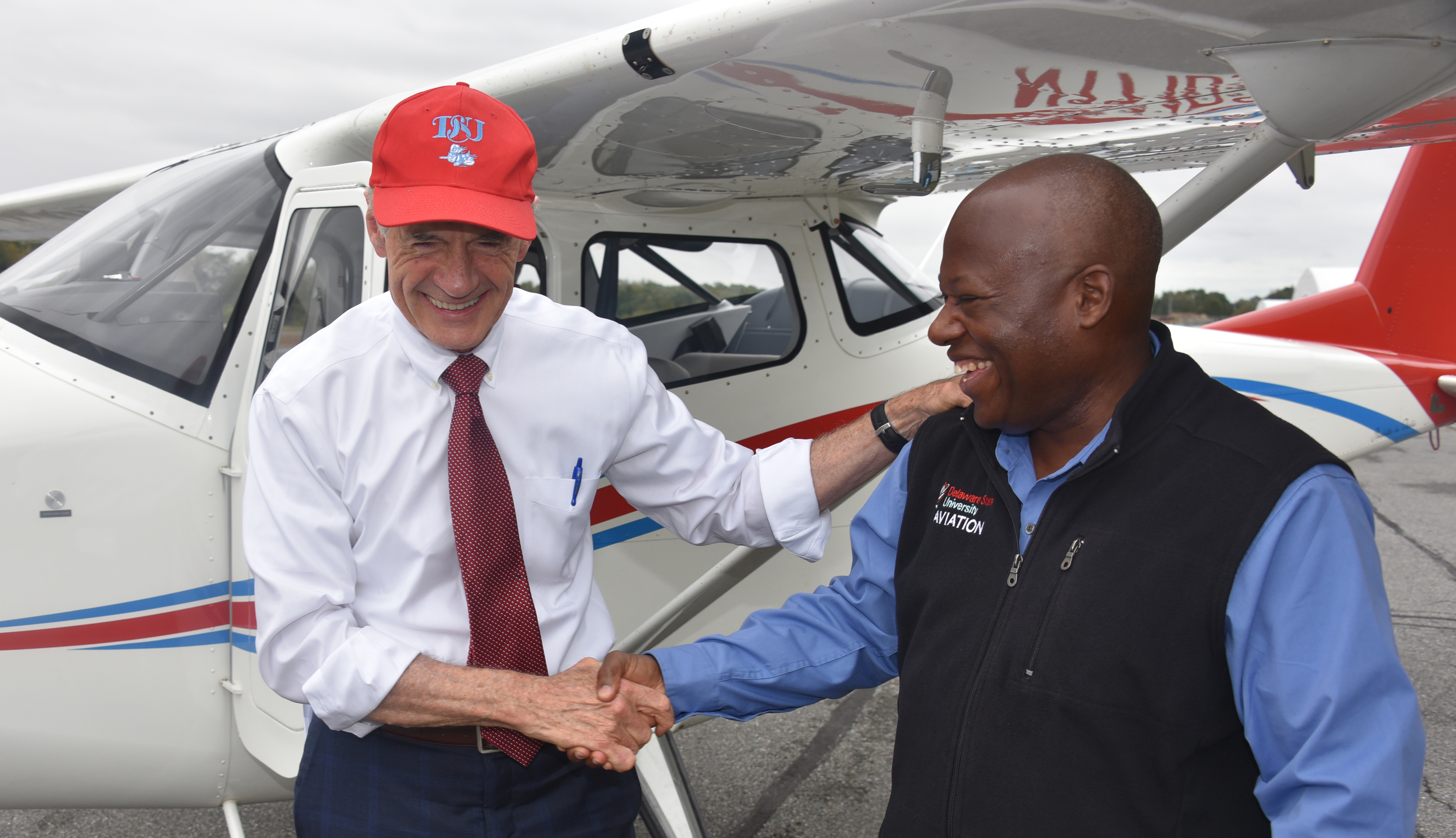 On Campus
Carper visits Aviation Program, discusses HBCU funding
Thursday, October 10, 2019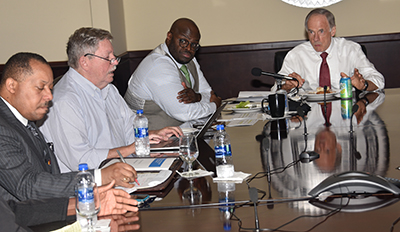 U.S. Sen. Tom Carper made good use of the current Congressional recess to visit the University's Aviation Program and meet with Delaware State University officials on the importance of passing a critical piece of HBCU funding legislation.
Joined by University President Wilma Mishoe and Provost Tony Allen, Sen. Carper met with Lt. Col. Michael Hales, other instructors and students at the Delaware Airpark. Lt. Col. Hales briefed Delaware's senior-most U.S. senator on the Aviation Program's success this year in obtaining state financial support to acquire a new fleet of 11 planes for the program.
To see more images of Sen. Carper's visit, click on the below photo link:
https://www.flickr.com/photos/48216028@N03/albums/72157711275922217/show
In addition to talking to the DSU officials and students about the Aviation Program, Sen. Carper – a former Navy aviator – actually went on a quick flight in one of the new Vulcanair V1.0 single-engine aircraft around Central Delaware, taking over the controls of the plane for a good portion of the trip.
Sen. Carper then came to the University's main campus where he met with officials and students to discuss the FUTURE Act (Fostering Undergraduate Talent by Unlocking Resources for Education), an important funding legislation for HBCUs that recently passed the U.S. House, but has arrived at a roadblock in the U.S. Senate.
The FUTURE Act seeks to reauthorize $255 million in critical funding for Minority Serving Institutions – which includes $85 million for Historically Black Colleges and Universities. Of that amount, Delaware State University would receive about $887,000.
Provost Allen detailed how that funding is critical to the University's priority of "Student Success." Sen. Carper also heard about the impact of the funding directly from Dr. Tracey Hunter Hayes, director of the William C. Jason Library; Dr. Bob Martin of the Education Department; Azubuike Okorie, a Ph.D. candidate and a mathematics teaching assistant; and Jahad Niebuer, a senior Management Information Systems major.
According to the Provost, the faculty and students at that meeting, the elimination of the funding would severely impact the University's ability to bring improvement to its Library Services, to enhance the professional development programs in the College of Business, to revitalize excellence and expectations in Mathematics and Sciences, and to provide needed upgrades to classrooms, facilities and technology.
Sen. Carper and his staff shared their Capitol Hill strategy for seeking support for the FUTURE Act and breaking the roadblock in the U.S. Senate.
"Businesses need to have predictability and certainty in terms of federal laws and regulations. Colleges and universities do too, especially HBCUs like Del State," Sen. Carper said. "There is no question that this money is a good investment for taxpayers to achieve the workforce that we need."