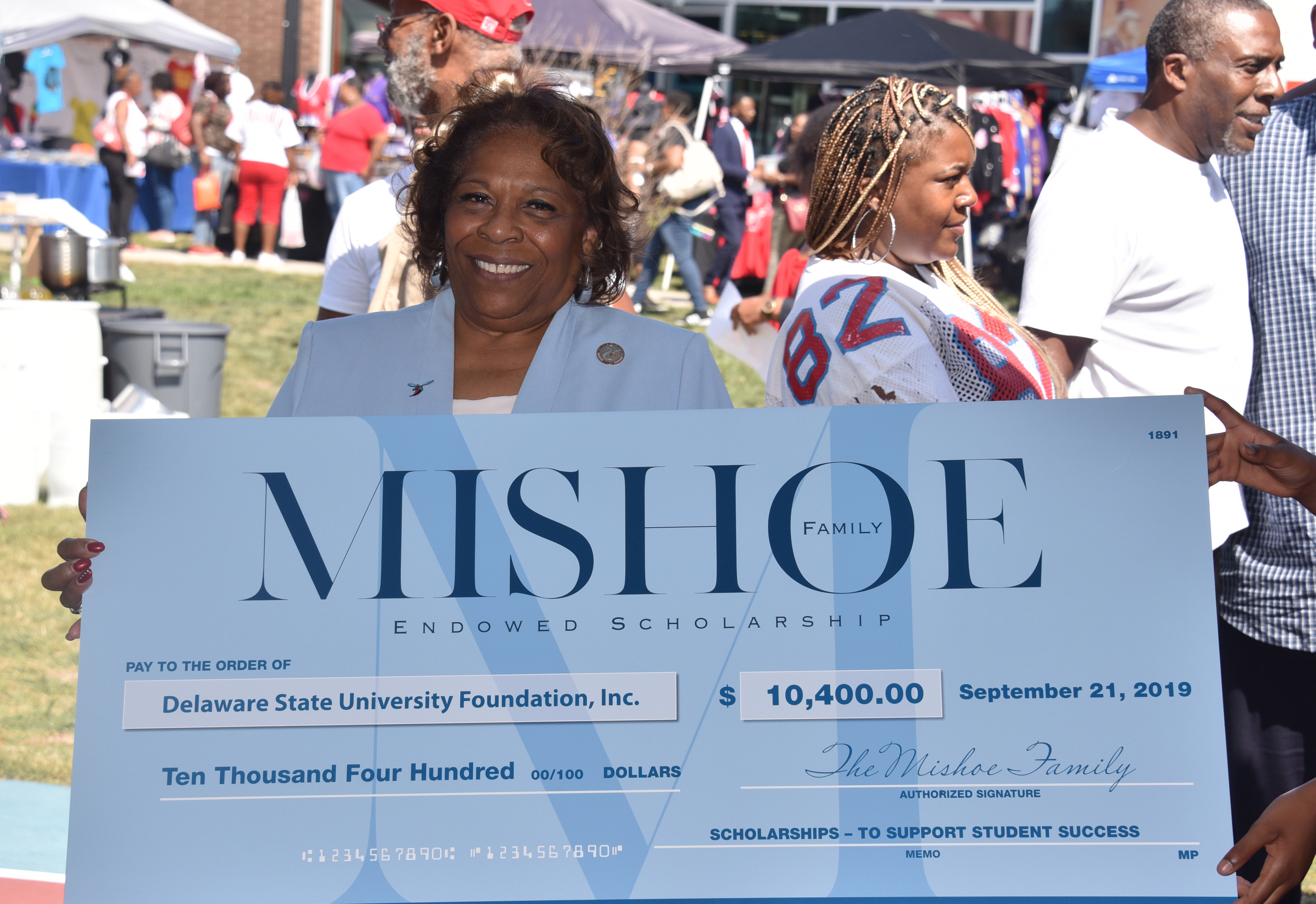 On Campus
Donations celebrated during Homecoming
Friday, September 27, 2019
The generosity of alumni and supporters was on display Homecoming Weekend as the University celebrated the donation of nine checks totaling $102,760, all going toward scholarship endowments.
To see images of the check presentations, click on the below link:
https://www.flickr.com/photos/48216028@N03/albums/72157711088005571/show
The donations included:
The Delaware State University Athletic Boosters contributed an additional $10,000 to its existing endowed scholarship fund. With that donation, the endowed fund now totals $67,184. Booster President Connie Hall said the organization's goal is to reach $100,000.
Ned W. Brown Jr., Class of 1971, has established an endowed scholarship of $10,000 in his name. Mr. Brown is very active at his alma mater and serves on the Dr. Jerome Holland Legacy Committee.
Ms. Bernadette Dorsey Whatley has donated $10,000 to establish the Barbara W. Dorsey Endowment Fund in honor of her beloved mother, a proud HBCU graduate of Cheyney University, and educator, a woman of faith and a life member of Delta Sigma Theta Sorority, Inc.
The Dr. Jerome Holland Legacy Committee has donated $10,000 to establish an endowment in the name of the University's sixth president (1953-1960). The committee was instrumental in the effort to erect a memorial statue in honor Dr. Holland, who is credited with navigating then-Delaware State College through its most difficult period and thereby saving the institution from closure.
On behalf of her family, University President Wilma Mishoe presented a check for $10,400 to establish the Mishoe Family Endowed Scholarship. Dr. Mishoe is the daughter of the institution's seventh president, Dr. Luna I. Mishoe (1960-1987).
The children (Ronald, Scott, Bruce and Leora) of late alumnus Jerome H. Pinkett donated $10,000 to establish an endowed scholarship in the name of their beloved father. Mr. Pinkett, Class of 1961, was a member of the 1956 co-championship Hornet football team and is inducted in the University's Athletic Hall of Fame.
John Ridgeway, University Board of Trustees vice chairperson and Class of 1975 alumnus, and his wife Sherri, Class of 1977 alumna, donated $32,360 to establish the John and Sherri Ridgeway Endowed Scholarship. Mr. Ridgeway was the 2015 DSU Distinguished Alumnus of the Mid-Eastern Atlantic Conference and is inducted in the University's College of Business Hall of Fame. He has served on the University's Board since June 2016 and was elevated to vice chairperson in January 2019.