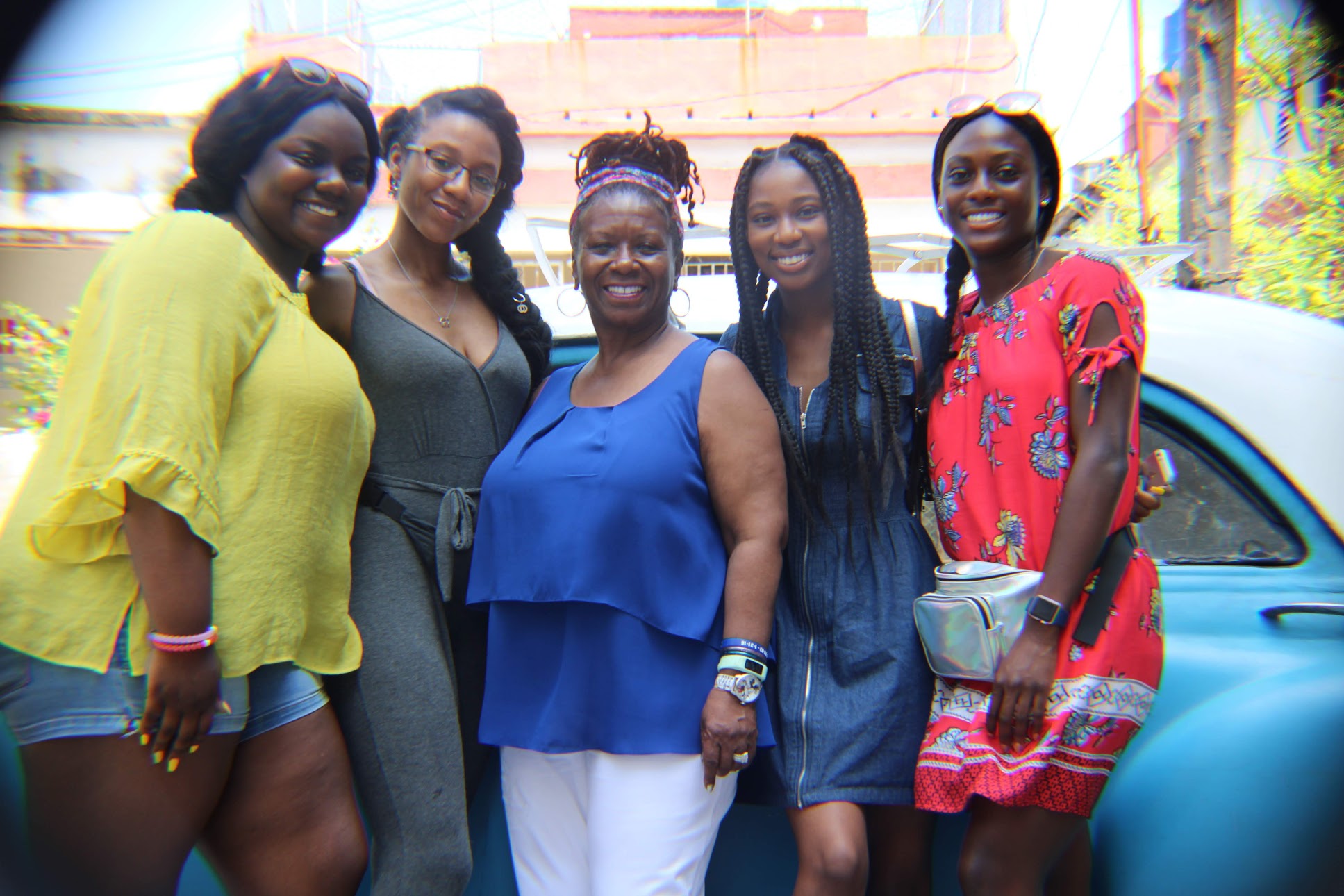 On Campus
Mass Comm major writes about Cuba trip
Monday, July 29, 2019
In June, three Delaware State University students and two recent graduates accompanied by Ava Perrine, mass communications instructor, traveled to Cuba where they learned a lot about a culture that American foreign policy has alienated for years.
The students – Nia Christine Pope, Jewel Phillips and Austin Williams – all mass communications majors, along with two 2019 graduates, Rebecca Altidor and Fatima Olympia Edwards, flew to Cuba in early June and spent two weeks in the Caribbean country.
Ms. Phillips, a rising sophomore from Mt. Laurel, N.J., wrote the following article about the trip.
OUR DSU TRIP TO CUBA – THE IMMERSION IN A UNIQUE CULTURE
By Jewel Phillips
"Travelling – it leaves you speechless, then turns you into a storyteller." ― Ibn Battuta
When approached with the opportunity to go to Cuba my first semester at Delaware State University, I could not turn it down. A true traveler is curious and eager to see the world for what it is. Cuba has not been seen for what it really is for a long time (by Americans at least.) The complicated history between the United States and Cuba has birthed stereotypes of anger and hatred from Cuban people, misconceptions that I wanted to prove false.  I, along with four other students and recent graduates, a Delaware State University professor, program coordinator and a tour guide, immersed ourselves for almost two weeks in the unique culture of a country frozen in time.
The first question I am asked is "how?" Educational Standards, a Delaware based travel agency that specialized in school-sanctioned travel, partnered with one of my professors, Mrs. Ava Perrine. In the past, this organization has allowed thousands of students, professors, and curious minds to create remarkable moments through affordable travel. Through the program, we were granted a 30-day visa under the title "Support for Cuban People," one of the now 12 visas left.  As students,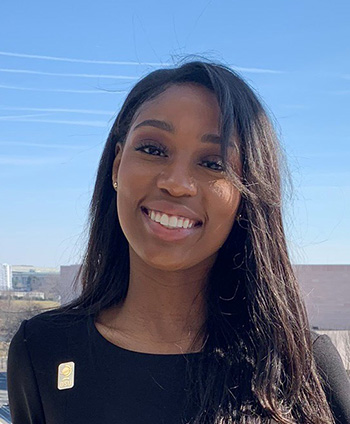 we used our skills as filmmakers, writers, photographers, and communicators to witness the beautiful realities of Cuba to show others. We dealt with citizens directly to support locally owned businesses, donate to schools, and learn more about the Spanish language while capturing it all on film. Cuban People were happy to invite us into their culture and we had every intention to support them.
Havana, Trinidad, and Varadero were the three cities I had the privilege of visiting. Each city had its own unique energy, history, and attractions that were engaging. Our tour guide explained to us that Havana, one of the more well-known spots in Cuba, has held its unique energy before and after the revolution. Havana was the original Las Vegas, and rightfully so with its colorful architecture and fascinating nightlife.   From the moment of our arrival, we were exposed to the vibrancy and the love Cuba had to offer from people dancing, street vendors selling art and accessories to the one-dollar mojitos served at every restaurant.  Havana not only gave us our first taste to Cuban history, but also introduced us to that culture's amazing food.  I was surprised to learn that Cubans consume a lot of pork, because of shortages of other meats such as chicken and beef.  Typical meals are served with Cuban white rice and black beans. They are also heavy on consuming fresh produce; our first Casa served fresh fruit and fruit juice daily.
The people of Havana also appreciate their history; everywhere we went a resident would explain the monumental events and heroes that got Cuba to where it is today such as the celebration of Jose Marti. He was instrumental in Cuba's independence after the Spanish American war and is appreciated throughout the country with statues and murals.
The city of Trinidad – not to be confused with Trinidad and Tobago in the Caribbean – has a different luster than Havana. This is where signs of poverty and government neglect were blatantly obvious: cobblestone roads, stray animals roaming, and a lack of tourist traps. Nevertheless, Trinidad allowed the perfect space for us to give back, more specifically to the education system. Professor Perrine brought school supplies as an expression of support to fellow teachers and their education system. The building only had three rooms and a large courtyard in the back for the preschool aged students. Small class sizes and uniforms based on grade are some of the differences from United States public schools. I enjoyed talking to the children in my broken Spanish, to know more about their lives and growing up in Trinidad. I was the first American to whom they had ever spoken.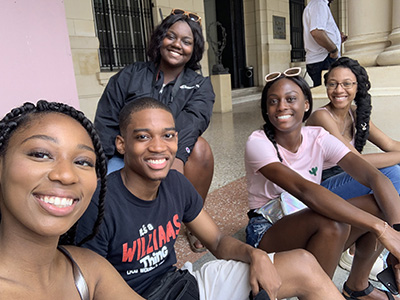 Trinidad is also were our group felt most in tune with each other and the citizens. Most of our visa itinerary of supporting local businesses happened in Trinidad.  A local rancher took us on a trail for more than 2 hours through the Valley de Los Ingenious. The trail was incredibly intense not just for the breathtaking view but because we traveled 80% on horseback and 20% hiking up a mountain. The tour finished at a lagoon that brought out the adrenaline junkie in all of us as we jumped from the side of a cliff into the water. Incredible moments like this continued the following day when there was a citywide power outage and we walked (in the dark) to the best 24-hour restaurant I have ever been to. This sounds outrageous but the atmosphere and safety of Cuba allowed these types of adventures.  
Trinidad and Varadero had so much to offer in experiences and chances to fall in love with the environment as well as the goodness of their people. Both cities were cultural jackpots because of its hidden attractions that we were only exposed to us because of good old fashion conversation and exploring. One of Trinidad's most unique features was a cave that was transformed into one of the best nightclubs on the island. We had walked about a half mile from our casa to reach it, but it was extremely worth it. People from Mexico, Argentina, Belgium, and locals were all together with no cell phone service and just a good time.  
Varadero was equally as much a cultural melting pot as the other cities. It was the perfect endcap to the trip. The resort was different from the bed and breakfast style houses we stayed at the previously. This beautiful site in Varadero had access to a unique get away beach with clear water and a coast of white sand.  The last day of the trip were purely reflective and mostly spent laughing about the time we had. 
It was easier to connect with the citizens and others in my group because Cuba is a nation with a small availability to Wi-Fi. If we wanted to use Wi-Fi, we had to go to designated areas like a park to purchase one hour of connection. It was an unexpectedly pleasant disconnect because the opportunity to break the habit of constant texting or tweeting. We all took a deeper interest in the cities visited without distractions. A small detail to some but left a lasting message with me of the effects of living in the present and appreciating the little things.
I am grateful to have had these experiences two weeks before President Trump put additional travel restrictions to Cuba.   Although the future is uncertain of relations with Cuba, all students should experience an immersion of an unfamiliar culture whether it's 1,000 miles away or 10,000. Traveling has helped me build my network, open my eyes to humanitarian needs, and see the lasting effects of history.  For 10 days, I was a part of something larger than me. I opened my arms to parts of the world and people I have never seen nor experienced before but loved all the same. Delaware State University is opening doors for students like never before and I am happy to have stepped through it.