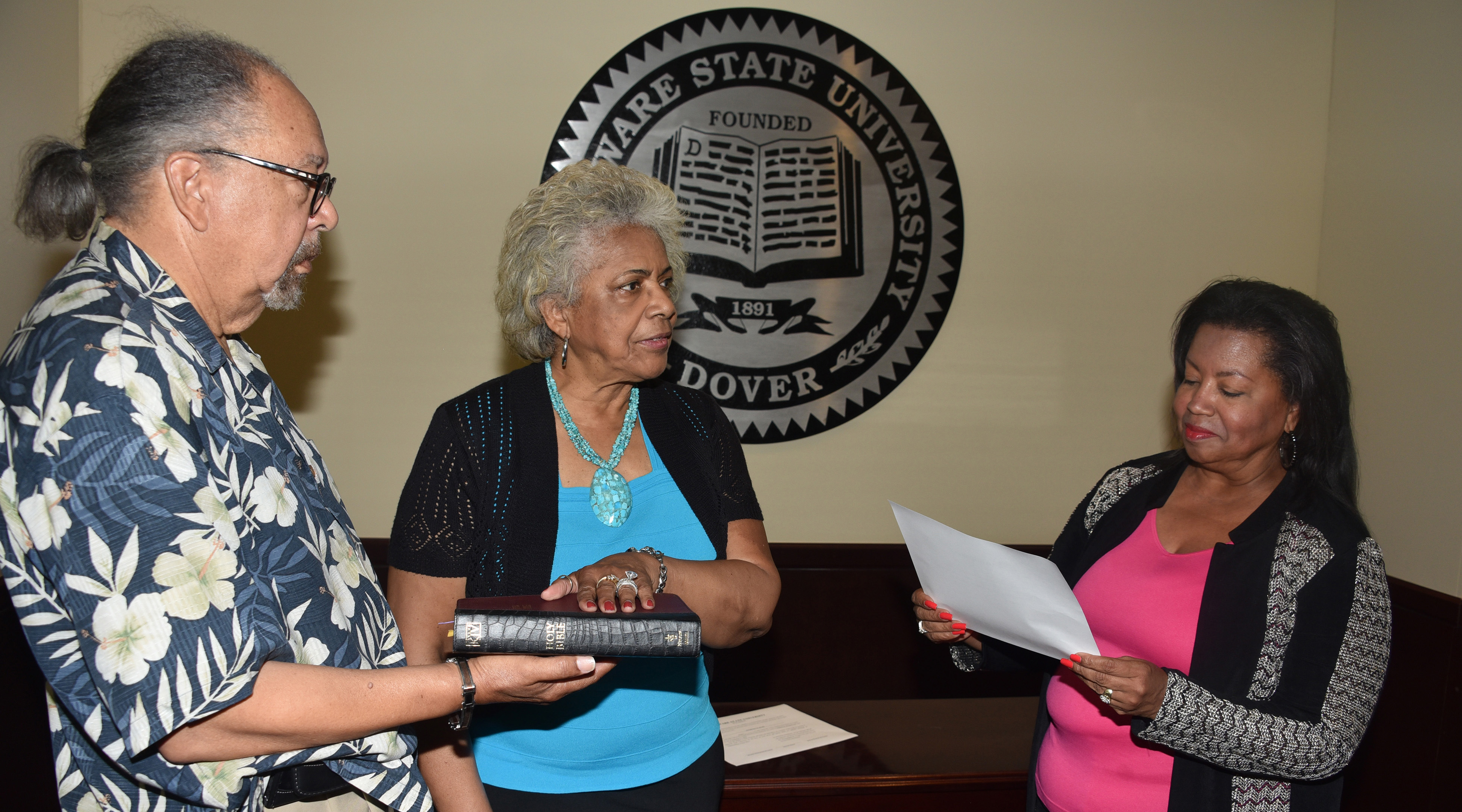 On Campus, Alumni Affairs
Esthelda Parker Selby sworn in as new Trustee
Wednesday, July 3, 2019
The Delaware State University Board of Trustees recently became a full 15-member body with the swearing in of its newest trustee – Esthelda R. Parker Selby of Milton, Del.
Appointed by Gov. John Carney, Ms. Selby was officially sworn in by Board Chairperson Devona Williams during the June 20, 2019 regular Board of Trustees meeting.
For more than three decades, she served as an educator, initially in 1970 as a teacher in the Cape Henlopen School District in Southern Delaware. Ms. Selby later became an administrator for grades K-12, as an administrative intern, assistant principal and principal at Shields Elementary School, Rehoboth Elementary School, Cape Henlopen High School, as well as Booker T. Washington Elementary School in the Capital School District in Central Delaware.
Prior to retiring after 34 years of service in education, she served as a Cape Henlopen District-level administrator in the Department of Human Resources and Community Services, as well as the Department of Mentoring and School Climate Issues. In 2005, one year after her retirement, she was elected to a five-year term to the Cape Henlopen School Board, during which she served two years as the board president.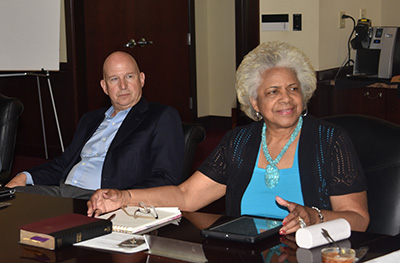 Ms. Parker Selby also taught Multi-Cultural Education for several years as an adjunct professor at Delaware State University. In her post-retirement, she also served her undergraduate alma mater for four years as the director of Student Teaching and later the director of the University's Georgetown site. She was also a student-teacher advisor for Wilmington University.
Over the years, Ms. Parker Selby dedicated significant volunteer hours through her participation in organizations such as the Southern Delaware Alliance for Racial Justice, Delta Kappa Gamma Society, Kent and Sussex Symphony Committee, and AARP Local Advisory Committee. She was also enlisted by the State of Delaware to serve on the Delaware Retired School Personnel Association, Diversity Recruitment Committee, Delaware Law Education Committee, Association for Supervision of Curriculum and Development, Delaware Administrator Standards Committee, Higher Education Commission, and First State Testing Committee.
She also harkened to the call of elected public service. After an unsuccessful bid for the State Senate's 19th District seat, she became the first female African American to run for statewide office in 2006 when she ran against Jack Markell for State Treasurer. In 2014, she was elected to the Milton Town Council, where she served as council member and vice mayor.
Her community service has included numerous boards, such as the Beebe Medical Center Board, Delaware Peninsula Red Cross Board of Directors, Delaware Historical Society Board, Delaware Technical and Community College Advisory Board (Owens Campus), Milton Historical Society Board, Delaware Historical Preservation Board, and Sussex YMCA Board of Managers, for which she was the past chairperson.
Trustee Selby is a lifelong Delawarean, born in Milford and raised in Lewes and Milton. After completing her public school education in the segregated system in Sussex County, Delaware, she enrolled in then-Delaware State College, where she earned a Bachelor of Arts degree in Sociology with a minor in Education in 1971. She later completed a Master of Education at the University of Delaware in 1978.
Throughout her adult life, she has remained strongly connected to her undergraduate alma mater as a member of the Sussex County Alumni Association of Delaware State University and as a past president of its National Alumni Association.