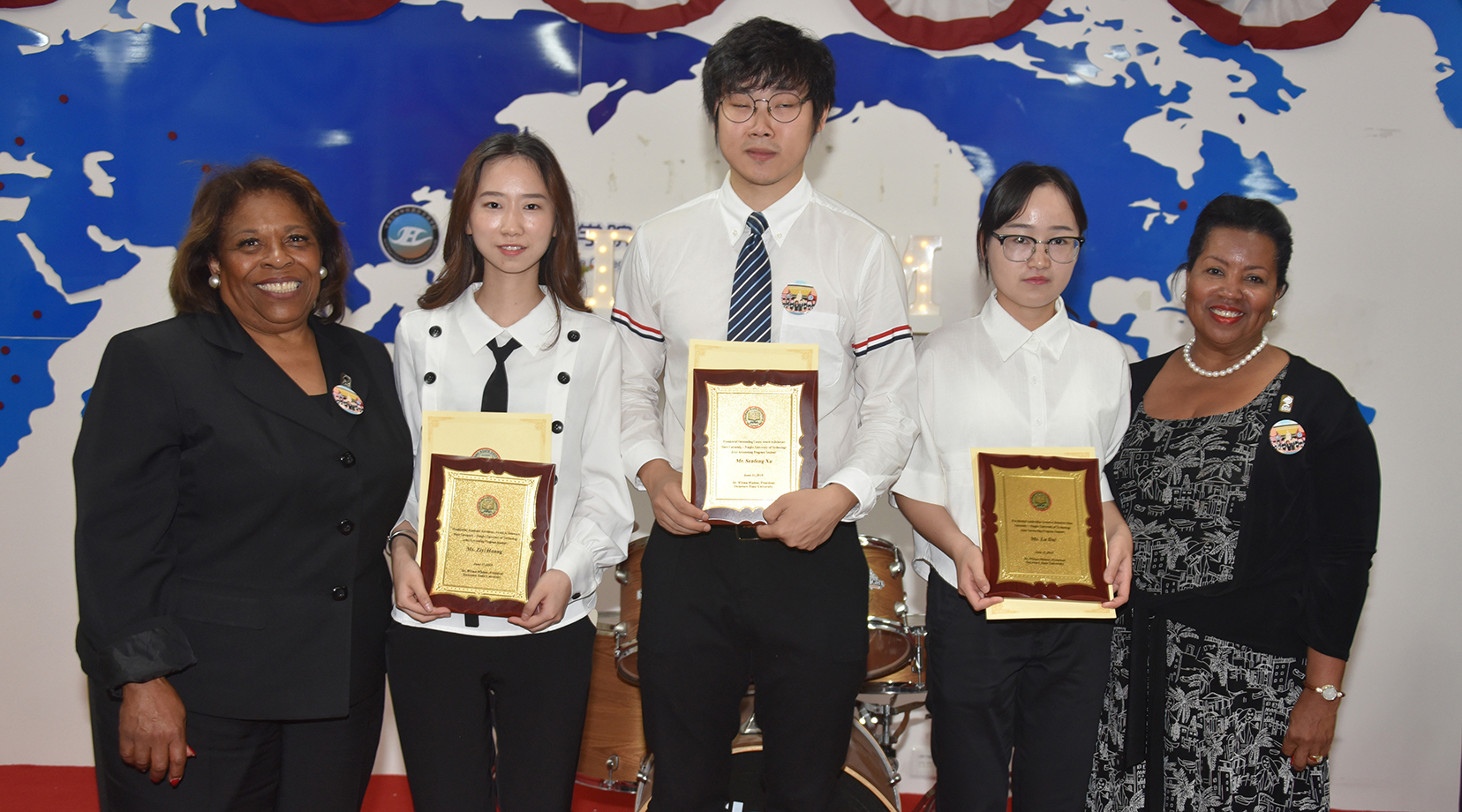 Business, Partnerships & Collaborations, International Affairs, Student Success
Joint Ningbo Univ. of Technology Accounting graduates celebrated
Tuesday, June 18, 2019
A delegation led by University President Wilma Mishoe made its annual flight to China to participate in the June 11 graduation ceremony for the students who have completed the Delaware State University/Ningbo University of Technology Accounting Degree Program.
Diplomas from both institutions were handed out to 94 graduates of the program, some of whom had attended classes at the University's Dover campus while others received their instruction at NBUT from visiting Delaware State University professors.
To see images from the DSU-NBUT Commencement Ceremony, click on the below photos link:
https://www.flickr.com/photos/48216028@N03/albums/72157709195323612/show
Dr. Youngsik Kwak, DSU director of International Programs for the College of Business, was joined by Professor Tony Nie, dean of NBUT's International Studies Program, in presenting the diplomas to the graduates. Dr. Mishoe was joined by NBUT President Zhongda Lu on the same stage in congratulating the graduates.
Also in attendance from Delaware State University were Dr. Devona Williams, University Board of Trustees chairperson, and her husband the Rev. Kenneth Anderson; Tony Boyle, vice president of Strategic Enrollment Management; Dr. Fengshan Liu, associate vice president of International Affairs; Dr. Dyremple Marsh, dean of the College of Agriculture, Science and Technology; and Carlos Holmes, director of News Services.
Three students – Ziyi Zhang, Senfeng Xu and Lu Dai – were each presented with Delaware State University's Presidential Academic Excellence Award.
In her Commencement address, Dr. Mishoe said the relationship between Delaware State University and Ningbo University of Technology is a great source of pride for the two institutions.
"Since 2011, our joint partnership has enabled students to enroll in the Delaware State University and Ningbo University of Technology Accounting Program, and this year's 94 graduates join the over 500 prior graduates who have already successfully completed the program," Dr. Mishoe said in her Commencement address. "This year's graduating class has truly distinguished themselves, as 19 of them have been accepted into one of the top 50 universities in the world, and 100% of all our graduates have either been placed in a graduate program or have permanent employment."
The Delaware State University president challenged the graduates to be lifelong learners.
"Be like a strong tree, rooted with a firm educational foundation; grow your branches, spread your limbs, allow your leaves to absorb the sun," Dr. Mishoe said. "Be flexible when adverse winds blow, remain strong in all you do, and never give up."