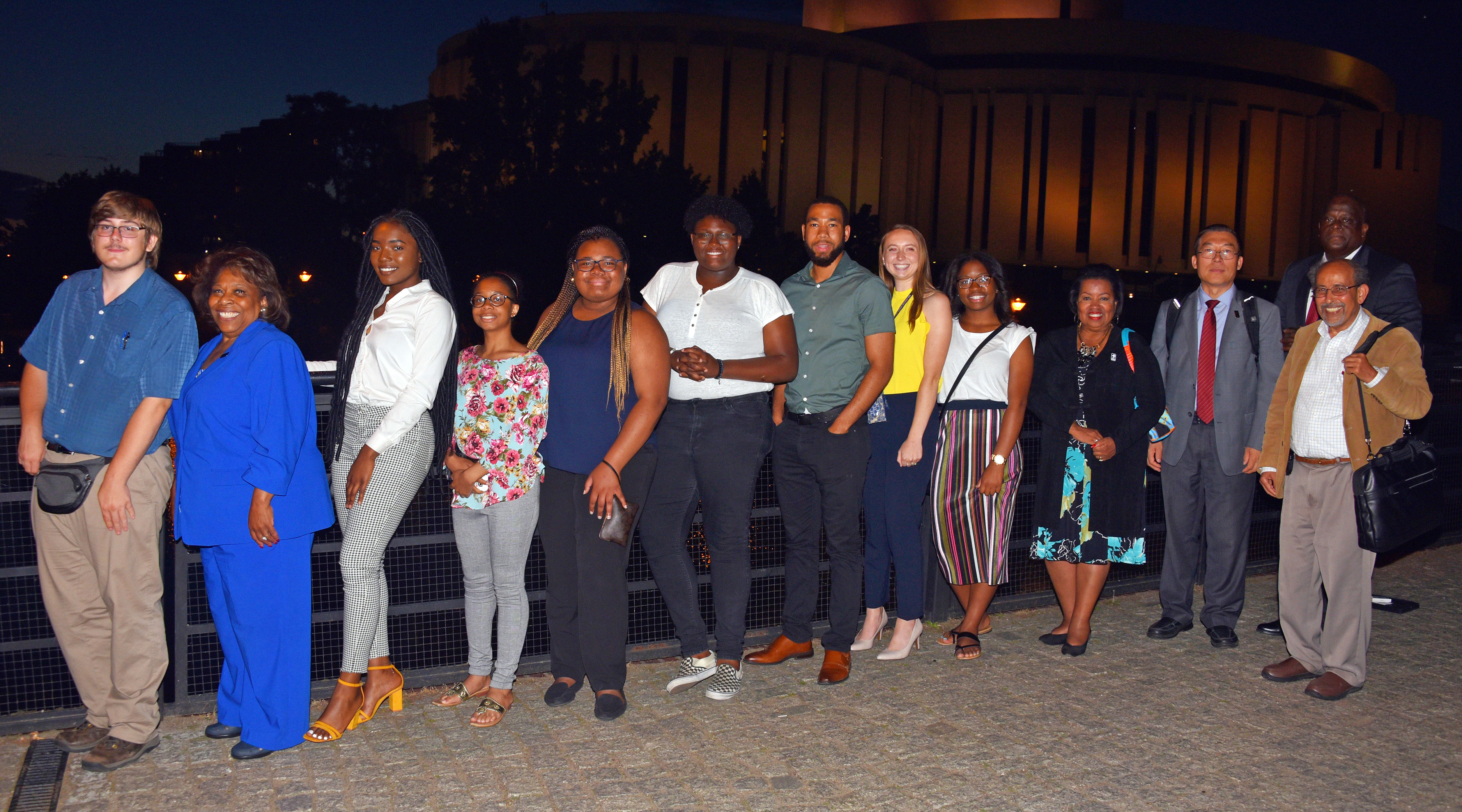 Partnerships & Collaborations, International Affairs, Student Success, On Campus
DSU students expand research skills in Poland
Wednesday, June 26, 2019
Ten Delaware State University science students recently returned from Poland where they expanded their research skills as well as their cultural horizons.
The students spent May 19 to June 18 at the Uniwersytet Technologiczno-Przyrodniczy (University of Science and Technology) in Bydgoszcz, Poland, where they each paired with a UTP faculty scientist mentor to assist them on their projects.
For images from study-abroad experiences, click on the below link:
https://www.flickr.com/photos/48216028@N03/albums/72157709265078223/show
The study-abroad research experience culminated with the June 17 presentations of their research projects to the visiting delegation from Delaware State University, which included President Wilma Mishoe, Board of Trustees Chairperson Devona Williams, as well as Tony Boyle, vice president of Strategic Enrollment Management, Dr. Fengshan Liu, associate vice president of International Affairs, and Carlos Holmes, director of News Services. UTP faculty also were in attendance.
The Delaware State University students included:
Mykia Toney, a junior in forensic biology from Baltimore, Md. Her project was "Regeneration of efficiency and oxidation stress induction in response to different disinfectants in plant in vitro culture." (Mentor: Dr. Natalia Miller)
 "I learned to have more confidence in myself when presenting. (The UTP mentors) were very caring for me, and they made sure I had everything I needed,"  said Ms. Toney, who added it was her first time outside of the U.S. "Poland was amazing. The food was great and the people were very nice."
Kamaya Jackson, a senior biological sciences major with a minor in chemistry from Smyrna, Del. Her project was "Implementation of the patent of correction for breast chest deformation in children." (Mentor: Dr. Stanisław Jung)
"It has been interesting working in a different field of medicine and working with great colleagues," Ms. Jackson said. "I now know more when it comes to the anatomy of the body, specifically the chest area. I also got to look in on some surgeries with my mentor."
Pamela Schork, a sophomore pre-professional chemistry major from Woodbury, Conn. Her project was "Assessment of the degree of stressogenic influence of physicotherapy on dogs." (Mentor: Dr. Sebastian Słodki)
"I really enjoyed traveling around to the different cities in Poland, learning the history of the country and getting to experience some of the culture, as well as working with the professors here," Ms. Schork said. "My research was about observing the stress in dogs, so it was very much observational. I had to be patient, quiet and be a silent observer of the patient. It was my first research experience, so it was something new for me."
Kishaye Williams, a sophomore computer science major with a minor in mathematics. Her project was "Interdependence of cranial dimension in Canidae." (Mentor: Dr. Krzysztof Kirkiłło-Stacewicz and Dr. Wlodzimierz Norwicki)
"The most surprising is that there are other students like us from different parts of the world. For instance, I played basketball with students from Spain, Italy and Ireland, and we talked together. It was pretty cool," Ms. Williams said. "To come in and learn biology, which has nothing to do with my major, definitely gave me an interest in that field. And just being in Europe, I never thought that was possible."
Destiny King, a 2018 graduate of DSU's Early College High School, who due to earning 76 credit hours during those years, is now a senior biological sciences major from Magnolia, Del. Her project was "The measurements of basic strength properties of trabecular and cortical bones." (Mentor: Dr. Adam Mazurkiewicz)
"It has been really nice seeing different cultures here and learning history from another viewpoint. It is really fascinating how this country persevered through so much," Ms. King said. "There was more mechanics involved in this research than I am used to. I want to be a dentist, which involves bones, so this was kind of a transition over to what my future career is, so I was happy to get this project."
Corban Weatherspoon, a junior bioengineering major from Bear, Del. His project was "Body composition analysis using bioelectrical impedance in humans of diverse physical activity." (Mentor: Dr. Ewa Żary-Sikorska)
"It exposed me to different types of research than I am usually doing on campus. This was more like dietary research; back at DSU, I have been doing nanochemistry and biomechanics," Mr. Weatherspoon said. "It allowed me to see what I am capable of."
Dominic Morrell, a junior mathematics major from Dover, Del. His project was "Comparison of acarofauna (Acari, Oribatida) from some habitats of an urbanized (anthropogenic) ecosystem." (Mentor: Dr.Radomir Graczyk and Sylwinsz Pacek)
"I thought I would be doing something in mathematics. I ended up with something completely different, and that is something I didn't mind at all. I went from mathematics to natural resources," Mr. Morrell said. "I found that not only have I had the experience of staying in a different country and being immersed in a different language, I also found that what I was studying – which was little mites in the soil – was physically small, but in every other sense of the topic, immeasurably huge. It has honed my identification eye and it has helped my presentation skills as well."
Also taking part in the study abroad experience were:
Kanika Lambert, a senior forensic biology major from Smyrna, Del. Her project was "Computer-aided mathematical modeling of the spread of contagious diseases." (Mentor: Dr. Natalia Kruszewska)
Juliana Paul, a sophomore information technology major from Philadelphia, Pa. Her project was "Do proteins (un)change their shape in the course of crystallization? Analysis of the data deposited in the Protein Data Bank." (Mentor: Dr. Jacek Siódmiak)
Jacori Small, a senior biological science major from Townsend, Del. Her project was "Methods of storage of hard tissue samples used for biomedical tests. Risk assessment of changes in sample properties during storage." (Mentor: Dr. Adam Mazurkiewicz)
The Poland study-abroad experience was made possible by funding from the National Science Foundation through the Philadelphia Alliance for Minority Participation (Philadelphia AMP), as well as by strong support from Delaware State University.
Accompanying the students on the trip was Dr. Mazen Shahin, DSU-AMP director and professor of mathematics.