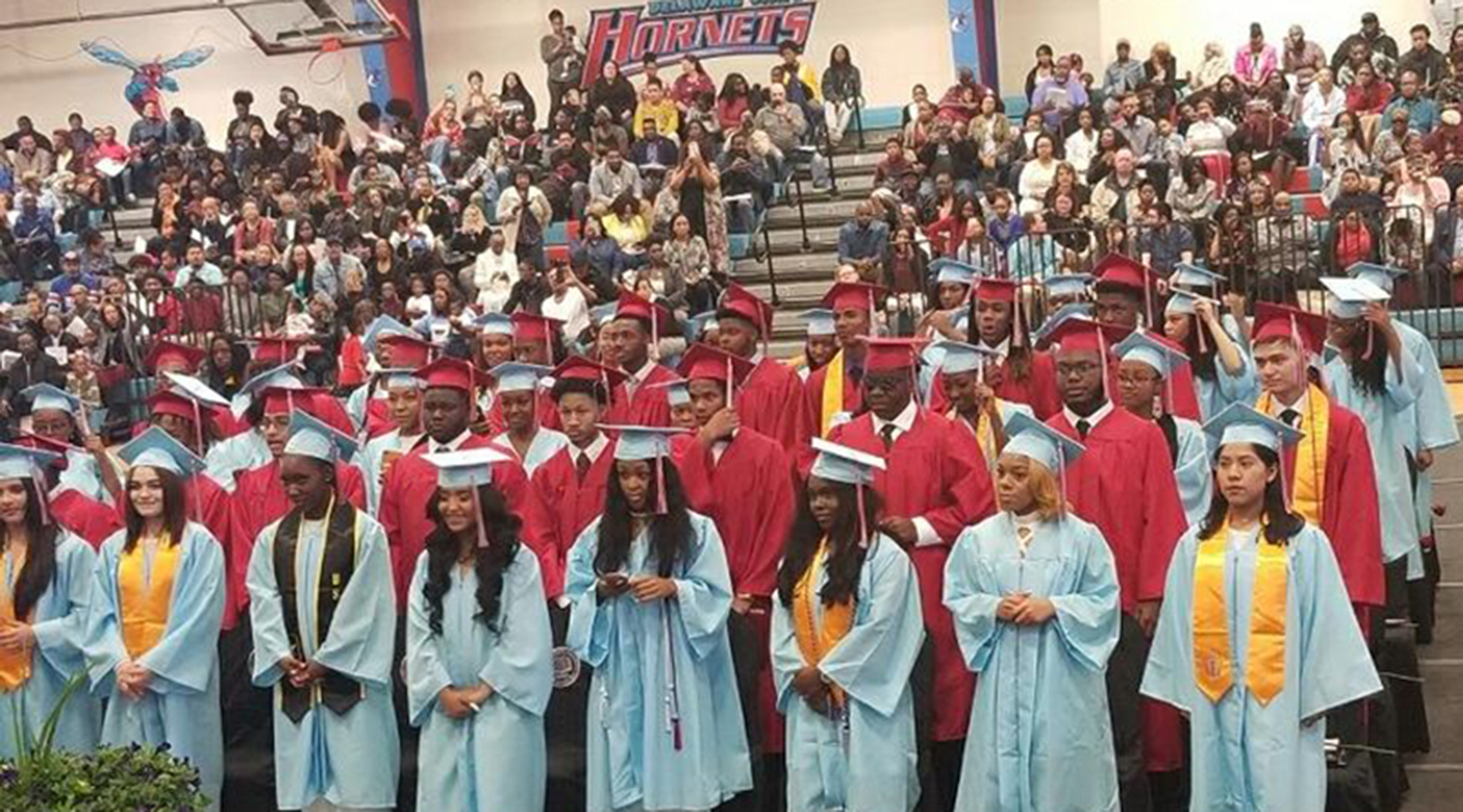 On Campus
2019 Early College High School Graduates Celebrated
Wednesday, May 22, 2019
Delaware State University's Early College High School 2019 graduates attracted more than $6.1 million in scholarship offers and saved their parents tens of thousands of dollars in college costs.
The ECHS held its second annual Senior Awards and Graduation Ceremony on May 14 as 67 students completed their secondary school experience. 
The Class of 2019 was prolific in taking advantage of the opportunity to take college courses during their ECHS journey, led by senior Esther Abiona, who has earned 66 college credit hours.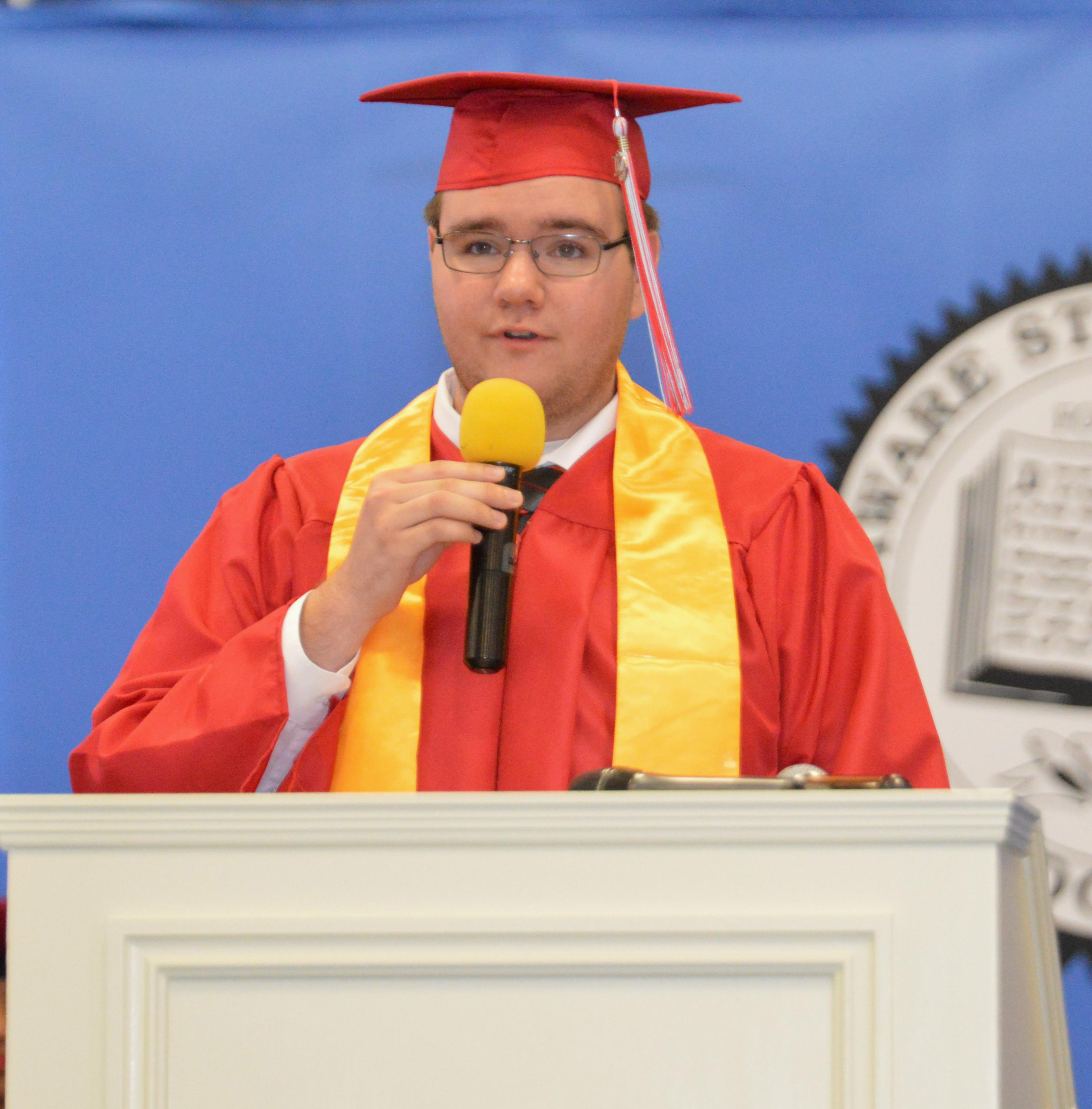 The academic diligence of the graduates resulted in an abundance of scholarship offers.
Ms. Abiona received a full scholarship and will continue her education at Delaware State University.
Dover senior Angelica Malone attracted the most scholarship dollars – $1.2 million from 15 different universities and colleges. She has decided to take advantage of a full scholarship to Albright College in Reading, Pa.
The ECHS Class of 2019 theme was "Our Story, Our Life, Our School," which Dr. Evelyn Edney, the school's director, said was fitting for this group of graduates.
"From the moment they arrived at ECHS, these students started out as an 'each.' Each one of them brought their own stories of where they came from, who they were, and what they wished to become," Dr. Edney said. "They brought their individual belief systems, values, wants, and desires. Slowly but surely though, they blended into the story of 'our,' the story of Hornets."
The keynote speaker was Dr. Tony Allen, University Executive Vice President and Provost, who noted that in addition to completing high school, nearly half of the graduating class will begin college as sophomores and juniors as a result of taking college courses while they were at the ECHS.
"You've taken not just the basics, like English composition, but sitting out there are students who have challenged themselves and succeeded at analytical chemistry, statistics, fundamentals of accounting, computer programming, anatomy and physiology… and so much more," Dr. Allen said. "You saved your parents $15,000-$30,000."
Dr. Allen urged the graduates to each focus on who they want to be, and to remember that "there is no you without us."
For Dr. Allen's full speech, please click the following link: https://youtu.be/b5XKTeYUVmo.
Matthew Ward, the Class Valedictorian – whose 4.71 GPA was the highest among the seniors – talked in his address about being a part of the early years of the ECHS.
"Not a lot of people know about the school from the outside, so from time to time, I would have to explain how it worked," Mr. Ward said. "Now it feels more like a school. There is a full set of grades, more teachers, more sports, and more student associations. The school came together."
Ms. Abiona, the Class Salutatorian with the second highest GPA of 4.5706, noted that people are surprised that she has decided to continue her academic journey at Delaware State University.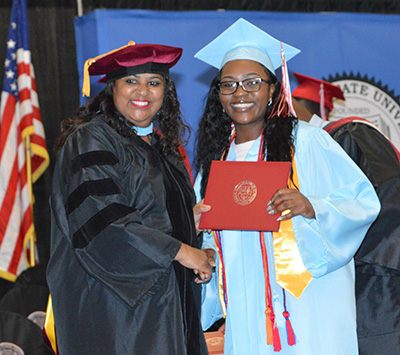 "All of us have the potential to obtain greatness, and I believe that at the end of whichever road we decide to take, we will reach success," Ms. Abiona said. "Delaware State University has become my home over the past four years, and I am genuinely excited to continue my journey here as a Hornet."
Ms. Abiona's ECHS academic excellence earned her a full scholarship to DSU.
Dr. Susan Bunting, Secretary of the Delaware Department of Education, was also in attendance at the graduation ceremony.
View a video featuring the graduates and the ceremony