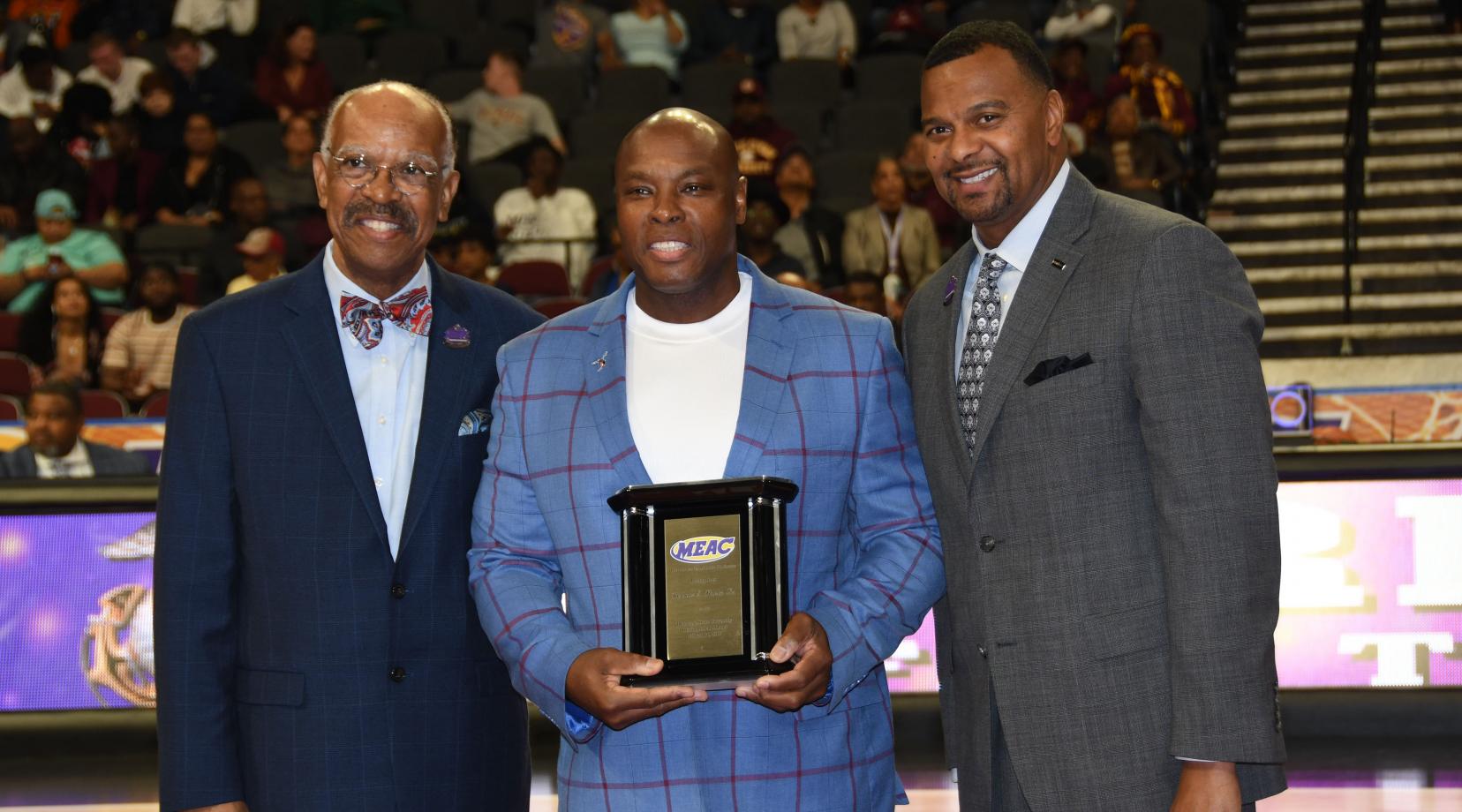 On Campus, Alumni Affairs
Ronnie Shaw Sr., Distinguished Alumnus of Year
Monday, March 18, 2019
In light of his continued connection to his alma mater and highly successful career in recreation, corrections and security, Ronnie E. Shaw, Sr. has been honored as Delaware State University 2019 Distinguished Alumnus.
Mr. Shaw, Class of 1981, was honored for that distinction along with other distinguished alumni from other MEAC schools on March 14 at the Mid-Eastern Athletic Conference basketball tournament in Norfolk, Va.
As a Hornet running back from 1976-1980, Mr. Shaw was part of then-Delaware State College football history as a member of the 1977 team that led the institution to its first-ever post-season bowl game, the Orange Blossom Classic against Florida A&M University. During his Hornet career, he was affectionately called "Pop Shaw" for his caring support for Hornet teammates.
After graduating with a Bachelor of Science in Recreation, Mr. Shaw played football in the Minor Professional League with the New England Crusaders, and then from 1984-85 in the then-newly formed USFL with the New Jersey Generals.
After a year of working in recreation for the City of Hartford, Conn., Mr. Shaw was hired by the Connecticut Department of Children and Youth Services where he worked with at-risk kids. 
He moved to Georgia in 1990 to work for the U.S. Department of Justice at the Atlanta Federal Prison. During his 22-year career, he served in several administrative and inmate services capacities. He implemented several new programs in the prison's Education and Recreation Department, including one featured in the Atlanta Journal Constitution that allowed inmates to earn a Personal Fitness Training Certificate while being incarcerated, thereby providing them an opportunity for employment after release.
Since his 2012 retirement, Mr. Shaw has established his own security company – TMR Security Solutions (named after his children, Thad, Madison and Ronnie Jr.). In addition to that business, in 2015 he was hired by the DeKalb County Public Safety Department to serve as the campus securitty supervisor at Chapel Hill Middle School in Decatur, Ga.
While his career success has reflected well on his alma mater, Mr. Shaw has also worked to maintain an ongoing active connection to Delaware State University.
Mr. Shaw launched the Delaware State College Legends, an affinity group of alumni football players who collaborated with organizers of an annual post-Homecoming game tailgate event in which food is prepared and served to matriculating football players, cheerleaders, coaches and their families.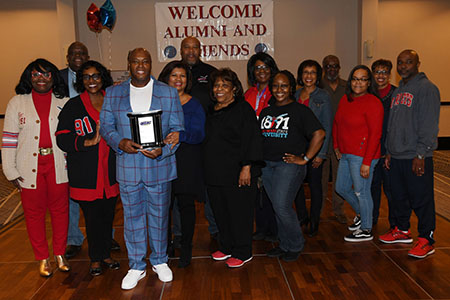 In 2009 with the support of family and friends, Mr. Shaw raised money to launch the Delaware State College Legends Scholarship, which has grown into an endowment. Ever working to do his part to energize fellow alumni, in 2017, Mr. Shaw started an annual DSC Legends Meet and Greet during Homecoming weekend. He also serves on the DSU Athletic Hall of Fame Committee.
"Delaware State College was good to me, so when I graduated I wanted find a way to give back," Mr. Shaw said. "It is not about me; it is all about the students of Delaware State University."
.