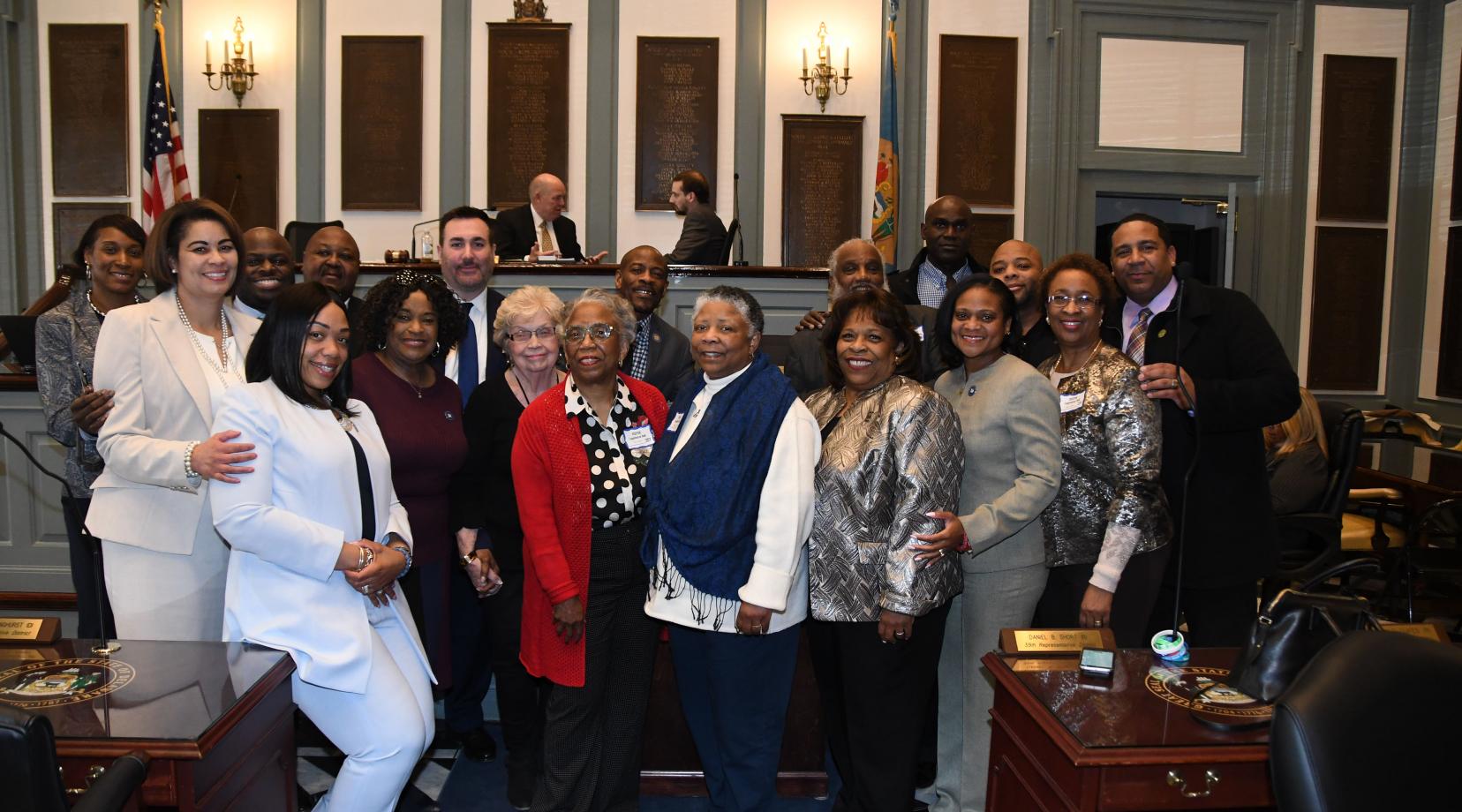 On Campus
General Assembly honors Hattie Mishoe
Tuesday, March 19, 2019
The Delaware House of Representatives passed House Joint Resolution No. 2 on March 19 honoring the former First Lady of then-Delaware State College, Hattie Mishoe.
Mrs. Mishoe was the wife of the institution's seventh president Dr. Luna I. Mishoe (1960-1987) and the mother of Delaware State University's current president, Dr. Wilma Mishoe. The resolution, which is expect to be voted on by the Delaware Senate later, reads as follows:
Sponsors: Rep. Lynn & Sen. Paradee
Reps. Baumbach, Boldeb, Brady, Briggs, King, Bush
Chukwuocha, Cooke, Dorsey Walker, King, Bush       
Sen. Ennis, Hocker, Lopez, Wilson
HOUSE OF REPRESENTATIVES
150th GENERAL ASSEMBLY
HOUSE JOINT RESOLUTION NO. 2
RECOGNIZING THE CONTRIBUTIONS OF HATTIE BERNICE DABNEY MISHOE, THE "FIRST LADY" OF DELAWARE STATE UNIVERSITY.
WHEREAS, Hattie Bernice Dabney Mishoe, who was born in July 24, 1914, and died at age 94 on March 17, 2009, was known as the First Lady of Delaware State University ("the University") due to her dedication to the University community during her husband's 27-year tenure as president of the University; and
WHEREAS, Mrs. Mishoe was born and raised in Little Plymouth, Virginia, the 9th of 14 children. She completed Holmes Grammar School and, at age 14, joined her oldest sister in Ardmore, Pennsylvania, where she attended Lower Merion High School, graduating in 1934; and
WHEREAS, Mrs. Mishoe enrolled in the nurse training program at Mercy Douglass Hospital School for Nurses in Philadelphia, Pennsylvania, where this African-American woman worked and paid her way through nursing school. She also helped her sister through Virginia State College when her sister lost her money due to the banks failing during the Depression; and
WHEREAS, Mrs. Mishoe earned her RN in Philadelphia and was licensed in Illinois, New York, Pennsylvania, and Maryland. She also worked at Provident Hospital, a black-owned and -operated hospital serving the South Side of Chicago. During a break from nursing, Mrs. Mishoe was doing post-graduate work at the University of Michigan's Graduate School of Nursing when she met Dr. Luna Isaac Mishoe at the dining hall serving tables in the 1940s; and
WHEREAS, Dr. and Mrs. Mishoe married in 1944, 2 years before he was drafted into Yale University's Officer Candidate School. Upon completion, they moved to Orlando, Florida, where Dr. Mishoe completed additional training. The Mishoes moved to Tuskegee, Alabama, and then to Louisville, Kentucky, where Dr. Mishoe was stationed at Godman Field; and
WHEREAS, during this time, Mrs. Mishoe was busy entertaining officers at the Mishoes' home after work, where they played games like bridge and poker and she cooked for and fed them. Little did she know, her courteous and cordial manner with the soldiers and her extensive nursing background were preparing her for an important role at then-Delaware State College, now Delaware State University; and
WHEREAS, Mrs. Mishoe used her nursing experience to help the University develop its first nursing degree program, which has become a prominent source of nurses and other medical personnel in this State; and
WHEREAS, Mrs. Mishoe has been described as a gracious hostess, humble servant, and tender caregiver; and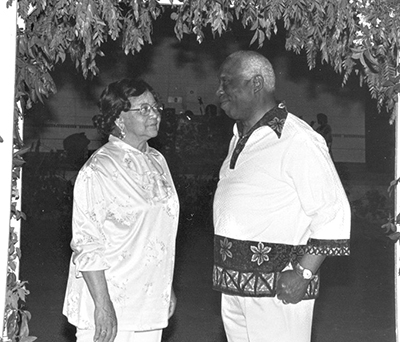 WHEREAS, Dr. and Mrs. Mishoe together raised 4 children, Bernellyn Mishoe Carey, Luna I. Mishoe II, Dr. Wilma Mishoe, and Reverend Rita Mishoe Paige; and a nephew, Henry Mishoe. Their second daughter, Dr. Wilma Mishoe, is the University's current and first female president; and
WHEREAS, the Mishoes extended their home to University students, especially when there were housing shortages; and
WHEREAS, Mrs. Mishoe cooked for students who were struggling with their finances, from out-of-state, or from other countries. Her generosity was especially heart-warming to students who had to remain on campus during breaks; and
WHEREAS, Mrs. Mishoe often represented her husband at events when he had scheduling conflicts; and
WHEREAS, Mrs. Mishoe loved attending all of the Hornets' home basketball and football games, and traveled to the away games with Dr. Mishoe to cheer on the teams. After Dr. Mishoe's death in 1989, Mrs. Mishoe continued to attend home games while her health permitted, and followed Hornets games on the radio when she could no longer attend in person; and
WHEREAS, Mrs. Mishoe was also very active in the community outside of the University. She served as president of the Dover High School PTA and played a significant role integrating Dover High School with the enrollments of Bernellyn Mishoe, Richard "Dickey" Wynder, Tony Powell, and Gwenette Henderson, who were among the first African-American students to attend Dover High. Integrating Dover High School helped further integration in the Dover area. At Mt. Zion AME Church, she served as a stewardess, a deaconess, and as Mother of the Church. She was a member of the Dover, Delaware chapter of the Links, Incorporated, the Electra Chapter #6 Order of the Eastern Stars, and vice president and manager of Mishoe Tower Incorporated; and
WHEREAS, Mrs. Mishoe was inducted into the Delaware State University Alumni Association Hall of Fame, honoring her dedication and exemplary service as a mentor to thousands of University students.
NOW, THEREFORE:
BE IT RESOLVED by the House of Representatives and the Senate of the 150th General Assembly of the State of Delaware, with the approval of the Governor, that Hattie Bernice Dabney Mishoe is recognized for her dedication to Delaware State University and its faculty, staff, students, and community.
BE IT FURTHER RESOLVED that Delaware State University is encourage to honor Mrs. Mishoe and her contributions to the University by naming a building on campus after her.
SYNOPSIS
This Joint Resolution recognizes the many contributions of Hattie Bernice Dabney Mishoe, the "First Lady" of Delaware State University, and encourages the University to name a building on campus after her.