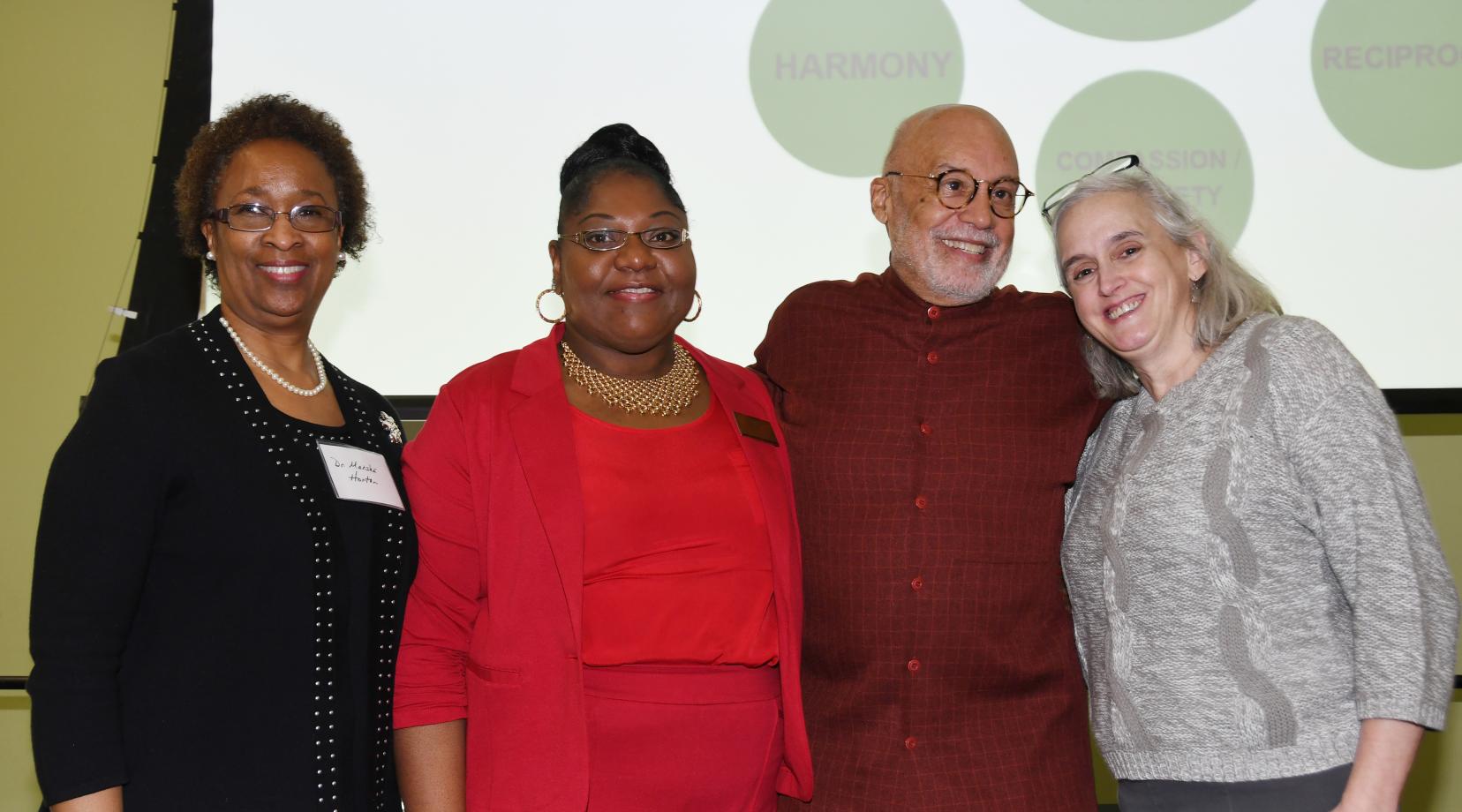 On Campus, Health and Behavioral Sciences
Trauma Treatment Conference at DSU – Photos
Friday, February 15, 2019
Delaware State University was the site of a one-day conference entitled "Shifting from Trauma-Informed Care to an African-Centered Healing Approach" which packed the entire second-floor parlors of the Martin Luther King Jr. Student Center with behavioral health practitioners from all around the state and beyond.
For images from the conference, click on the below photo slideshow link:
https://www.flickr.com/photos/48216028@N03/sets/72157706695853635/show
This workshop addressed a gap in the way behavioral health care practitioners provide treatment to African-Americans who have experienced trauma. The goal was to to educate these professionals about the limitations of traditional trauma-informed care as a therapeutic approach and why a healing-centered approach is more effective.
The keynote speaker was Dr. Aminifu R. Harvey, a pioneering social worker who is the author of A Reader of Afri-Centric Theory and Practice, as well as the founder of the MAAT Center for Human and Organizational Enhancement, a psychosocial nonprofit entity that provides services to youths and families who are not able to pay for such services.
Dr. Harvey gave a presentation on "Anti-Humanistic vs Humanistic-Oriented Philosophical Characteristics."
Dr. Gwendolyn Scott-Jones, chair of the DSU Department of Psychology, noted that the conference supported Gov. John Carney's Executive Order #24, which makes Delaware a trauma-informed state. The Order provides direction for the Family Services Cabinet Council to help mitigate the impact of adverse childhood experiences and build resilience in children, adults and communities.
She added that Delaware State University is one of the first higher education institutions in the state to demonstrate support of the Order and to show a commitment to educating Delaware citizens.
"Trauma Awareness Month is in May 2019, but Delaware State University's New Trauma Institute under the College of Health and Behavioral Sciences wanted to launch the first conference during Black History Month," Dr. Scott-Jones said. "The DSU Trauma Institute will be providing ongoing training with CEUs surrounding trauma and plans to launch a certificate program related to treating traumatized individuals for practitioners, educators, and human-service workers by fall of 2020."
Gov. Carney's wife Tracey also attended the morning session of the conference. She is leading the First Chance Delaware Initiative which is focused on ending childhood hunger, promoting literacy and language skills, and advancing effective recognition of and response to childhood trauma.
Cosponsors of the conference included DSU's Department of Psychology, Department of Social Work and College of Health and Behavioral Sciences; TOVA Healthcare LLC; Delaware Department of Health and Social Services/Division of Public Health; Delaware Center for Health Promotion; and First State Community Action.