On Campus, Agriculture, Science, and Technology, Health and Behavioral Sciences
Medical School Aspiration Support by new MAPS
Thursday, February 21, 2019
The University's College of Health and Behavioral Sciences (CHBS) has established a new pathway that can guide students from their successful undergraduate journey into medical or dental school.
The Minority Association of the Pre-Medical Students (MAPS) was recently established at the University as a community of students aspiring to enroll in medical/dental schools. The local MAPS chapter – under the advisement of Dr. Jacqueline Washington, associate dean of the CHBS – currently has a membership of 20 students, which include majors in Biological Sciences, Chemistry, Nursing and Kinesiology.
A MAPS inaugural meeting was held on Jan. 31 as an information session. A panel of top-level health executives provided information on effective strategies to sustain successful progression into and through medical/dentals schools.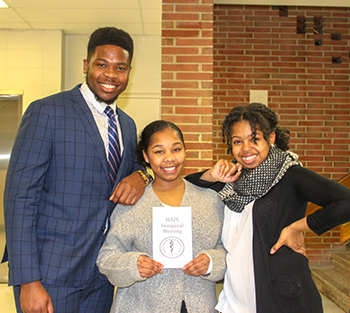 MAPS is the pre-medical arm of the Student National Medical Association and will be an important component of the University's Health Professions Committee (HPC), an interdisciplinary group of faculty and staff members who serve as mentors for students want to enter medical/dental schools. The committee provides pre-professional advising and facilitates the students' progress toward successful application submission to graduate health professional programs.
Dr. Washington – who also chairs the HPC – said both the HPC and MAPS are important organizations for students seeking to continue their health professions education after their undergraduate years.
"This type of infrastructure support is crucial so that students are at the table and are considered viable applicants for medical or dental schools," Dr. Washington said.
Jared Jeffrey, the inaugural president of MAPS, said he wants to help minority students who are working to enter the field.
"The journey to medical school is very rough, and there was no means for sharing information such as when to start studying for the MCAT (Medical College Admissions Test), the post baccalaureate programs that are available or the relevant field experiences that will make a student a competitive applicant," Mr. Jeffrey said. He added that MAPS and the HPC will provide a lot of that information.
Joining Mr. Jeffrey as the inaugural officers are Naeemah Murray, vice president, Nicole Spraulding, recording secretary, and Kareemah Parson, treasurer (not pictured above).
According to the Association of American Medical Colleges, of the 53,042 prospective students who applied to medical schools in the 2016-2017 school year, only 21,030 (just under 40%) matriculated in such schools.
Dr. Washington also noted that medical and dental schools struggle with enrolling students of color. She said the establishment of the HPC and MAPS at Delaware State University will help address that diversity issue.
MAPS currently has provisional charter status. The Student National Medical Association – which governs the 10 SNMA region and certify MAPS charters – will meet in April, where it is expected that the University MAPS organization will receive fully active chapter status.
Upon receiving full status within the SNMA Region VIII (Pennsylvania, West Virginia and Delaware), the University's MAPS organization will be assigned a medical school to oversee their activities.