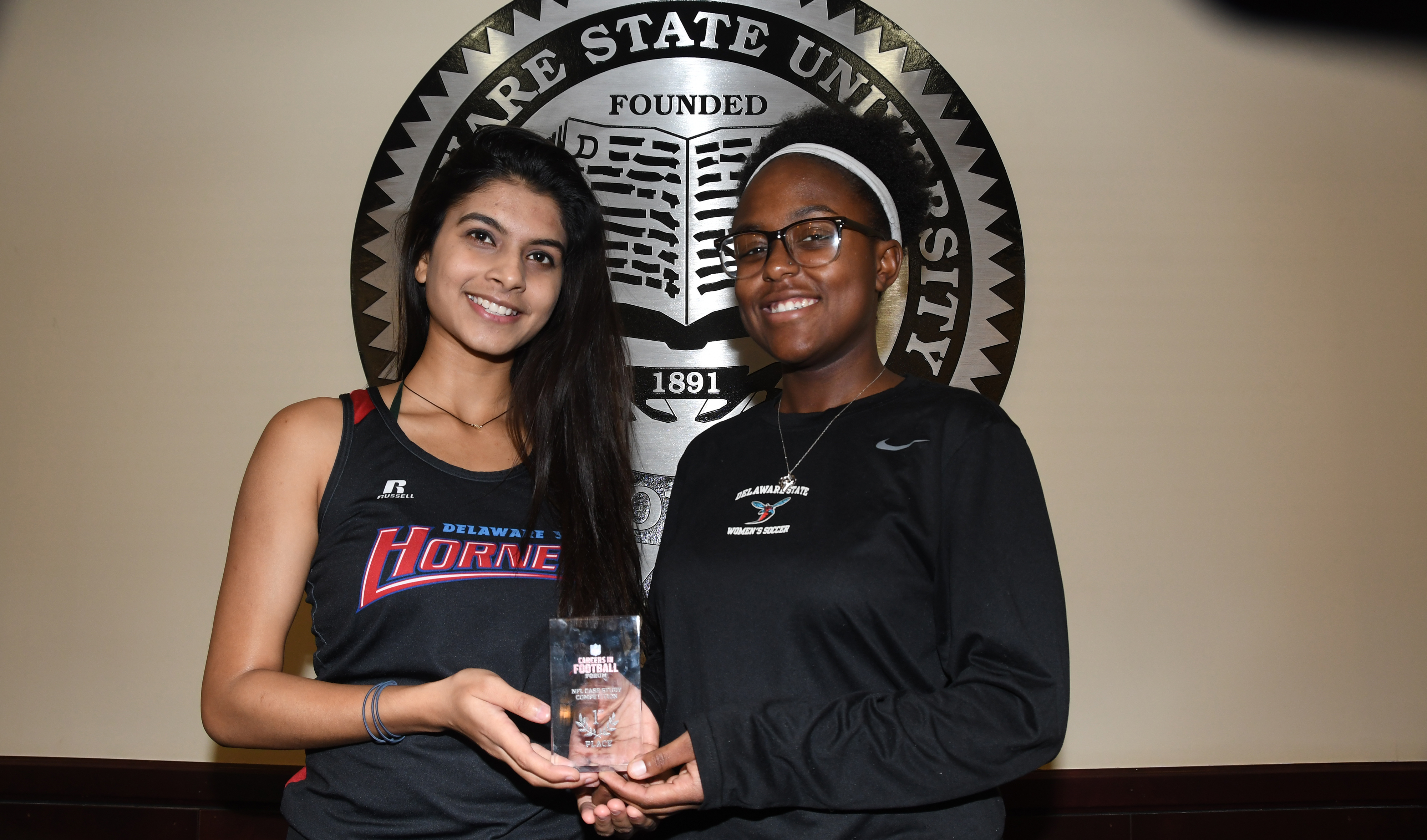 Business, On Campus, Health and Behavioral Sciences
Two Students place in top two NFL Forum teams
Sunday, January 27, 2019
Two Delaware State University students recently were part of two teams that won the top places in the first-ever Business Case Studies Competition held at the annual NFL Careers in Football Forum.
The University's Department of Athletics selected Aayushi Chouhan, a senior sports management major from India, and Braxton Clark, a junior psychology major from Goshen, N.Y., to attend the forum, which brought high performing students together from Historically Black Colleges and Universities from across the country. Students selected for the forum had to demonstrate a desire to work in sports.
The students were placed on eight NFL teams in the Business Case Studies Competition. Ms. Chouhan's Carolina Panthers team took first place, while Ms. Clark's Los Angeles Rams team finished in second place.
With only six of the 12 members on each team allowed to present its business case study orally, Ms. Chouhan was among the Panther presenters. Her thinking outside of the U.S. box helped her Panthers team win first place.
"Our presentation was how we could market the Panthers to increase its fan base," Ms. Chouhan said. "My part was to show how the Panthers could increase its fan base beyond the United States."
Ms. Chouhan said in her presentation that the Panthers could partner with universities abroad and try to recruit an international player. "If the player makes the team, the Panthers will have the support of the entire country," she said.
Ms. Clark, who aspires to be a sports psychologist, was also a presenter. She applied her psychology knowledge to her presentation. "I noted that there is a psychological connection between stadium entertainment and fan interaction," she said, adding the Rams could get fans more engaged in the stadium experience by offering competitive game they could play, like a Twitter selfie competition or on-field contests.
"It was an experience that helps me feel comfortable in public speaking," Ms. Clark said
Ms. Chouhan said the entire forum experience was a valuable networking opportunity. "We were able to NFL human resources officials and talent acquisition managers from all of the teams," she said. "It was great exposure."
The NFL Career in Football Forum was held on Dec. 14 in Atlanta, Ga.