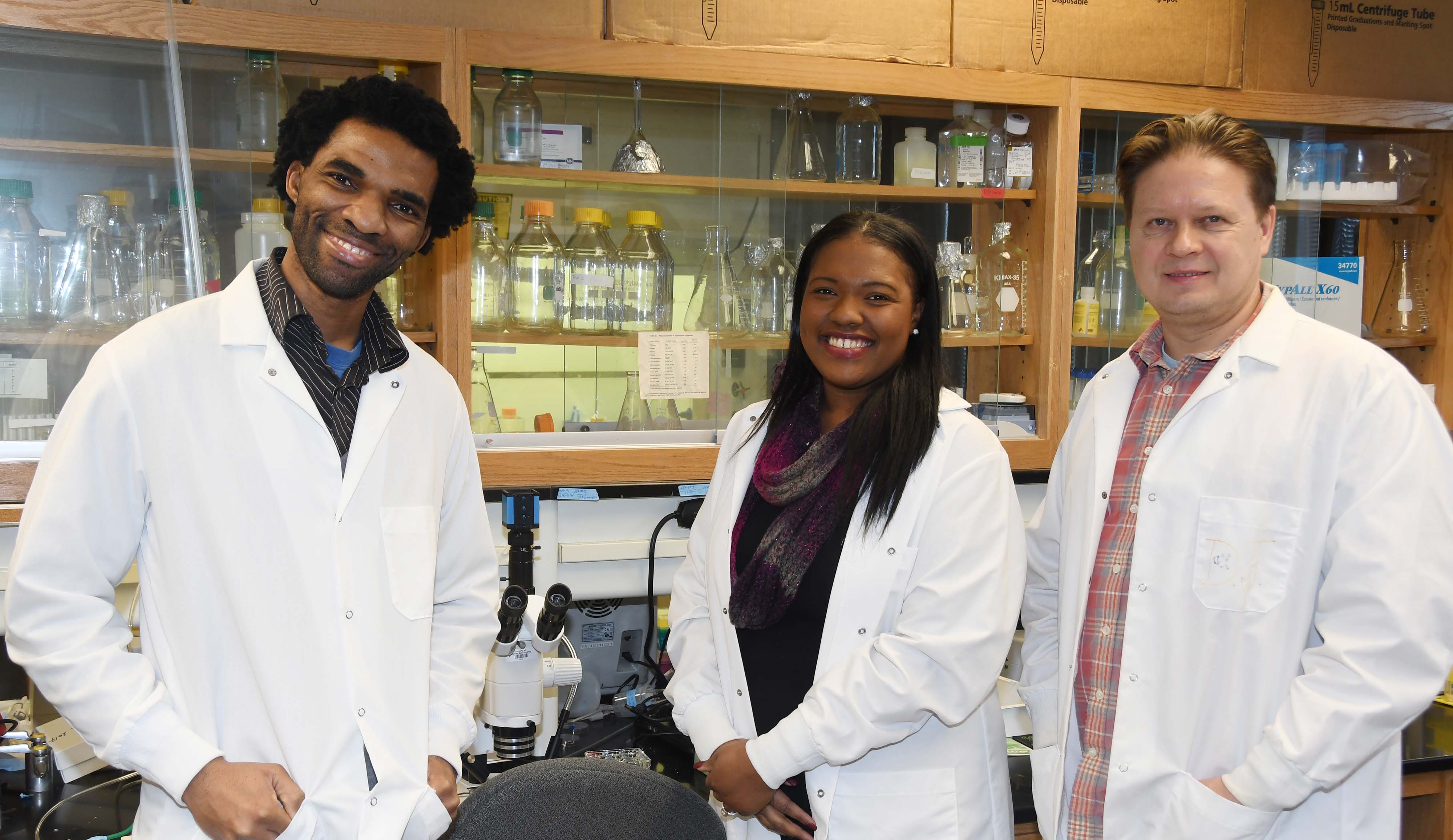 On Campus, Agriculture, Science, and Technology
DSU Neuroscience Poster Winners
Wednesday, January 16, 2019
One Biological Science laboratory at Delaware State University recently produced three award-winning research posters – two first place and one third place – at the First State's annual Neuroscience Symposium.
The laboratory of Dr. Hakeem Lawal, associate professor of biological sciences, was represented well by the following lab members:
Sergei Grigoryev, a post-doctorate in the Department of Biological Sciences, took 1st Place in the Post-Doc category for his research poster "Decreased Synaptic Physiological Properties in Aged Central Cholinergic Neurons." Mr. Grigoryev is a Russia native who is now an American citizen and Dover resident.
Shardae Showell, a student in the Neuroscience Ph.D. program from Pennsauken, N.J., tied for 1st Place in the Graduate Student category with her research poster "The overexpression of the vesicular acetylcholine transporter leads to accelerated aging and causes learning and memory deficits associated in Drosophila Melanogaster."
Liam Joseph, a senior biological sciences major from Willingboro, N.J., took 3rd Place in the Undergraduate category for his research poster "Investigating the role of nicotine in the regulation of locomotion in Drosophila."
Mr. Grigoryev and Ms. Showell each received the first-place $100 gift card prize, while Mr. Joseph received the third-place $50 gift card prize.
The Delaware Neuroscience Symposium was sponsored by the Delaware Center for Neuroscience Research and the Delaware Chapter of the Society for Neuroscience. The event was held Nov. 30 at the Executive Banquet and Conference Center in Newark, Del.