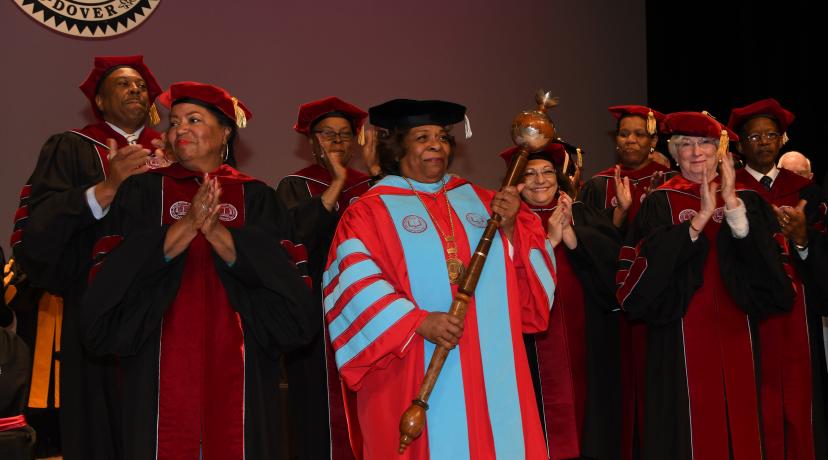 On Campus
Investiture for Dr. Wilma Mishoe
Monday, December 10, 2018
The entire Dec. 8 Investiture Ceremony for Dr. Wilma Mishoe was imbued with a deep aura of history as she followed the legacy of her father by committing to the oath of office in connection with her ascension as the 11th President in the 127-year history of Delaware State University.
To view images from the Investiture Ceremony, click on the below photo slideshow link:
https://www.flickr.com/photos/48216028@N03/sets/72157698627777420/show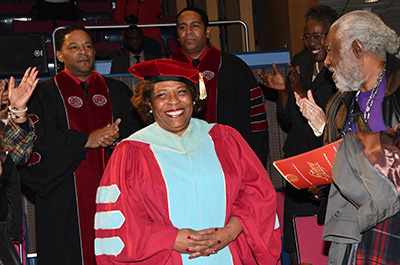 As the daughter of the institution's seventh President Dr. Luna I. Mishoe (1960-1987), she began her investiture address by harkening back to the speech her father gave at the 1961 ceremony that formally installed him as the President of then-Delaware State College.
"(He) stated these words as part of his introduction: 'In the faith, that with the continued cooperation and devotion of the Board of Trustees, the State officials and my fellow co-workers, and under the divine inspiration from God, we shall move forward to new frontiers of excellence, which this institution so bountifully deserves'," she said.
Dr. Wilma Mishoe added, "Fifty-seven year later, I can only echo that same sentiment, and strive to continue moving forward to greater levels of excellence in all that we do."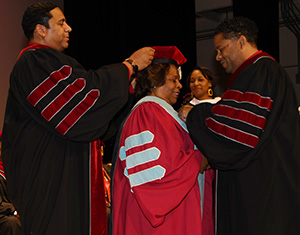 The well-attended ceremony, held in the Education and Humanities Theatre on campus, was attended by Delaware Gov. John Carney and U.S. Sen. Tom Carper.
Gov. Carney noted that Dr. Mishoe is charged with protecting the school's legacy and continuing the institution's "enormous progress" that has taken place since her father's tenure. Delaware's chief executive expressed his belief that she is the right person to lead the University.
"Your warmth of personality and inclusive leadership style make everyone around you want to be a part of the team," Gov. Carney said. "I know that you'll build on the good works your father started and take this University to new heights. For you, I know it will be a labor of love; and we will all be rooting for your success."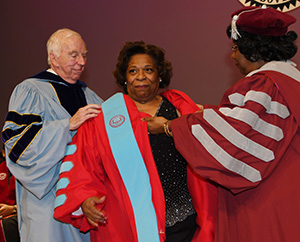 Five months after Dr. Mishoe became the first woman to be elected as the Chairperson of the University's Board of Trustees in August 2017, she became the Board-appointed Acting President after the departure of former President Harry L. Williams, who left to become the President and CEO of the Thurgood Marshall Fund. In June, the Board announced that it had selected Dr. Mishoe as the permanent University President.
Her predecessor Dr. Williams – who served as the University's 10th President from 2010-2017 – was also in attendance to symbolically pass the leadership mantle to Dr. Mishoe. He left her with the following keys to being the President of Delaware State University:
"Expect nothing but the best from the students and expect nothing but excellence from the faculty and staff," Dr. Williams said. "Never take for granted the governor, the General Assembly, the Dover City Council, Kent County Levy Court and the Congressional delegation."
Dr. Donald E. Ross, the founder of Wilmington University who gave Dr. Mishoe her start in higher education by hiring her at then-Wilmington College, shared how he saw great leadership skills in her back in the 1970s. He also noted that her father was instrumental in helping him get his private university started by introducing him to the right people in Delaware who he would need to support his endeavor.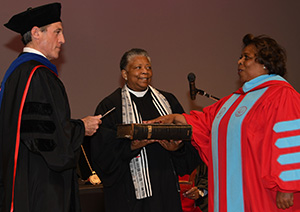 Others from higher education who took part in the ceremony included Dr. Mark Brainard, President of Delaware Technical Community College, who also worked for many years with Dr. Mishoe during her three decades as an executive administrator at that institution; and Dr. Thelma Thompson, former President of the University of Maryland Eastern Shore.
In her address, Dr. Mishoe noted that she would like to see legislation enacted to change the name of the institution to "The Delaware State University."
"It is my vision that Delaware State University becomes a central partner in the growth, development, and life of our entire local, state national and regional community," President Mishoe said. "We have often been referred to as a hidden diamond. Well, hidden or not, diamonds are made to shine. In doing so, I expect that many others will begin to point to us for expertise and leadership, and we must be ready willing and available to offer that assistance."
She said the University would continue to be guided by its original mission to provide access and opportunity to those who desire an education. Dr. Mishoe said two words – "Students First" – will describe her legacy. "I will always be guided by two questions: What is best for students? And, what is best for the institution?"
She reserved the final part of her address for the students "I acknowledge that you do have rights, but you must acknowledge that as students, you also have responsibilities," the University President said. "Among your responsibilities is that of being the best that you can possibly be. For our future will soon be dependent upon you."
Dr. Devona Williams, current Board chairperson, Board Vice Chair John Ridgeway and Board Member Dr. Debbie Harrington, placed the University hood and presidential medallion around her neck, and presented her with the University mace.
There were also music performances by the University Band, the University Concert Choir; a solo selection by Dr. Marsha Horton, dean of the College of Health and Behavioral Sciences; as well as a dance performance by Dr. Lynnette Young Overby.