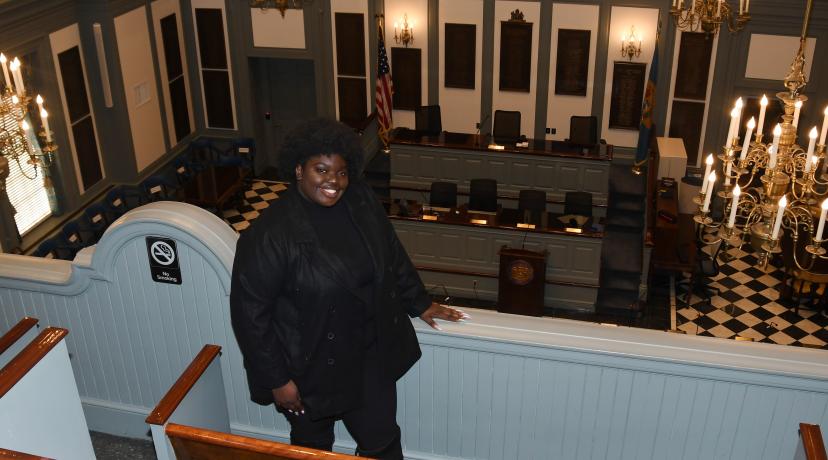 On Campus, Humanities, Education, and Social Sciences
Adriante Carter selected as Legislative Fellow
Wednesday, December 12, 2018
The Legislative Fellows Program appears to be tailor-made for Adriante S. Carter – the latest Delaware State University student selected for the state General Assembly-based work and research experience.
Ms. Carter, a senior political science major and philosophy minor, spends her afternoons from Tuesday through Thursday working in Legislative Hall in Dover.
According to Jackie Griffith, University Director of Government & Community Relations, Ms. Carter will work closely with Sarah Wooten, Chief of Policy for the House of Representatives. "She will assist legislators and senior staff with various research projects, staffing of House Committees, and policy-related legislative assignments," Ms. Griffith said.
Ms. Carter – who was raised mostly in Baltimore, Md. and later spent a few years in Hartford, Md. – said that such an opportunity is what brought her to Delaware State University.
"I was attracted to the University's Political Science Department as well as to the political environment of Delaware," she said. "It's a small state, and it's easier to get involved with the politics here than it would be in a bigger state."
Ultimately she aspires to go to law school and become a defense attorney.
"I want to help people and ensure that they aren't misrepresented in the judicial system," Ms. Carter said. "I think there need to be more black faces in the legal field."
Currently a 4.0 GPA student, in addition to maintaining her standard of academic excellence, Ms. Carter is the president of the University's College Democrats and the Mock Trial organizations and serves as a supplemental instructor for the philosophy courses of critical thinking and logic.
She also works as an intern for U.S. Sen. Chris Coons' Dover office.
Ms. Carter said she learned about the program from a previous Legislative Fellow from the University.
"Gabrielle Davis (Class of 2018 spring) was a mentor to me, and she was a Legislative Fellow last spring," she said. "She took me to Leg Hall, introduced people to me and showed me the ropes."
The University's newest Legislative Fellow believes her experience at the General Assembly will be a beneficial step for her.
"I want to become a better researcher and writer, and I'll get experience doing that at Leg Hall," Ms. Carter said. "It will also help me learn about the inner workings of Delaware government."
A May 2019 graduate, she has already applied to enroll in Baylor Law School in Waco, Texas.
Delaware State University students who are interested in the Legislative Fellows Program can contact Ms. Griffith at jgriffith [at] desu.edu.