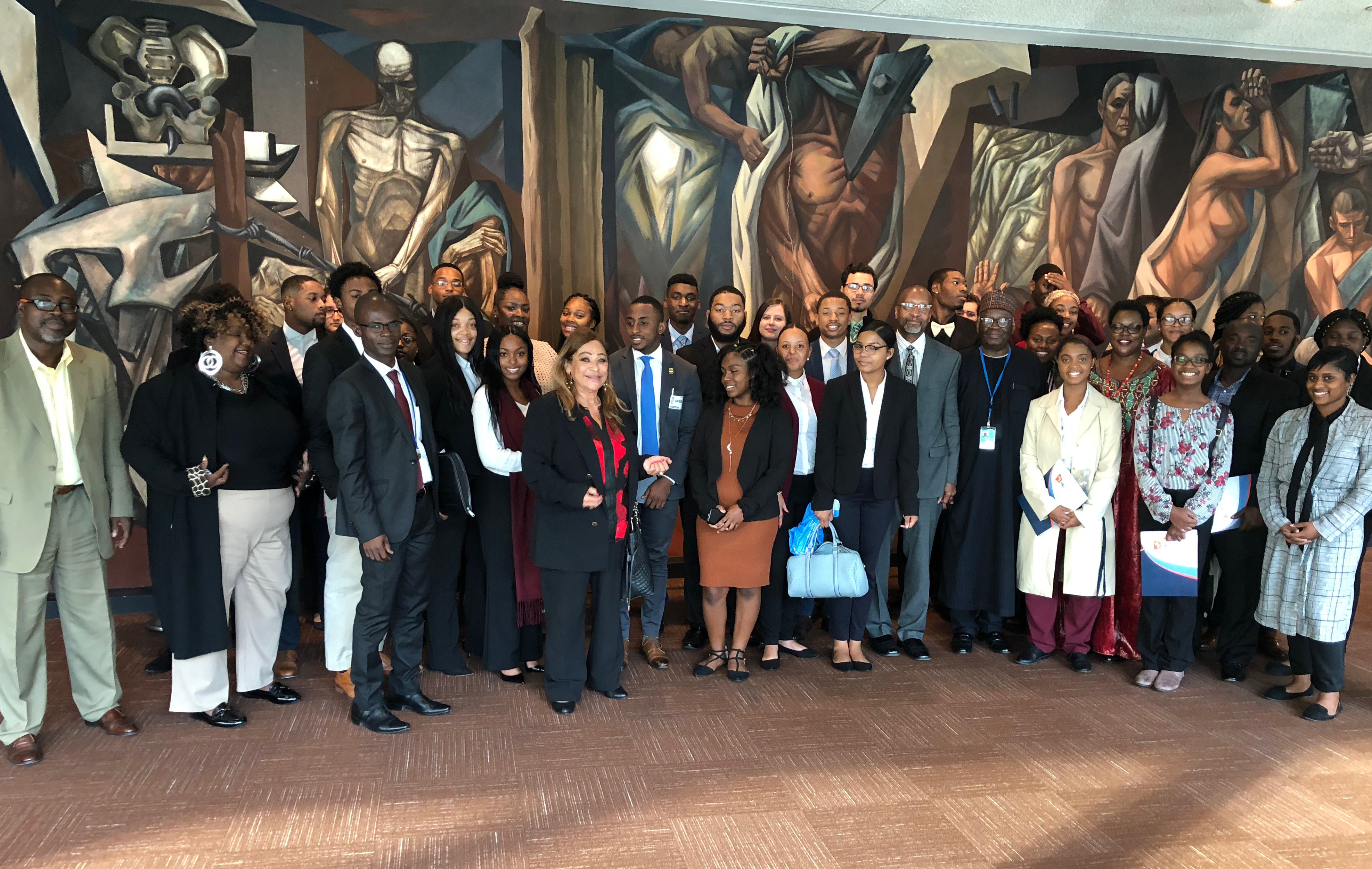 Business, On Campus, Humanities, Education, and Social Sciences
DSU Students & Faculty Attend U.N. African Dialogue Series
Saturday, November 17, 2018
In furtherance of Delaware State University's academic-economic-governmental partnership with the African Peer Review Mechanism (APRM), about 50 DSU students and faculty members recently attended the 2018 "Africa Dialogue Series" (ADS) at the United Nations in New York.
The Oct. 17-18 conference, which was organized by UN Office of the Special Adviser on Africa (OSAA) under the theme, "OSAA @ 15 Years: A Stronger AU-UN Partnership for Peace Security and Development in Africa," was opened by UN Secretary General António Guterres.  Special tributes were made to the late UN Secretary General, Kofi Annan, and the late President of South Africa, Nelson Mandela, whose work helped define the role of OSAA.
The ADS is designed for dialogue between UN Member States and ambassadors, the African Union (AU), high-level representatives of African organizations, and the United Nations system, as well as the private sector, civil society, academia, think tanks, Diaspora Africans and other key stakeholders.
Delaware State University was invited by Prof. Eddy Maloka, CEO of APRM, who was accompanied by APRM Country Review Coordinator Dr. Rachel Mukamunana and APRM Assistant to the CEO Valery Yaoyao.  The APRM was founded in 2002 as a specialized agency of the AU to conduct "Country Reviews Reports" on the governance and socioeconomic performances of African nations, with the aim to provide expert analyses and recommendations to foster better political stability and sustainable development.
The University's partnership with APRM emerged out of the AU's recognition of African Americans as part of Africa's "Diaspora" or "Sixth Region," who the AU encourages to contribute to Africa's 21st-century evolution.
The students participated actively and impressively in the conference by posing thought-provoking questions to panelists which then shifted the dialogue to the need to concretize joint-development initiatives between Diaspora youths and African youths.  "This was very eventful for us as DSU students and for me as a student interested in global economics.  To visit the UN and actually hear and participate in debates by asking questions to African ambassadors and UN officials gives me the motivation to get involved ASAP," said Khaadim E. Rider, TMCF Student Ambassador and Vice Basileus of Omega Psi Phi Fraternity.
In addition to the public forum, University faculty participated in roundtable sessions that included discussions on the ""Role of APRM as an Early Warning System for Conflict Prevention," and the "Nexus between APRM and the New Partnership for Africa's Development (NEPAD)." 
"It is important as representatives of Africa's Sixth Region, for DSU as an HBCU to increasingly expand our global influence through institutional alliances with agencies like APRM, which is Africa's premier instrument for assessment and improvement of governance. This annual UN conference provides a world stage that demonstrates our common commitment to the APRM process," said Prof. Ezrah Aharone, Visiting Assistant Professor, Department of History, Political Science and Philosophy, who is spearheading the partnership.
The Delaware State University delegation of professors also included: Dr. Akwasi Osei, Dr. Michael Casson, Dr. Donna Patterson, Dr. Makda Maru, and Prof. Leandra Marshall, who was a chief organizer of the visit through resources provided by the office of Dr. Lisa Dunning, Associate VP Academic Affairs, University College and Student Success Initiatives.
As the leading Diaspora institution of this unique partnership that includes the renewable energy company Kool-Baker Global, the University is now engaged with other HBCUs and Diaspora entities to expand the partnership with direct APRM assistance to continually deepen proficiency and recommendations within "Country Review Reports."