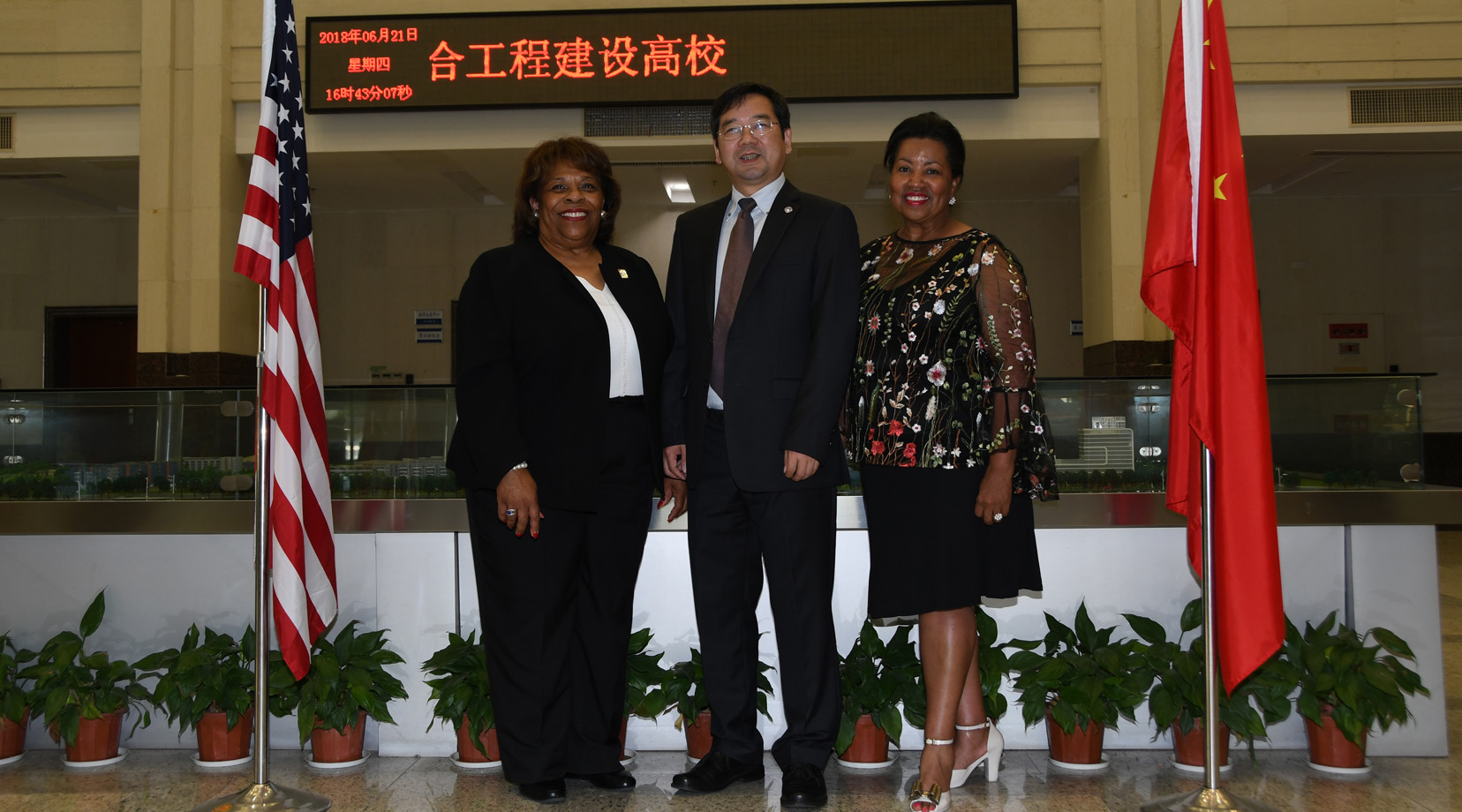 Partnerships & Collaborations, International Affairs, Student Success
DSU delegation visits partner institution in China
Thursday, June 21, 2018
A Delaware State University delegation led by President Wilma Mishoe on Thursday visited Ningbo University of Technology (NBUT) in China, where DSU operates a joint Accounting Program. During the visit, Dr. Mishoe, Board of Trustees Chairperson Dr. Devona Williams and Vice President of Strategic Enrollment Management Antonio Boyle spoke to a class of about 100 freshman accounting students who are in the first year of the program.
The students were also given an opportunity to express their appreciation of the program.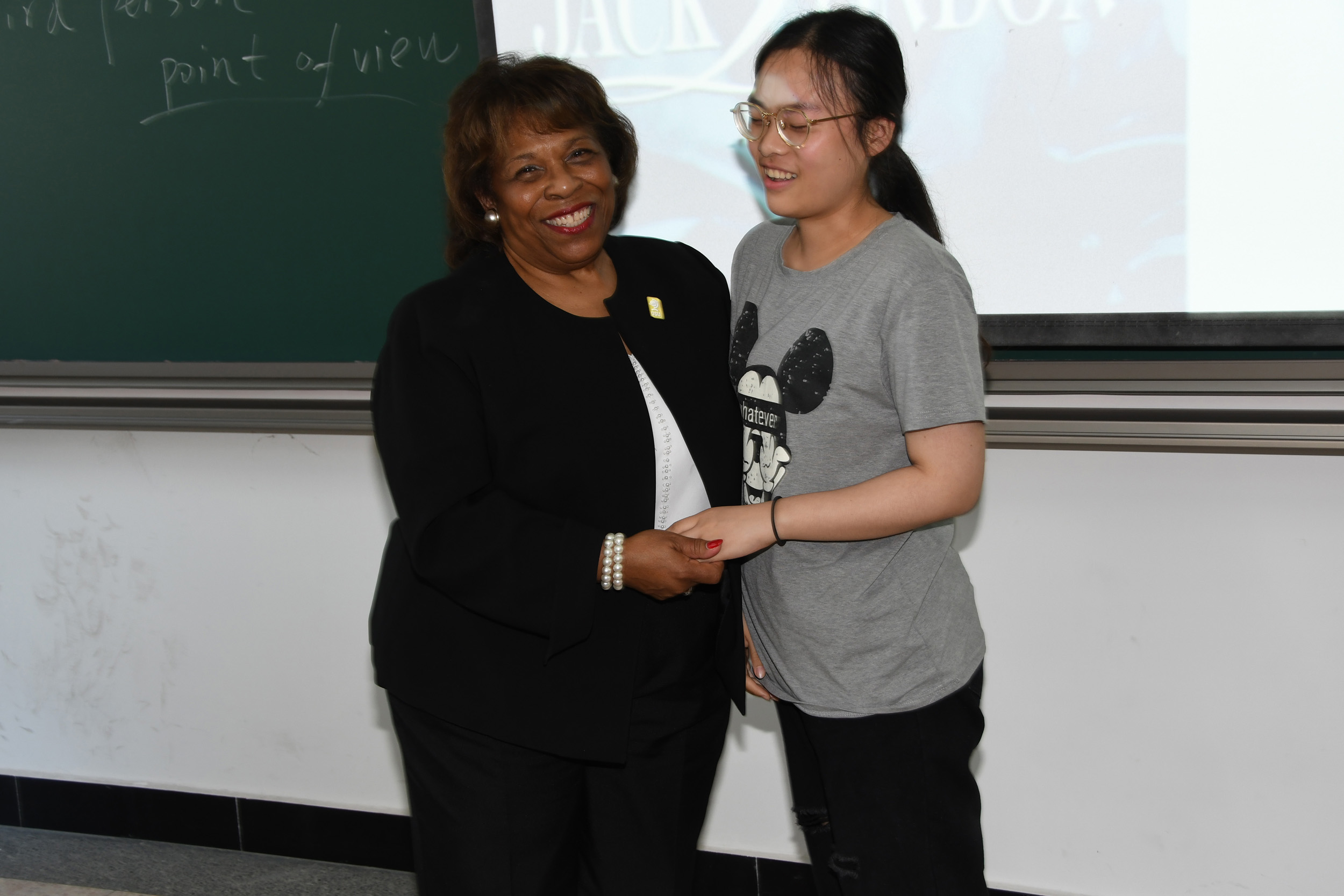 "We really like the professor from DSU that come here, who have great expertise and humor," Tatiana Shao said in English.
One particularly touching moment took place when a NBUT student came up to the front of the class to speak directly to Dr. Mishoe, but nervousness caused her to struggle a bit with her second language. Dr. Mishoe calmed the girl by wrapping her arms in a comforting embrace.
Afterwards the DSU delegation – which also included Dr. Fengshan Liu, associate vice president of International Affairs; Dr. Youngsik Kwak, professor of accounting; and Carlos Holmes, director of News Services – met with NBUT President Lyn Zhongda and other NBUT officials – which included Dr. Tony Nie, dean of NBUT's College of International Exchange, and Dr. Jinghua Wanta, NBUT vice president.
President Lyn said the cooperation between DSU and NBUT has a "promising future," and noted that he was impressed that the delegation took the time to meet with the class. "The first thing you did was visit a classroom of our students," President Lyn said. "That sets a good example for us."
Dr. Mishoe said her first official international visit as president was an invaluable experience for her. "It's one thing to hear about it, but it is another thing to see it and meet the students," she said. "And I always call DSU students 'my students' because in my mind they belong to me. So I say the same about the NBUT students that are part of this program."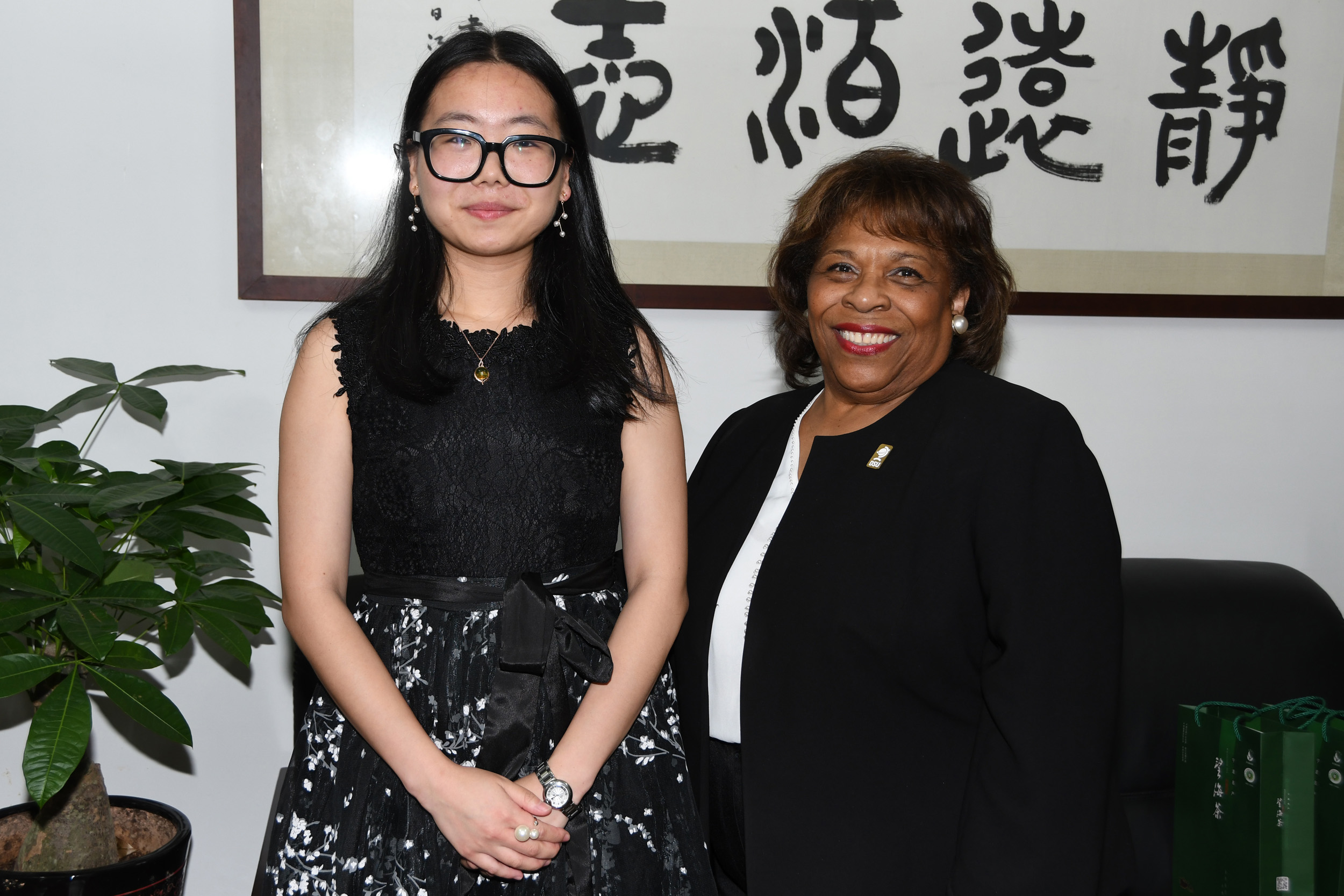 Dr. D. Williams noted that the DSU Board of Trustees "highly value" the relationship with NBUT. "We want to grow the partnership, send more faculty to NBUT and have more of your students and faculty coming to DSU," the board chairperson said. "We are excited to see the program growing, and we want to grow with you."
The DSU-NBUT joint program has served as a model for subsequent programs in the NBUT College of International Exchange. NBUT has established a cooperative program with West Virginia State University in the discipline of information and computing science, and it plans to launch another program soon with another American university.
After a discussion between the officials and the DSU delegation, President Lyn treated the Del State folks to a delicious Chinese dinner.
During the dinner, Dr. Lyn expressed his gratitude and satisfaction with the NBUT-DSU joint Accounting Program and expressed some interest in DSU's Aviation Program, especially the Aviation Management concentration. Dr. Mishoe told him and the NBUT officials that an expansion of the partnership into the Aviation Program would be something DSU would be willing to explore.
On Friday, the DSU delegation will participate in NBUT's full commencement ceremony, which will include not only the 93 graduates of the DSU-NBUT Accounting Program, but also that university's entire 2018 graduating class of approximately 3,200 students.