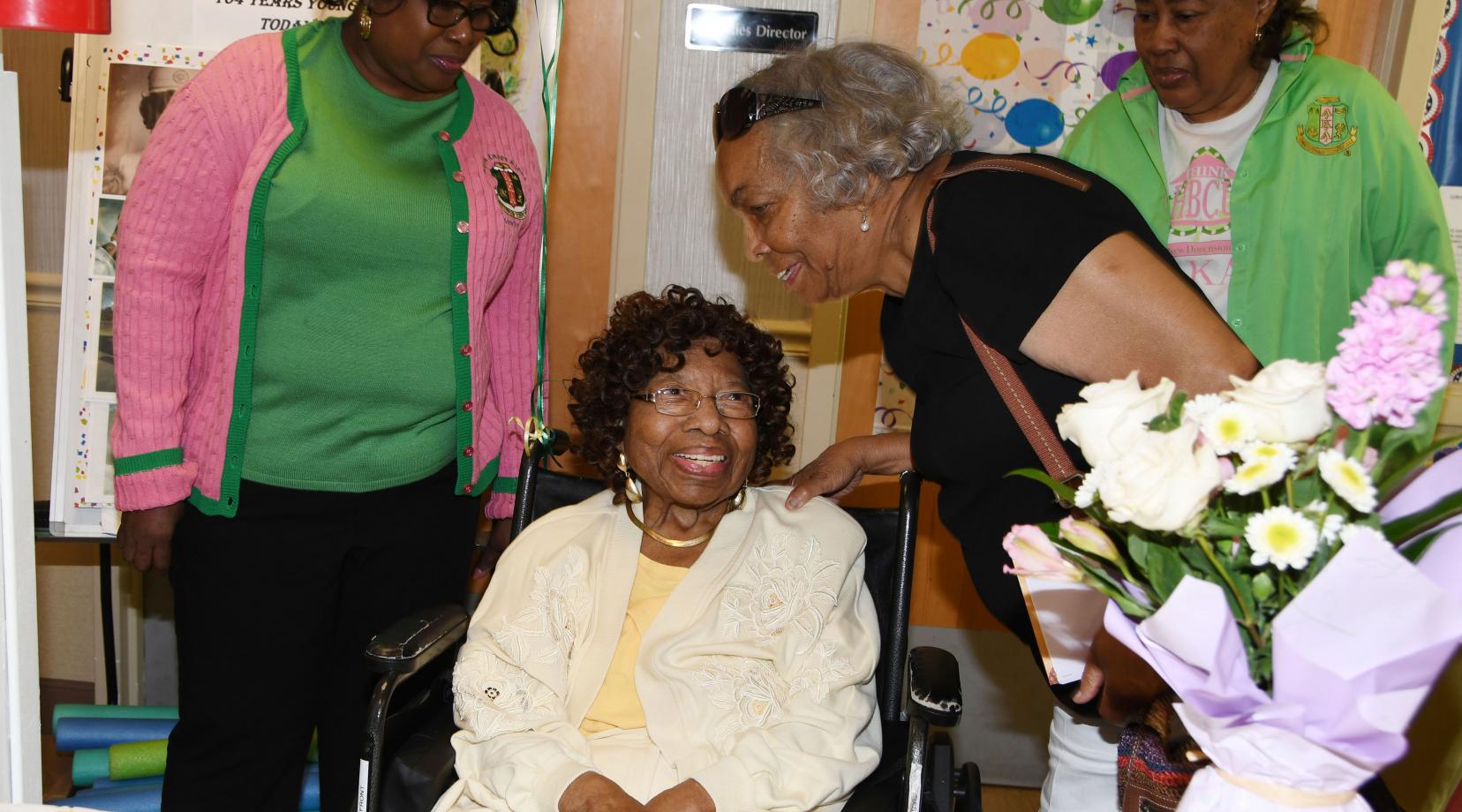 On Campus
DSU Alumna Courtney Stevenson celebrates 104th
Tuesday, June 12, 2018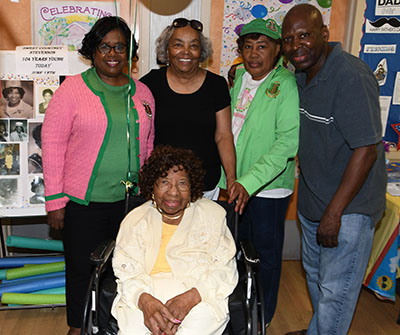 Courtney W. Stevenson, retired Delaware State University assistant professor and the school's oldest known living alumna, celebrated her 104th birthday on June 12.
Family and friends joined residents of the Capital Rehabilitation Center in Dover (where she lives) in singing happy birthday to her and celebrating her longevity with ice cream and cake.
Born 1914 in Lynchburg, Virginia, then-Courtney White received her degree in Home Economics from the then-State College for Colored Students in a graduation ceremony held on her birthday in 1944. Later that year, on Thanksgiving Day, she married her husband, William W. Stevenson, a native of Dover who graduated from the school three years earlier.
In the years that followed, Mrs. Stevenson served as a teacher at all grade levels of Delaware's school systems, including a pre-school, elementary, junior high and senior high school teacher. Her secondary school teaching experience includes serving at the Garrett Pre-School Program in Wilmington; the Delaware State College Laboratory High School; the Thomas Clayton Elementary School in Smyrna; and the Louise L. Redding Comprehensive High School in Middletown.
In addition, she served as an assistant professor of Home Economics at then-Delaware State College—twice-serving as interim department chair during her tenure. She was interim chair in the 1970s under President Dr. Luna I. Mishoe; and in the early 1990s, she served in that same position under President Dr. William B. DeLauder. Mrs. Stevenson retired from Delaware State University in 1994.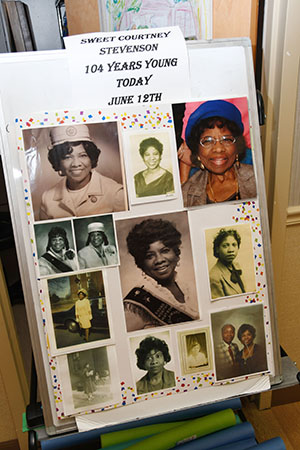 Through the course of her life, she also earned a master's degree in Higher Education from New York University and did further graduate study in Higher Education at the University of Delaware, Iowa State University and Philadelphia College of Arts and Science.
Mrs. Stevenson has been a resident of Dover since coming to the city as a college student in the early 1940s. She is an active member of many civic, fraternal and professional organizations, including being a life member of Epsilon Iota Omega Chapter of Alpha Kappa Alpha Sorority, Inc. in Dover where she is past president and past treasurer; as well as being a founding member and past graduate advisor of the undergraduate Delta Lambda Chapter of Alpha Kappa Alpha Sorority on the DSU campus.
In addition, she is a member of the Delaware State Chapter of the Links, Inc. and the Order of the Eastern Star, where she is Past Grand Worthy Matron and Past Delaware State Grand Loyal Lady Ruler. She also is a charter member of the Order of the Golden Circle No. 43 and is a member of the Daughters of Isis No. 54.
She remains an active member of Whatcoat United Methodist Church in Dover, where her membership spans more than 75 years and has included her service as a Sunday school superintendent and as a member of numerous church organizations.