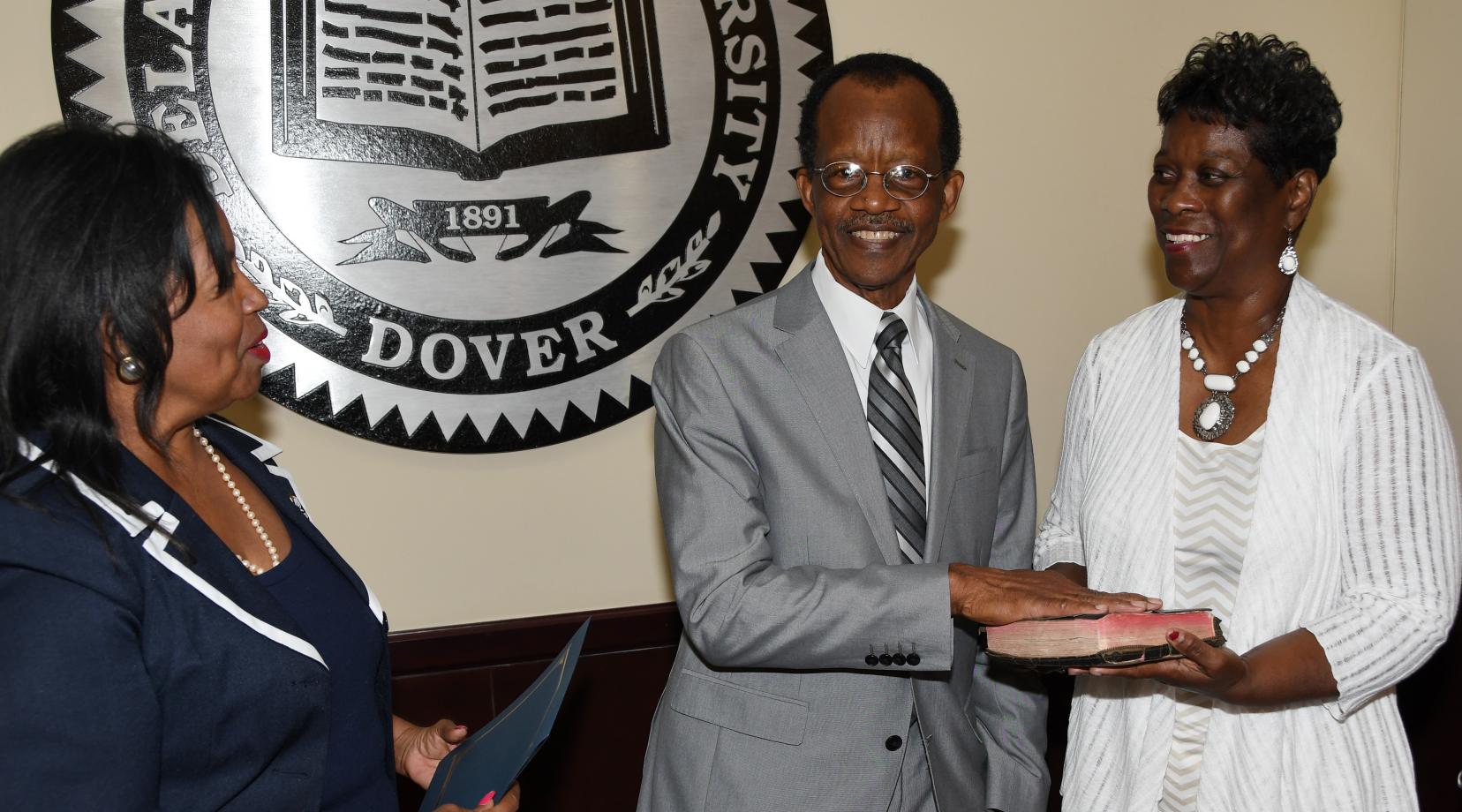 Office of the President, On Campus
Board welcomes new member while bidding farewell to two
Friday, June 15, 2018
Harold E. Stafford, a former Delaware Secretary of Labor, was welcomed June 15 as a new member of the DSU Board of Trustees.
The board also expressed its gratitude and best wishes to two outgoing members – Jose Echeverrí and Charles McDowell.
Mr. Stafford was formally sworn in by Interim Board Chair Devona Williams. He brings to the board 31 years of state executive experience. He served as the Secretary of Labor under Gov. Ruth Ann Minner from 2001 to 2005. Prior to that, he worked at the Delaware Economic Development Office from 1998-2001 as the director of administration and the last four months as acting director. He also held the position of director of administration at the state Department of Labor from 1993-1998.
He began his career in state govenrment from 1974-1990 in the Department of Corrections, where he served in several positions, including chief of Community Custody and Supervision, chief of Industries and Services, and others.
After his time ended as a cabinet secretary in 2005, Mr. Stafford founded The Stafford Firm, a management consultant business to assist nonprofits and government agencies to implement quality standards to improve performance and streamline operations. Since early 2017, he has also served as the board president for HELP Initiative, Inc., a nonprofit agency that coordinates low-income energy efficiency programs, improves the quality of life and reduces dependency on social service programs.
Mr. Stafford has a Bachelor of Arts degree in Sociology from Henderson State University in Arkansas, and a Master of Social Service degree in Social Service Administration.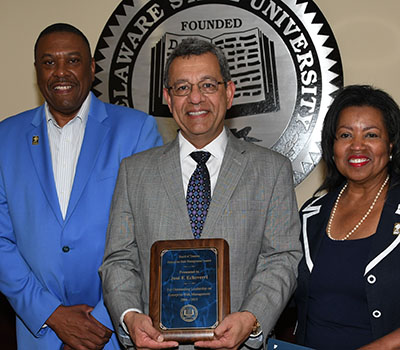 The board also bid a fond farewell to two members who have stepped down from the governing body.
Mr. Stafford succeeds Jose Echeverrí, who leaves the board after 13 years of service. DSU board members are limited to serving two terms, and Mr. Echeverrí's final term would have ended in August.
However, Mr. Echeverrí stepped down a few months in advance of his term expiration to become the director of the University's MBA Program. He made history in 2008 by becoming the first person to earn a DSU degree – an MBA – while serving as a Board of Trustees member.
Mr. Echeverrí was selected by the board as a trustee in 2005 to finish the term of the late James Hardcastle, a longtime member who passed away the previous year; he was reappointed to the board in 2006 and 2012. During his tenure, he served during certain periods as the chair of the board's Audit and Student Affairs committees. He also was a member of the Executive, Education Policy, Development & Investment, and Innovation & Sustainability committees.
Mr. Echeverrí – who was the first-ever Hispanic DSU board member – also introduced the practice of Enterprise Risk Management to the University, which in turn established that area as a robust safeguard system in the Division of Finance & Administration.
In light of that, the board presented Mr. Echeverrí with the Board of Trustee Enterprise Risk Management Award for his leadership on that initiative.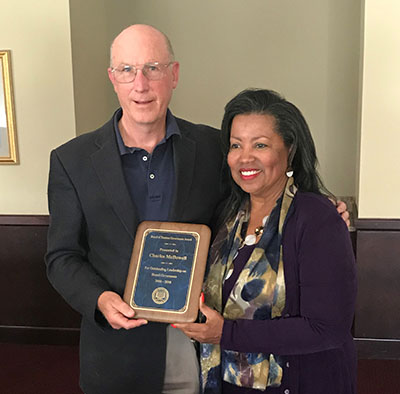 Charles McDowell will also complete two terms as a Board of Trustees member in August. He first came on the board in 2006 to fill one of the additional seats created by enacted 2005 state legislation that expanded the board from 11 to 15 members.
Mr. McDowell was the founding chair of the Nominating Committee, which later became the Committee on Trustees and this year was renamed the Governance Committee. Throughout those name changes, he continued to serve as the chair of the committee until he recently stepped down from the board.
He also was a member of the board's Executive, Finance, Building & Grounds, and Operations committees.
The board recently honored Mr. McDowell by presenting him the Board of Trustees Governance Award in recognition of his outstanding leadership throughout his tenure.