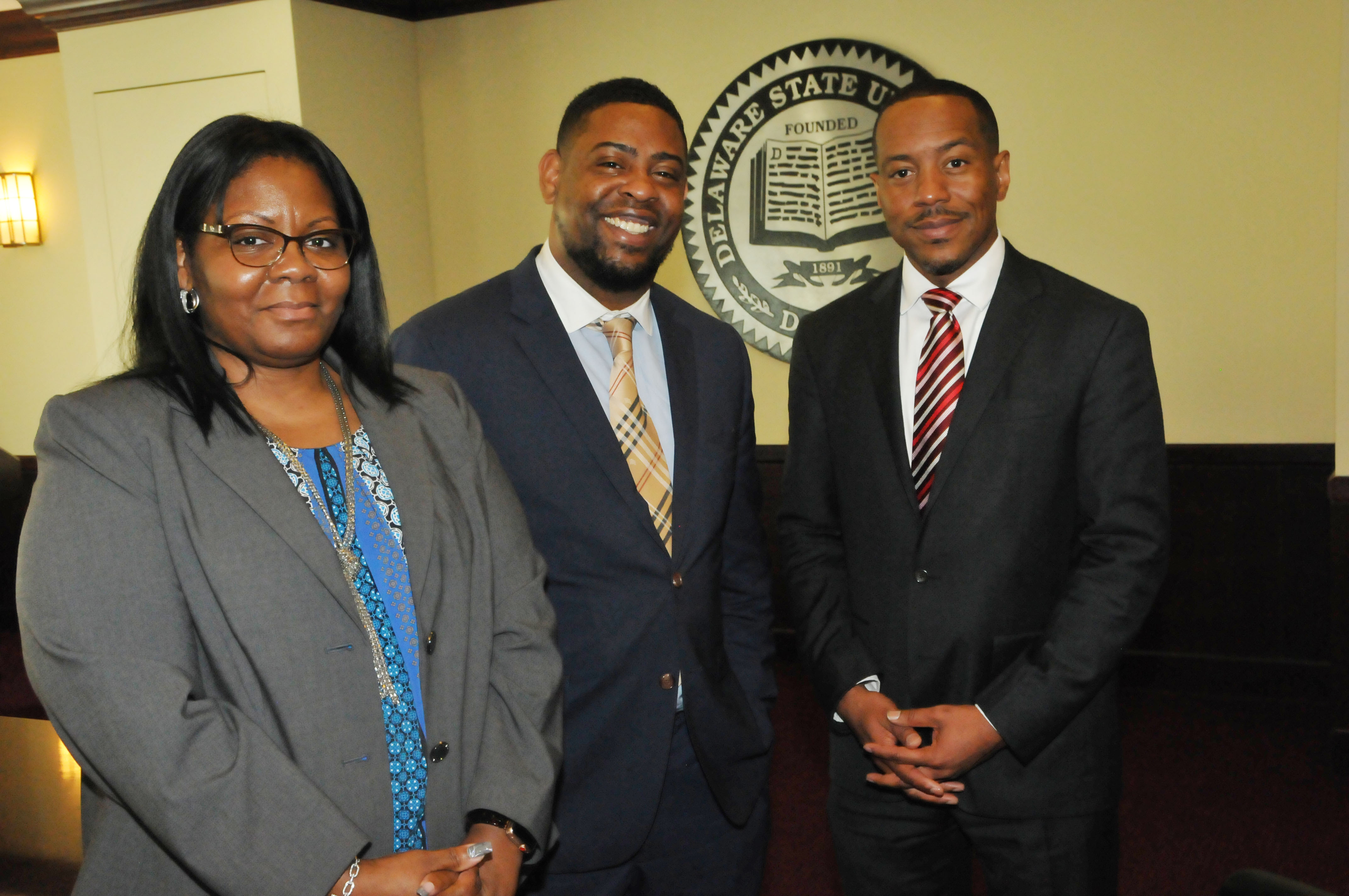 On Campus
New leadership in Enrollment Mgmt.
Tuesday, May 22, 2018
The University has announced three new leadership appointments in Strategic Enrollment Management, which are in accordance with the reorganization process that began last fall, aligning Admissions, Financial Aid, Student Accounts, and Academic Records under a single, accountable leader.
The following new leaders – who will report to Antonio M. Boyle, vice president of Enrollment Management – will begin their new tenures with DSU this week:
Mr. Al Dorsett will become executive director of Financial Aid. Mr. Dorsett brings 16 years of higher education experience to the position. Most recently the director of the Office of Student Financial Aid at University of Maryland Eastern Shore, Dorsett has held similar positions at Kean University and the Rutgers University Medical School. UMES is a Historically Black, 1890s Land Grant Institution like Delaware State University, while Kean is a public university of 16,000 students offering 45 undergraduate and 26 graduate programs.
Ms. Toshia Williams will become executive director of Student Accounts. Ms. Williams was previously director of Financial Aid at Chestnut Hill College in Philadelphia, and has 15 years of experience in financial aid. Since 2003 she has worked in the field at Temple University, Johnson College, and Bergen Community College.
Mr. Kareem McLemore will become the University's executive director of Admissions. Mr. McLemore spent the last nine years working in a variety of enrollment and admissions-related positions at Wiley College in Marshall, Texas, most recently as director of Financial Aid.
Dr. Terrell Holmes will continue as University registrar. Dr. Holmes became registrar at Delaware State University in July 2010. With the creation of a strong leadership team in each of the student touch points in the enrollment management process, Dr. Holmes will now focus exclusively on managing the Registrar's Office.
"In addition to having many years of experience, each member of my senior team is a proven leader with a reputation for absolute personal and professional integrity, and understands the wide variety of challenges our own students bring with them," Mr. Boyle said. "Together we will focus on growing the institution responsibly."