On Campus
Grandmother and Granddaughter share Commencement limelight
Thursday, May 10, 2018
Jordan M. Saez's graduation from Delaware State University on May 12 continues her family's longstanding legacy at the institution, where her parents, grandparents and others have earned diplomas.
It is only fitting, therefore, that her grandmother Louise Maull will not only be in attendance, but also will be honored as an alumna member of the Class of 1968 – which is celebrating its 50th anniversary.
Jordan, who will receive a Bachelor of Science degree in Elementary Education, enjoyed a relatively calm undergraduate journey at DSU, completing her degree in almost perfect fashion – with a 3.97 GPA.
Her comfortable culmination to her undergraduate years, however, is nothing like the tumultuous ending her grandmother experienced in her final spring semester in 1968 at then-Delaware State College.
It was at a time when rebellions were the norm at college campuses throughout the country. Del State was no different; the DSC Student Government Association alternated between participating in local protests over civil rights as well as ongoing disagreements with the college administration of Dr. Luna I. Mishoe, the longtime president (1960-1987).
It was also during that spring semester of 1968 that Martin Luther King Jr. was tragically assassinated. "Dr. King's death was devastating," Ms. Maull said of the campus reaction.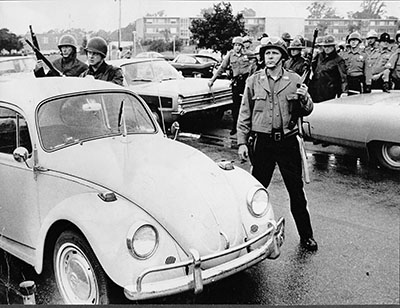 In May 1968, student discontent led a large group of them to disrupt a ceremony to dedicate the first-ever student union and a male dormitory. A few days later, many of the same students invaded and took over Grossley Hall, which then served as the administration building and encompassed the president's office. The serious act prompted then-Gov. Charles Terry to dispatch the Delaware National Guard and Delaware State Police to the campus to restore order.
Ms. Maull said she was not involved in any part of it, but was affected by it.
"When they first started the dedication ceremony, my friends and I left because we didn't know what was going happen," Ms. Maull said. "We didn't take part in the takeover of Grossley Hall either.
Because of the uprising and the continued presence of the National Guard – which continued through the summer months – it was the only time in DSU history that its Commencement ceremony was held at an off-campus site.
"It upset me for a while that we were robbed of that Commencement moment on campus," said Ms. Maull, who graduated with a bachelor degree in Business Education. "We expected to graduate at Del State."
That end to her DSC academic year notwithstanding, Ms. Maull went on to proudly serve as an educator in Delaware for over 35 years, teaching business education in a career that included stints at Middletown, Laurel and Delmar high schools, as well as the last 25 years she spent at Seaford High School, from which she retired.
Jordan is thrilled to share the commencement limelight with her grandmother, who will join about 17 other members of the Class of 1968 for the May Commencement.
"I don't think anything could be cooler," she said.
Because Jordan was home schooled, her undergraduate years were her first community education experience. "I walked into DSU and realized I would have to share my professors with 22 other students," she said. "It was an eye-opening experience and I did a lot of growing."
She added that a lot of her inspiration to be a teacher came from her mother and grandmother.
Jordan's parents, Dr. Jose and Zona Saez (Ms. Maull's daughter and son-in-law), will be there not only as Hornet parents, but also as DSU alumni. Dr. Saez and his wife both graduated from DSC in 1992, with BS degrees in Biology and Early Childhood Education, respectively. A kidney specialist, Dr. Saez currently operates a private practice as part of Nephrology Associates PA in Georgetown and Milford; his wife Zona is an educator in Sussex County.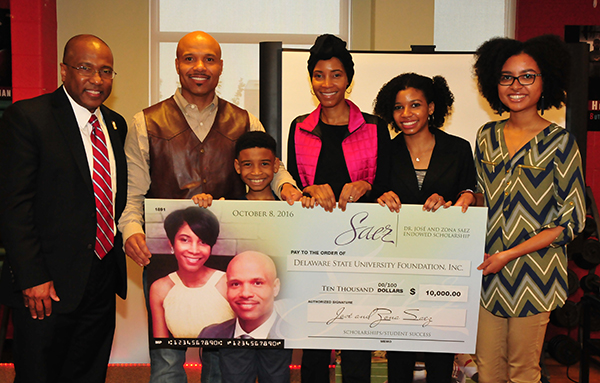 Dr. and Mrs. Saez, who reside in Lewes, Del., also established a $10,000 scholarship endowment in 2016 for Sussex County students majoring in Elementary Education at DSU. "We need more minority teachers in Delaware," Dr. Saez said, in explaining the couple's motivation for the endowment.
Their daughter Journey Saez is a rising sophomore food and nutritional science major.
Other DSU-connected members of the family include:
The late Granville Burton Stewart, Jordin's grandfather who earned an education degree in 1964.
Tamika Stewart (the daughter of Ms. Maull and Mr. Stewart, the sister of Mrs. Saez) who graduated in 1997 with a degree in psychology.
Kenyon Parker, Mrs. Saez's uncle who graduated from the Delaware State College High School as well as the College with a BS degree in Industrial Education in 1950.
The late Louis Stewart, Mrs. Saez's uncle, who graduated in 1956 with a degree in BS Elementary Education.
Dr. Cora Selby, a distant cousin of Jordan and the oldest living DSU alumni member in the family, who graduated in 1940 with a BS degree in Elementary Education from the State College for Colored Students (as the institution was named then). Dr. Selby was also a longtime member of the DSU Board of Trustees.