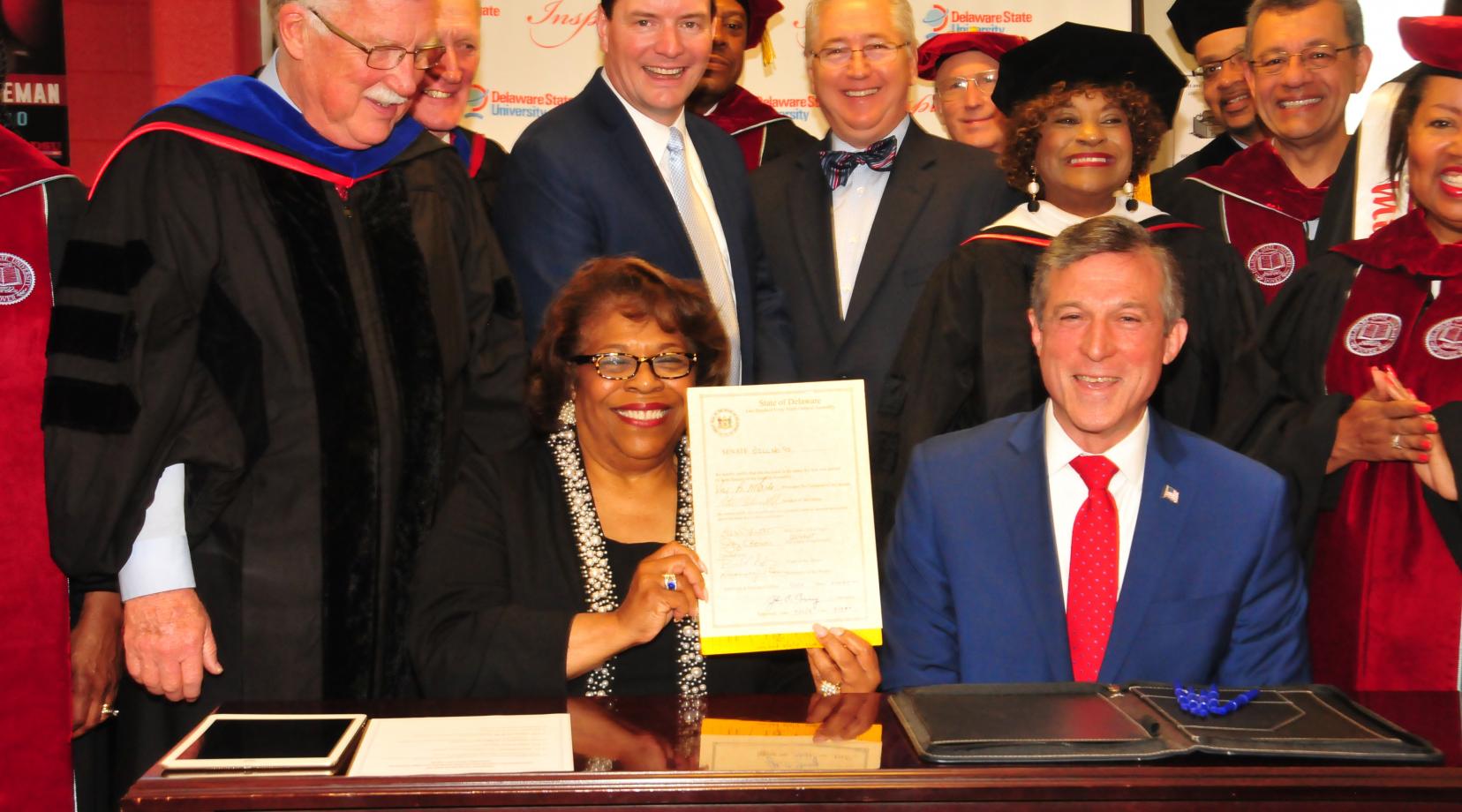 On Campus
Gov. Carney signs Inspire Scholarship 4th year legislation
Sunday, May 13, 2018
As a significant prelude to Delaware State University's May 12 Commencement Ceremony, Gov. John Carney signed Senate Bill 90 into law, which provides additional financial aid assistance to eligible Delaware high school graduates who attend DSU.
Gov. Carney signed the legislation in the DSU Wellness and Recreation Center, where University administrators and other dignitaries gathered to take part in the Commencement processional.
The new law expands the state-funded Inspire Scholarship from three to four years for Delaware students who meet the eligibility requirement of graduating from a Delaware high school in good standing and with a cumulative 2.75 GPA at that level. Once at DSU, an Inspire student must maintain at least a 2.75 GPA and do 10 hours of community service each semester to continue to receive the scholarship.
The legislation previously received unanimous support earlier this year from the Delaware House of Representatives and state Senate. Gov. Carney played an instrumental role by including the Inspire Scholarship amendment in his proposed fiscal 2019 budget.
"I can't think of a better investment that we can make in the people of our state, in young people of DSU and the whole state of Delaware than this state scholarship," Gov. Carney said. He also praised the sponsors of the bill – State Sen. Brian Bushweller and State Rep. Stephanie Bolden. Rep. Bolden is also an alumna of DSU.
The Inspire Scholarship Program was established in 2010, but that measure provided financial assistance to Delaware students only through their junior year at DSU.