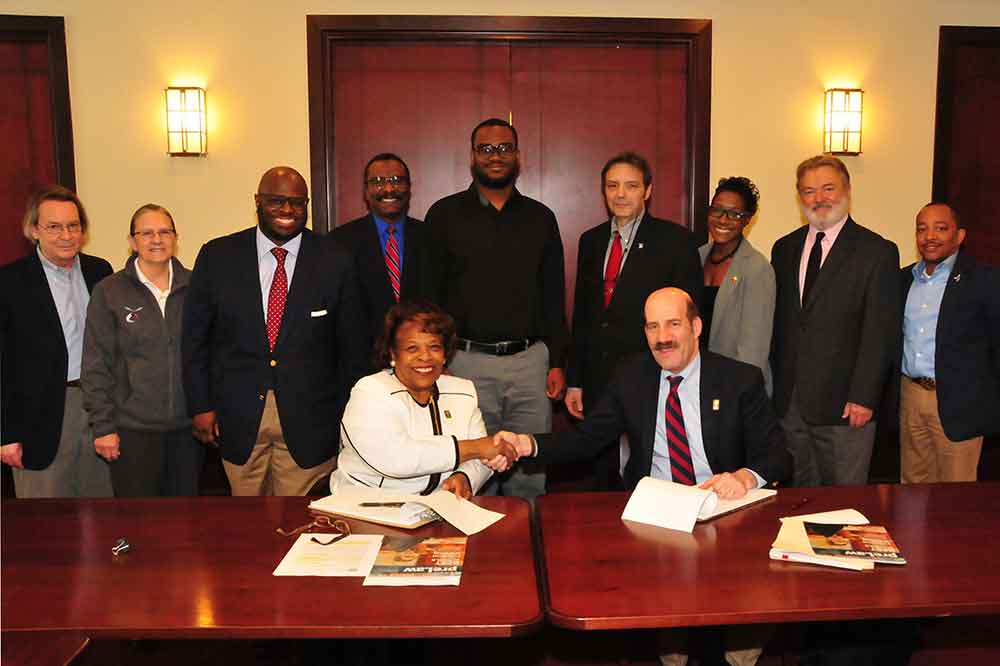 Office of the President, Partnerships & Collaborations, On Campus
DSU, Mitchell Hamline Law School Agree on Online Courses
Friday, April 13, 2018
Mitchell Hamline School of Law has partnered with Delaware State University in an effort to increase the number of minority attorneys in the United States.
Mitchell Hamline – which is based in St. Paul, Minn. – has established a Gateway to Legal Education initiative that offers free online undergraduate law courses to undergraduate institutions. DSU – which already has a Law Studies Program – has become the first institution to accept the offer.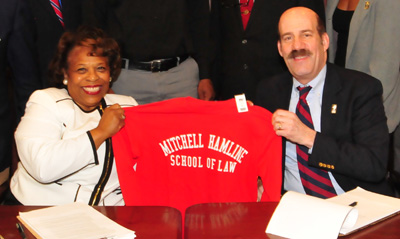 During an April 12 visit to Del State, Mark C. Gordon, president and dean of Mitchell Hamline, joined with DSU Acting President Wilma Mishoe to sign an agreement that will make the online courses available to DSU undergraduate students in the upcoming fall semester.
"Eleven percent of law professionals are people of color," said President Gordon. "We are using online teaching methodology to provide opportunity."
Mitchell Hamline will permit DSU to offer its online undergraduate law courses – on health law, legal practices and Indian law – at no cost to Del State.
DSU Acting President Wilma Mishoe noted that the University's Law Studies Program makes Del State a good fit for this initiative. "(Mitchell Hamline) has provided the opportunity, now DSU is going to work with the law school to expand that opportunity."
Provost Tony Allen said DSU will be a big part of this initiative. "It is important that we provide our students with as many options as possible, and this is a fine option for them."
Dr. Sam Hoff, professor of political science and Law Studies Program director, called it a win-win relationship. "This will help Mitchell Hamline to recruit more diverse students and give them exposure to law school professors."
Dr. Mishoe also commended Dr. Hoff for his vision in growing the DSU Law Studies Program.