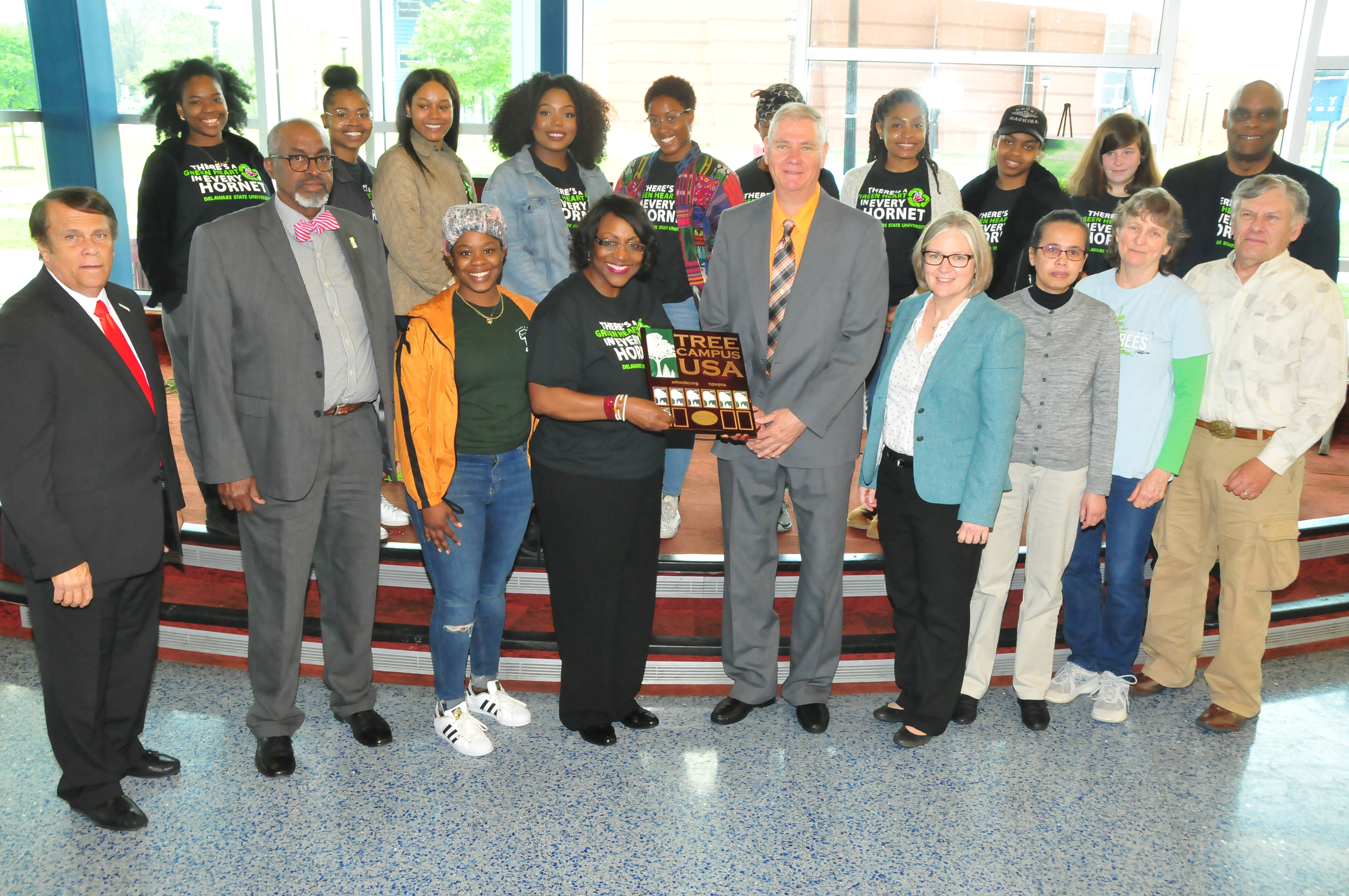 On Campus, Renewable Energy
DSU Celebrates Earth Day, Tree Campus USA designation
Sunday, April 29, 2018
Delaware State University held its annual Earth Day Program and celebrated its seventh consecutive year as a recognized Tree Campus U.S.A.
For images from the program, click on the below link:
https://www.flickr.com/photos/48216028@N03/sets/72157695567951954/show
The program – held in the MLK Jr. Student Center – featured remarks about sustainability from Dr. Michael Valenti, Delaware state forester; J.D. Bartlett, associate vice president for DSU Capital Planning and Environmental Sustainability and Richard Watson, the CEO of the Delaware Solid Waste Authority.
The keynote speaker was Susan Love, administrator of the Climate Section of the Delaware Department of Natural Resource and Environmental Control. "There are jobs available, as sustainable energy is a growth area," Ms. Love said. "Technology is what is going to solve these problems, and to reduce carbon dioxide, you (students) are going to be a key component of that work."
The renewed certification was announced by the Arbor Day Foundation, which yearly names the Tree Campus USA sites in the country. While being the only Tree Campus USA in Delaware, DSU is one of more than 150 such certified campuses in the country.
To obtain this distinction, DSU met the five core standards for sustainable campus forestry required by Tree Campus USA, including establishment of a tree advisory committee, evidence of a campus tree-care plan, dedicated annual expenditures for its campus tree program, an Arbor Day observance and the sponsorship of student service-learning projects.
In addition to DSU's certification as a Tree Campus USA, the University's tree collection has been accredited as an arboretum by the ArbNet Arboretum Accreditation Program since 2013.
An arboretum is a place where an extensive variety of woody plants are cultivated for scientific, educational and ornamental purposes. The beautiful campus of DSU contains hundreds of the trees – which includes 115 species of trees and 60 species of shrubs.
William Pickrum, project manager for the Renewable Energy Education Center at DSU, served as the Earth Day program emcee.