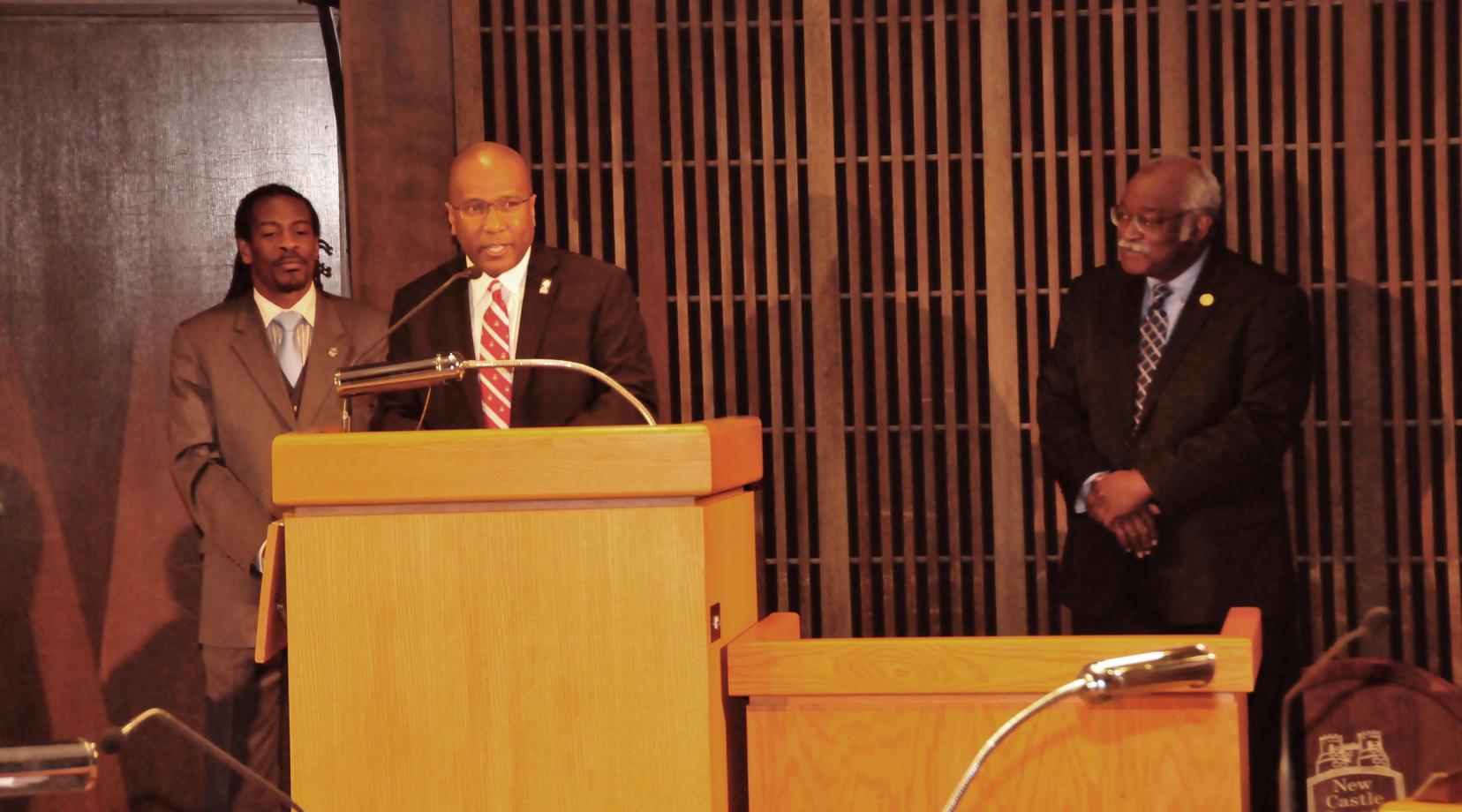 On Campus
DSU President Honored by Wilmington City Council
Friday, December 15, 2017
The Wilmington City Council honored DSU President Harry L. Williams during their Dec. 14 regular public meeting, recognizing his successful tenure at Delaware State University and wishing him well on his new career endeavor as the president and CEO of the Thurgood Marshall College Fund.
The resolution, sponsored by Council President Hanifa Shabazz read as follows:
WHEREAS, it is the sense of this legislative body to recognize and pay tribute to those individuals  who distinguish themselves through professional excellence and who have made significant contributions to the sustainability of institutions of higher learning: and
WHEREAS, Dr. Harry L. Williams is one such outstanding person who is nationally recognized as a leader in education transformation. During his tenure at Delaware State University, Dr. Williams piloted a growth course that has firmly established DSU as a leading Historically Black University and has made a major impact worldwide in innovative educational partnerships with China, Egypt, Cuba, Nigeria, Poland, Italy, Japan and France – just to name a few; and
WHEREAS, Dr. Williams immediately made his mark as the University's Provost by establishing an educational strategic plan and a Middle States Monitoring Report Plan. During his tenure as the University's president, student enrollment set records, alumni giving tremendously increased, and the University established the Inspire Scholarship fund, as well as an Early College High School where students can earn up to 60 college credits. The high school opened its doors to the "charter" ninth grade students in 2014: and
WHEREAS, Dr Williams has accepted the top position as the President and CEO of the prestigious Thurgood Marshall College Fund. It is the nation's largest organization exclusively representing the black college community.
Now, Therefore, Be It Resolved By The Council Of The City of Wilmington, that Wilmington City Council salutes Dr. Harry L. Williams for his passion, leadership and tireless work in creating an educational environment for our future leaders and a qualified workforce that will impact the prosperity of our economy. God bless you in all that you do. You will be truly missed!