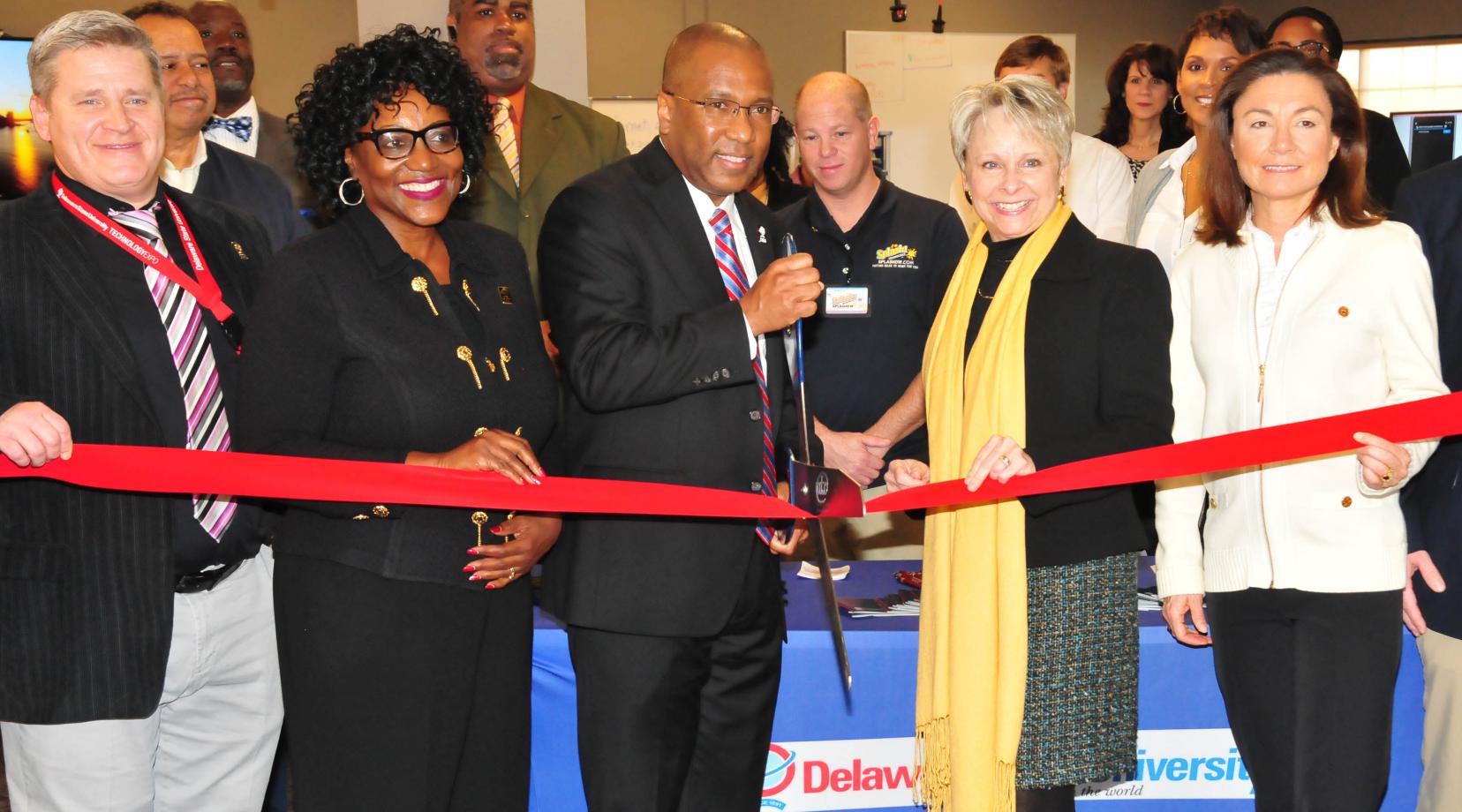 On Campus
DSU Training and Technology Center dedicated
Friday, November 10, 2017
The Central Delaware Chamber of Commerce (CDCC) joined Delaware State University in holding a Nov. 9 Ribbon Cutting Ceremony for the new DSU Training and Technology Center. (DTTC) that will serve Central Delaware and beyond as a technology enhanced site for training and workshops.
DSU President Harry L. Williams and Judy Diogo, CDCC president, cut the ribbon to celebrate the new center.
"We are excited about the University's Training and Technology Center," Dr. Williams said. "We believe businesses and others in the surrounding Central Delaware communities and around the state will find a lot of value conducting training in the center."
Ms. Diogo said such a state-of-the-art facility is much needed. "It is a magnificent facility and it is very generous of DSU to open this facility up to the community to use," the CDCC president said. "DSU has filed a void for us yet again.   Thank you DSU!"
Located on the 7th floor of the University's Living and Learning Commons facility just north of the main campus on N. DuPont Highway, the center will provide a place for technology focused workshops, company retreats, tailored corporate training, IT certification trainings as well as student learning sessions.
Dr. Vita Pickrum, vice president of DSU Institutional Advancement, said the University is proud and grateful to note that the DTTC is powered by Barclays Bank, which provided grants totaling $400,000 that enabled the University to renovate the Commons' 7th floor to transform the space into a state-of-the-art training and workshop area.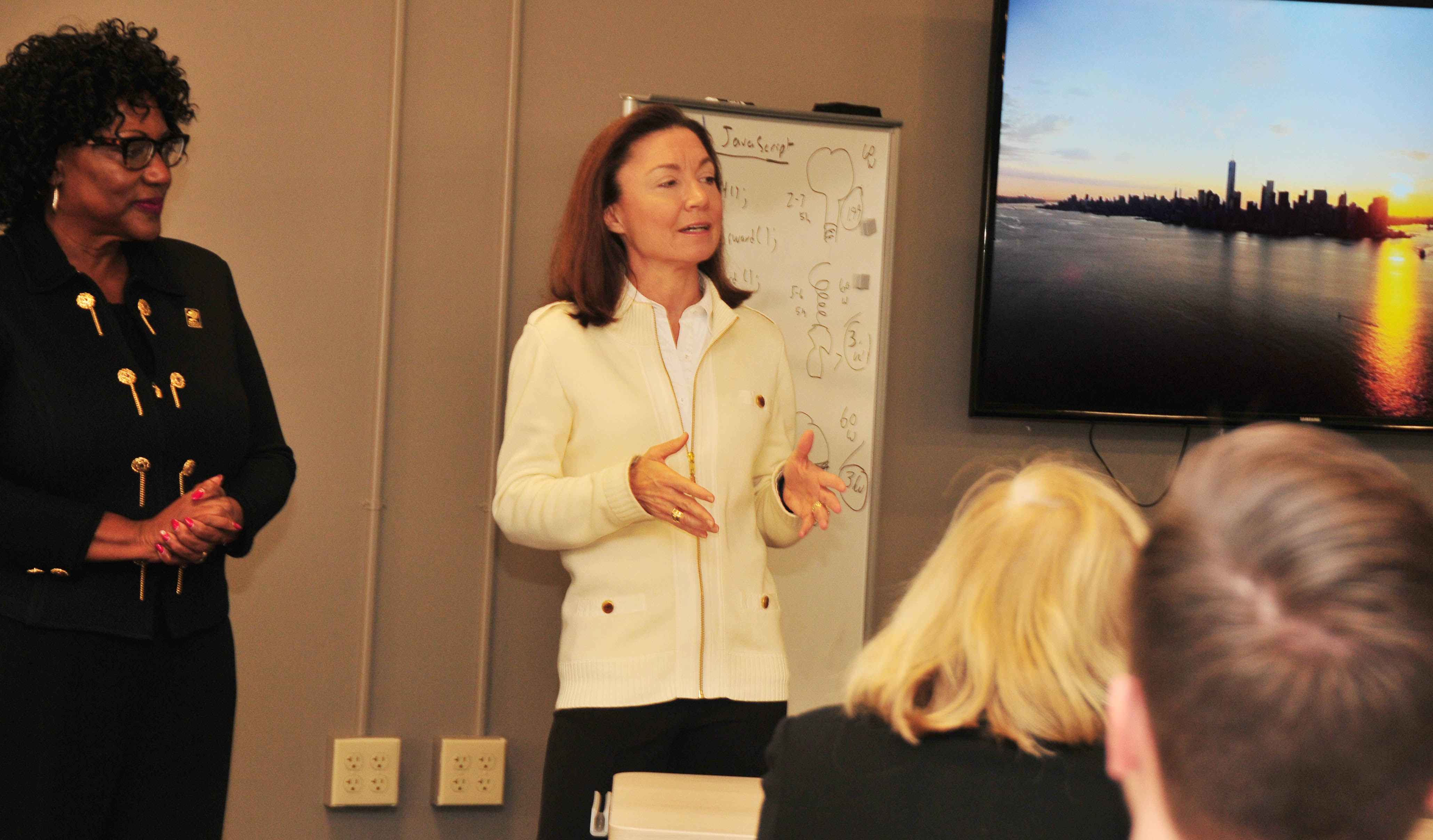 "That is in addition to the almost $600,000 Barclays has donated since 2006 in support of scholarships and a comprehensive internship program," Dr. Pickrum said. "Without Barclays, we would not have been able to establish this state-of-the-art facility."
She added, "This DSU Training and Technology Center bridges the gap between the University and the community in providing access to technological resources."
The DTTC is outfitted with Apple television screens, MacBook Pros, Galaxy A Tablets, 60" Smart HDTVs, configurable and personal whiteboards, in a 7th floor expanse that can be divided into breakout areas.
The primary focuses of the DTTC will be technical skill development in the areas of software language, innovative business technologies and tool suite training; community enrichment through technology skills training; and employment development through technology portfolio development, networking, resume writing and career search skills.
 "The DSU Training and Technology Center powered by Barclays is designed to help meet the societal needs of closing a technical skill gap that is continuously growing," said Dee Myers, DTTC director. "As the director, I am excited to be part of such a great Technology Center."
The DTTC has already been a resource to the University's Early College High School, for which its 9th graders have been learning about software application development, mobile app development and information technology. The center also held an Intro to Mobile App Development class for DSU faculty and staff.
For more information about the center, contact Mr. Myers at (302) 857-6114 or www.desu.edu/dttc.