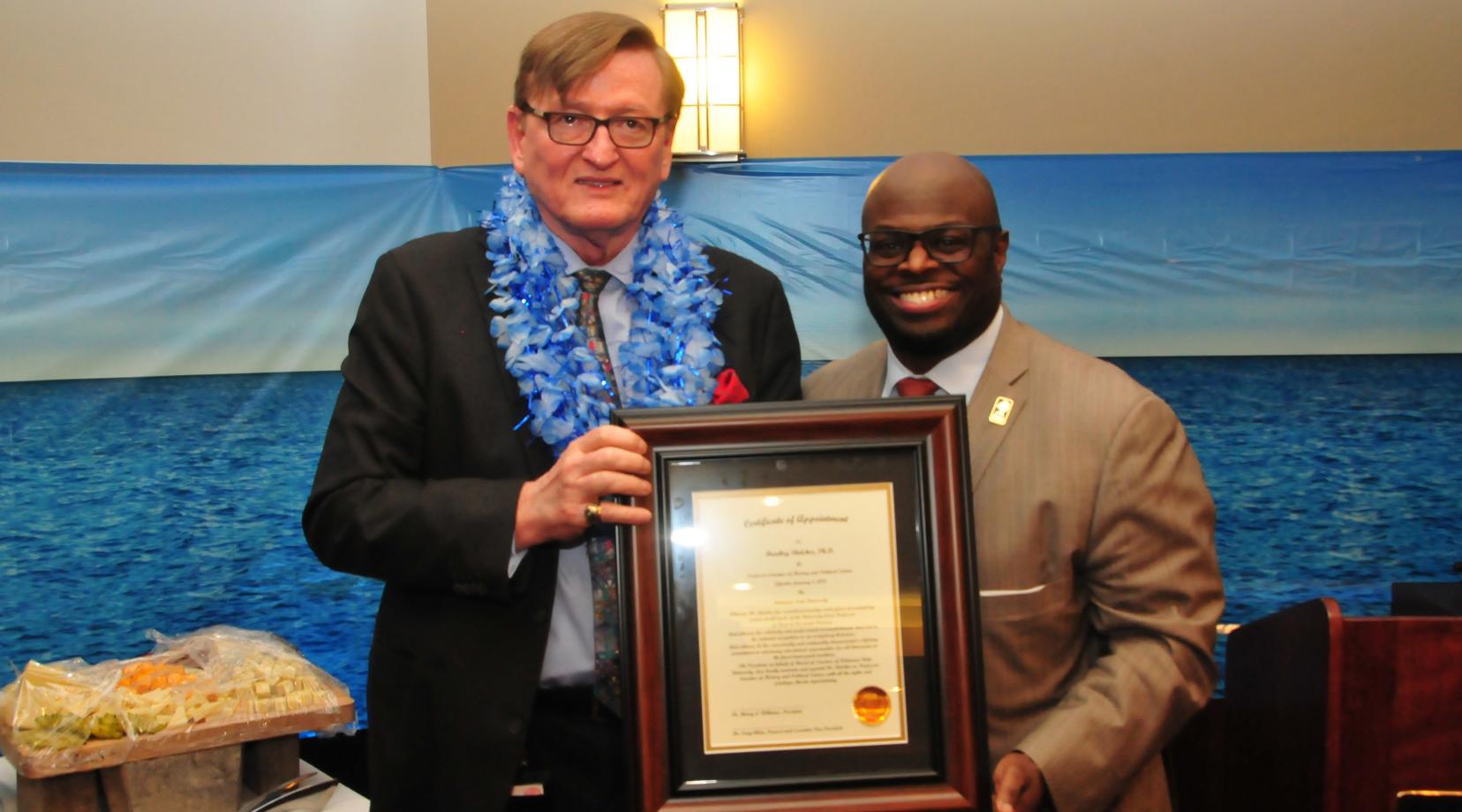 On Campus
DSU Honors Retiring Associate Provost Dr. Bradley Skelcher
Tuesday, November 28, 2017
Delaware State University faculty and staff members gathered Nov. 27 to show a lot of love to Dr. Bradley Skelcher, associate provost, who is retiring effective Nov. 30 after almost 28 years at the institution.
For images of the event, click on the below photo slideshow:
https://www.flickr.com/photos/48216028@N03/sets/72157689746853914/show
Dr. Skelcher joined the faculty of then-Delaware State College in 1990 immediately after he earned a Ph.D. in Historical Studies from Southern Illinois University. During his Del State tenure, he served as professor of history, director of the graduate program in Historical Preservation, as the dean of the College of Arts, Humanities and Social Sciences, and the last eight years as associate provost.
During the reception, Provost Tony Allen announced the University has honored Dr. Skelcher with the permanent title of "Professor Emeritus."
To see a recent video interview of Dr. Skelcher, click on the below link:
In addition to other parting gifts presented, Delaware State Rep. W. Charles "Trey" Paradee presented Dr. Skelcher with a formal tribute from the Delaware House of Representatives celebrating his years of higher education service at DSU.
Dr. Skelcher published in 2000 a pictorial book simply entitled Delaware State University, which to this date represents the only book in existence that focuses on the history of the institution.
His history contributions went beyond the University, as he was the author of African American Education in Delaware – A History through Photographs, 1865-1930. It was the only such scholarly book ever written focusing on education for blacks during the segregation years in the First State.
During his DSU years, Dr. Skelcher has received the University Excellence Award for Teaching (2000), the DSU Diamond Extravaganza Award from Women's Athletics (2016), the Community Uplifter Award from the DSU Early College High School (2016 and 2017), the Vice President's Choice Award from the DSU Provost (2017) and the DSU Inspire Award (2017). He has also been recognized by the Delaware House of Representatives (2008) and the Central Delaware NAACP (2008) for his contributions in the preservation of African American history in the First State.