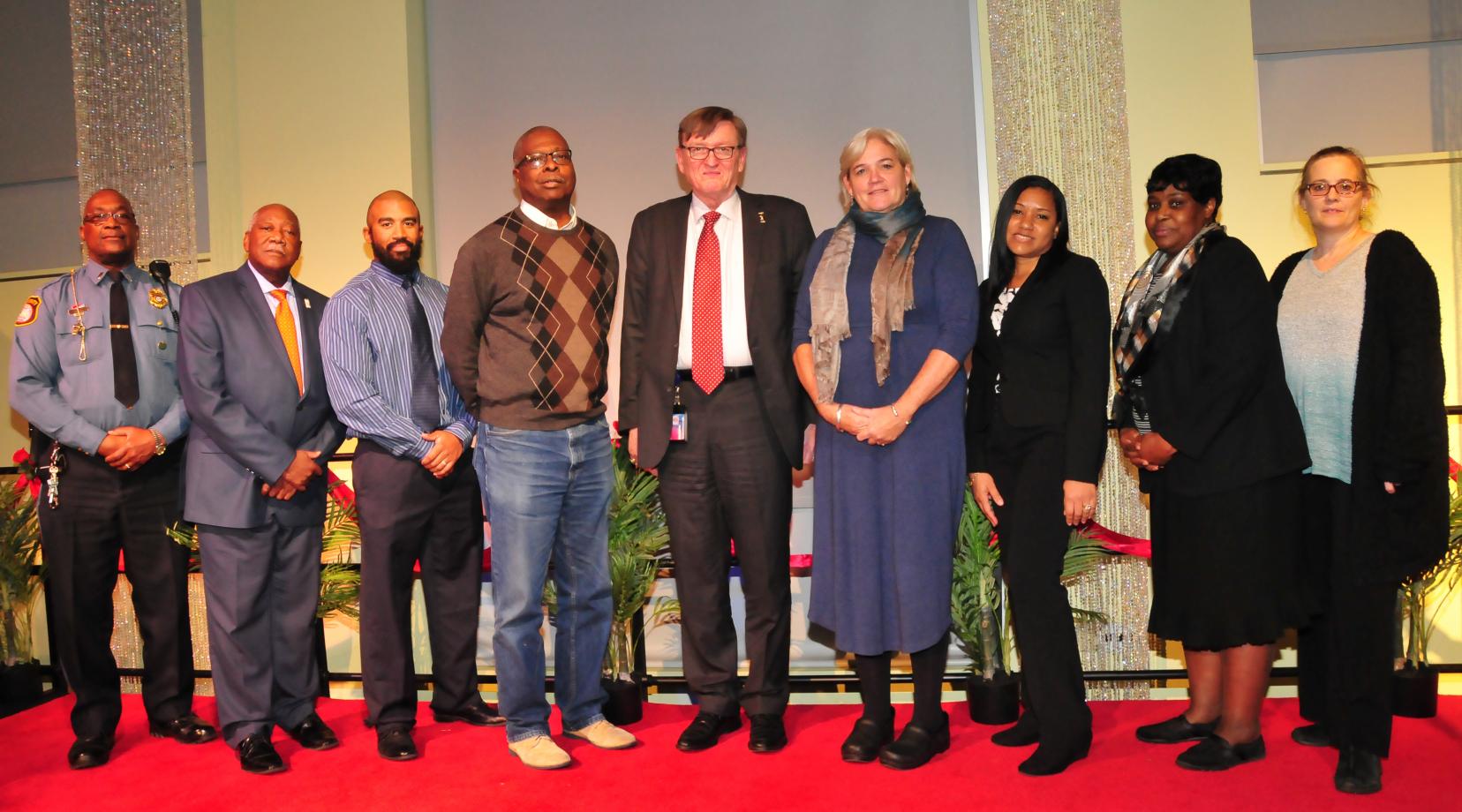 On Campus
DSU holds annual Employee Recognition Ceremony
Friday, November 10, 2017
Delaware State University honored some its top faculty and staff members at its annual Employee Recognition Ceremony on Nov. 8 in the Martin Luther King Jr. Student Center.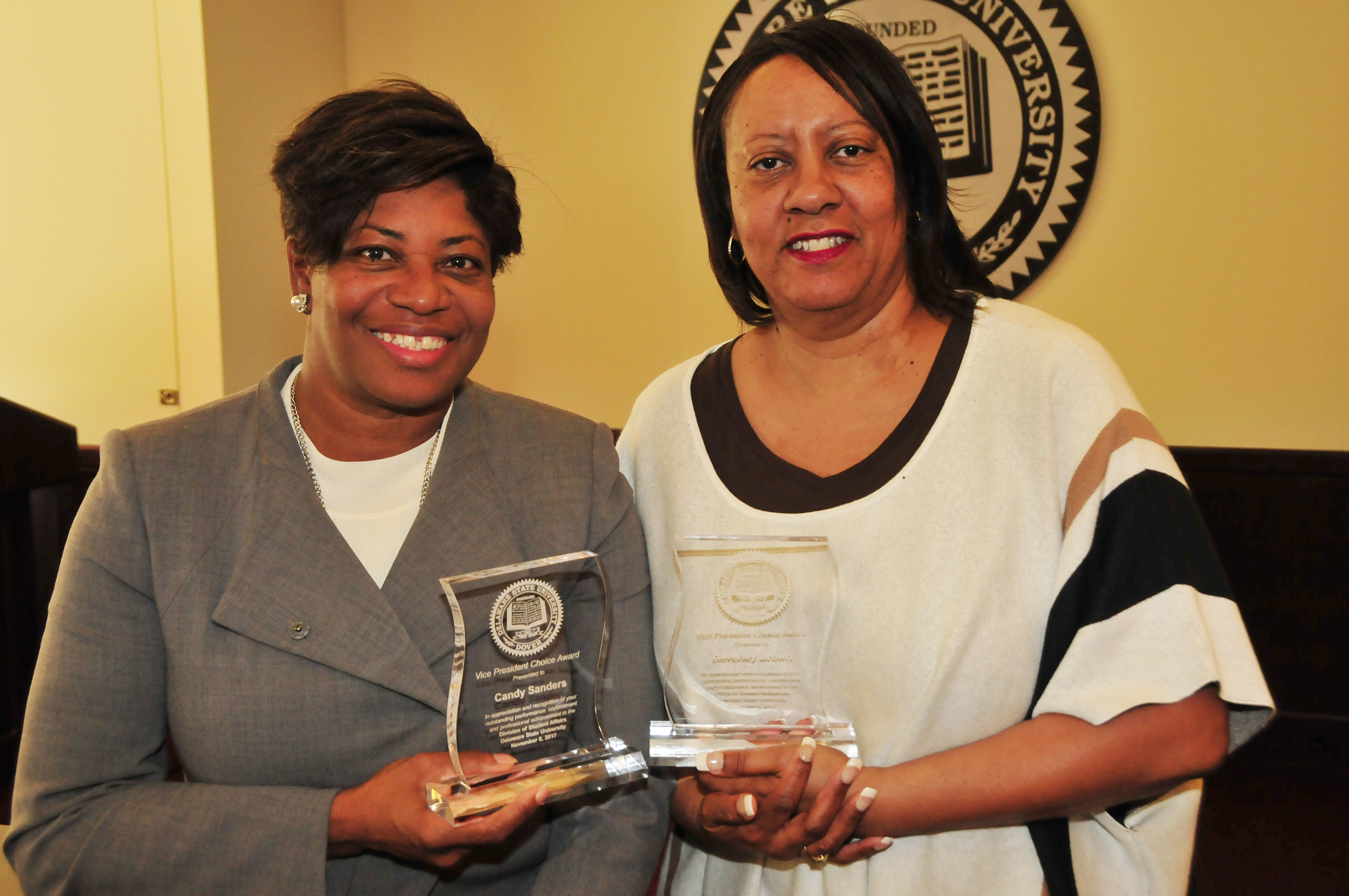 For images from the ceremony, click on the below slideshow link:
https://www.flickr.com/photos/48216028@N03/sets/72157666169049139/show
In addition to recognizing the employees who have reached the five, 10, 15, 20, 25 and 35-year marks of their time at Del State, the University celebrated Dr. Mable Morrison, associate professor of music, who has reached her 55th year at the institution – the longest tenure of faculty service in the University's 126-year history.
She was honored at the event by remarks from DSU Board of Trustees Chairwoman Wilma Mishoe, a presentation from Dover Mayor Robin Christiansen, and a musical performance by Marquita Richardson, a DSU music student accompanied by Dr. Lloyd Mallory, program director of music.
The following employees received Vice President Choice Awards (VPCA):
Dr. Stacy Downing, vice president of Student Affair, presented VPCAs to Ms. Candy Young, director of Title IX, and Lt. Russell Smith of the DSU Police Department.
Ms. Irene Hawkins, vice president of Human Resources, presented a VPCA to Ms. Beverly Brown, human resources generalist.
Dr. Vita Pickrum, vice president of Institutional Advancement, presented VPCAs to: Mr. Bryant T. Bell, director of Major Gifts, and Mrs. Henrietta Savage, special assistant to the vice president and controller.
Dr. Tony Allen, provost and executive vice president of Academic Affairs presented VPCAs to Dr. Alexa Silver, faculty fellow of Academic Affairs, and Dr. Bradley Skelcher, associate provost (who is retiring at the end of this year after 27 years with DSU).
Ms. Denese Lindsey, interim vice president of Finance & Administration presented VPCAs to Ms. Crystal Canon, director of the Office of Payroll, and Ms. Jadeen Notice, director of the Office of Restricted Accounting.
In the Department of Athletics:
AD Louis Perkins presented Athletic Director Choice Awards to Mr. Joel Welsh, head strength coach, and Dennis Jones, director of the Office of Sports Information.
The following 2017 Faculty Excellence Awards recipients were recognized:
Dr. Murali Temburni, assistant professor of biological sciences – Faculty Excellence Award for Teaching
Dr. Renu Tripathi, associate professor of physics and engineering – Faculty Excellence Award for Research
Dr. Mazen Shahin, professor of mathematics and director of the Alliance for Minority Participation at DSU – Faculty Excellence Award for Advising
Dr. Hacene Boukari, associate professor of physics and engineering – Faculty Excellence Award for Service.