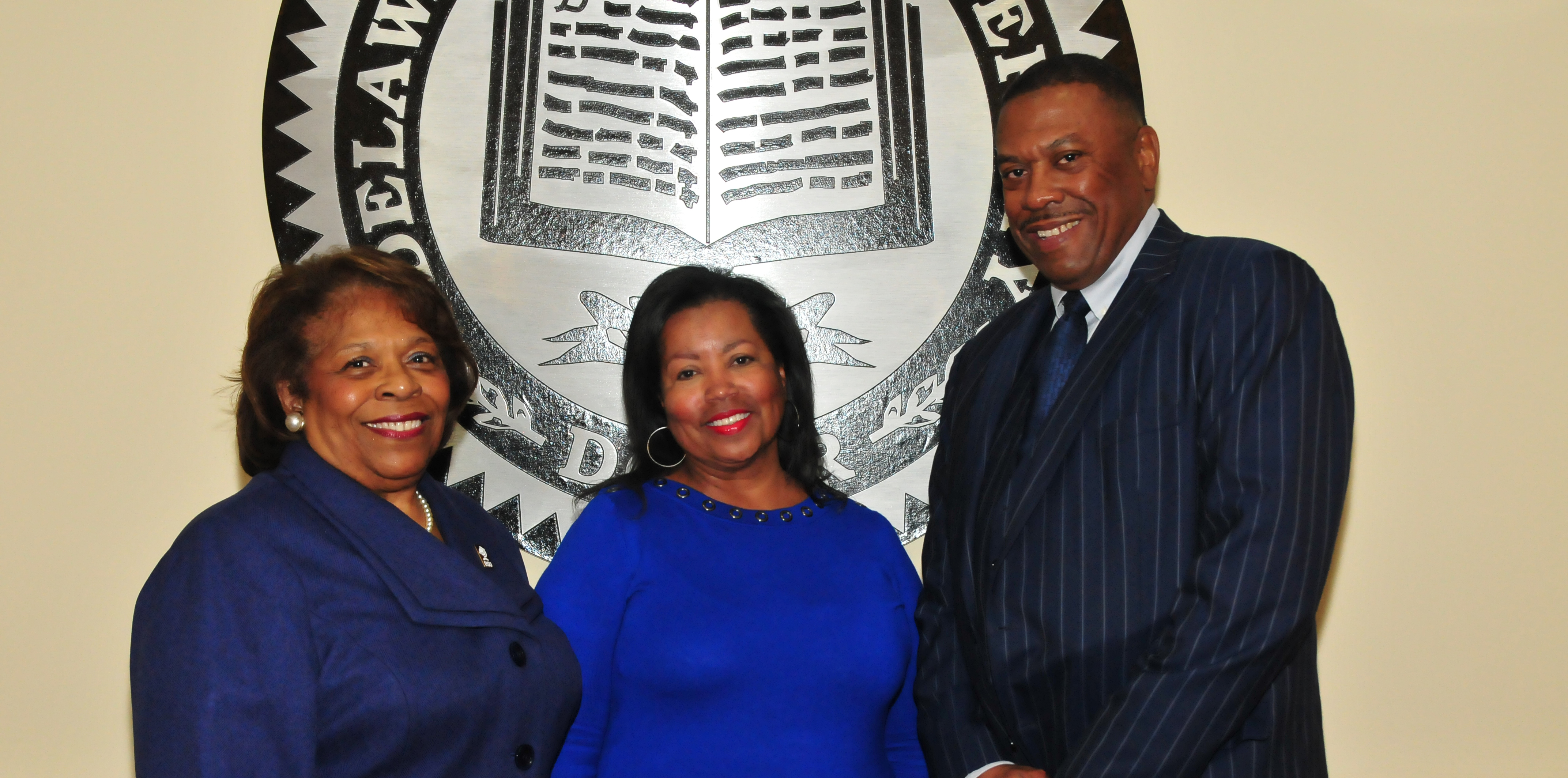 On Campus
Dr. Wilma Mishoe Named Interim President
Thursday, November 2, 2017
This morning, Delaware State University's Board of Trustees voted unanimously to elect Chairwoman Dr. Wilma Mishoe as Interim President of the University, and Vice Chairwoman Dr. Devona Williams as Interim Board Chair while the University searches for its next president.    
The changes will be effective on January 25, 2018, as current President Dr. Harry Williams transitions from his post to become the President and Chief Executive Officer of the Thurgood Marshall College Fund.  In August, Drs. W. Mishoe and D. Williams made history by being named the first-ever board chairwoman and vice chairwoman respectively in the University's 126-year history.
Calling this morning's decision the beginning of a deliberate, orderly and transparent process to find the University's next great leader, Mishoe said, "Our priority is to keep the University moving forward with an intentional focus on student success.  Under Dr. Harry Williams' leadership, Delaware State University grew boldly and became one of the premier institutions of our kind in the nation. That momentum must continue; standing still while we search for our next great leader is not an option. We have to keep innovating and improving." 
This is the second time that Dr. Mishoe has stepped away from a university board to serve as acting president. After 11 years on the board of Wilberforce University, she was selected as Acting President there in 2014 to provide much needed stability while a national presidential search was conducted. She brought into the president's office 35 years as a higher education administrator, mostly at Delaware Technical Community College, from which she retired in 2010, but also at then-Wilmington College from 1975-1980.
Mishoe's connection with Delaware State University is one she has maintained since childhood. She is the daughter of the late Dr. Luna Mishoe, DSU's second-longest-serving chief executive, who led then-Delaware State College from 1960-1987, and is widely credited with laying the foundation for the institution's dramatic growth in the decades that followed.
Executive Vice President and Provost Tony Allen was particularly pleased with the move for the entire University community.  "Dr. Mishoe does not simply possess a legendary last name, she is a University executive of the highest caliber who knows our institution personally, understands Delaware and all the communities we serve up and down the state, and shares a vision for our future that demands excellence and attention to detail that our students, parents, alumni and stakeholders deserve.  We will all benefit immensely from her leadership during this transition." 
Dr. Devona Williams, who takes over as interim board chairwoman, has been a member of the Board of Trustees since her early 2012 appointment by then-Gov. Jack Markell. She is the founder of the highly regarded Goeins-Williams Associates, a 27-year management-consulting group, and has been an integral part of the growth of DSU's College of Business and international programs. Dr. Williams is also a senior consultant with the Association of Governing Boards (AGB) of Universities and Colleges in Higher Education, the world's preeminent organization on governance in higher education. 
President Williams commented, "Devona is one of our most treasured talents. She not only brings an intellectual savvy to some of the most complex problems facing boards in the higher education space, she also extends what we all need in moments of big transition, good ole fashion common sense.  Delaware State is fortunate to count her among its University family.  I know she will serve us well in this transition period and beyond."
The Board also named Mr. John Ridgeway as Second Vice Chair. A Trustee since June 2016, Mr. Ridgeway is the corporate manager of Toyota's Eastern Territory Service Center, which is based in Owings Mills, Md. He is also a Class of 1975 DSU alumnus.
A Presidential Search Committee is anticipated to be named in the coming weeks and will include a wide variety of University stakeholders. They will begin their work in January.